From HIV to COVID: Health and Human Rights in Post-Apartheid South Africa
February 15, 2023 | 5:00pm - 7:00pm ET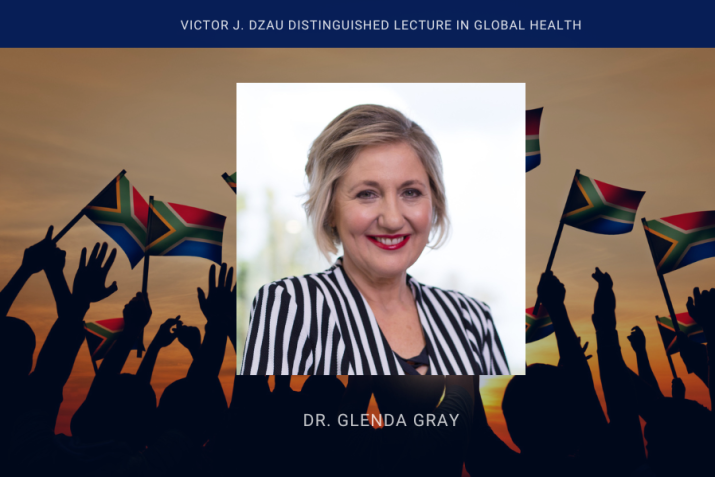 Contact
Kaitlyn Shepard
(910) 338-8598
From HIV to COVID: Health and Human Rights in Post-Apartheid South Africa
February 15, 2023 | 5:00pm - 7:00pm ET
Victor J. Dzau Distinguished Lecture in Global Health and Alumni Reception
South Africa's democratic government came to power in 1994 with a new constitution founded on the values of human dignity, the achievement of equality, and the advancement of human rights and freedom. At the same time, the AIDS epidemic swept across sub-Saharan Africa. Dr. Glenda Gray, a pioneering South African physician and researcher and president of the South African Medical Research Council, will discuss how the country made important scientific breakthroughs on the disease, while also battling the legacies of apartheid, prejudice and AIDS denialism. Drawing parallels to the COVID-19 pandemic, Dr. Gray will examine the impact of both public health crises on human rights.

Dr. Gray, a pediatrician, is the co-founder of the internationally recognized Perinatal HIV Research Unit in Soweto, South Africa. She is a co-principal investigator of the HIV Vaccine Trials Network, an international collaboration working to develop a vaccine to prevent HIV/AIDS. In 2017, Time named her as one of the 100 most influential people in the world for her pioneering work on HIV prevention, and Forbes named her as one of Africa's 50 most influential women. As the COVID-19 pandemic emerged, she was among the first South African leaders to engage in public dialogue about the health crisis and moved quickly to establish COVID-19 vaccine trials in the country. When the country's vaccine roll-out faltered, she managed to procure half a million doses of the COVID-19 vaccine for health care workers during the Beta wave of infection.

ABOUT THE EVENT
The Victor J. Dzau Distinguished Lecture in Global Health brings visionary leaders to Duke to discuss cross-cutting issues confronting health, equity and human rights around the world. This year, we are celebrating the return to in-person events with a special reception for Duke global health alumni and friends before Dr. Gray's talk in Duke's beautiful Karsh Alumni Center. Come to reconnect with DGHI faculty, staff and alumni, meet DGHI's new director and greet our speaker. Both the talk and reception are free and open to the public, but registration is strongly encouraged.
Free parking will be available in the paved lot adjacent to the Karsh Center off Duke University Road. Overflow parking will be available in the gravel lot across Duke University Road.
This annual lecture is supported by a gift from former Duke Health chancellor Victor J. Dzau, and his wife, Ruth Cooper-Dzau, as well as funds from the Bill & Melinda Gates Foundation Global Health Matching Grant.