Tuberculosis Control in China: It's time to rethink current strategies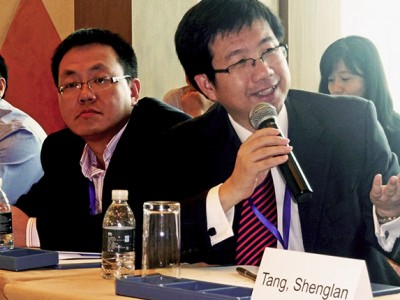 By Shenglan Tang
The Ministry of Health in China recently released the report of the 2010 national tuberculosis (TB) epidemiological survey. The survey aims to assess the impact of China's TB control program over the past decade. During this period, a large number of TB control projects have been funded by the government of China, the World Bank, Department for International Development/UK, and the Global Fund to Fight HIV/AIDS, TB and Malaria, with a significant amount of financial resources invested.
The results emanating from the survey show significant progress has been made to control TB, including a remarkable reduction in smear- and culture-positive TB prevalence rates and fewer TB patients are failing to complete the treatment because of financial difficulty. In the meantime, the prevalence rate of multidrug-resistant TB (MDR-TB) has changed very little over the past decade.
Chinese Health Policy Makers Need to Take Note
The active TB prevalence rate in rural areas, particularly in the western part of rural China, has actually increased.  Among 1,301 active TB patients detected in the survey, the proportion of the patients diagnosed prior to the survey rose from 69% in 2000 to 90% in 2010. Such a result may be due in part to more TB patients without any reported symptoms. Or this may imply that the TB case detection in China has not improved, despite large investments in TB control by the Chinese government and the international community. Of 740 newly-diagnosed TB patients with at least one reported symptom in the 2010, 53% of them had never sought any professional care, an increase from 42% in 2000. At the same time, health insurance coverage rose from 35% in 2000, to 95% in 2010.  This could indicate that the health insurance schemes, especially operated in rural China, have not provided sufficient financial protections to those in need, as often the health insurance policies do not cover outpatient services. Among the newly- diagnosed TB patients, the average health care expenditure per patient was 1,708 Chinese yuan, of which 84% of the expenses were paid out of pocket, although a vast majority of them are covered by the "new rural cooperative medical scheme". Among those 346 patients with TB-related symptoms, only 124 patients (36%) were diagnosed as TB cases before the 2010 survey.  The TB case detection rate among the same patient group declined from 61% in 2000 to 36% in 2010, a seriously alarming finding. This illustrates that the quality of TB care has not improved, and may have worsened in some health facilities. The survey also reported fewer newly-diagnosed TB patients received any health education in 2010 than in 2000, although more resources have been allocated for TB-related health education/promotion in the 2000s than in 1990s.
What Should Be Done?
These problems should convince Chinese health policy makers and TB control program managers to develop new strategies that can be more cost-effective and implemented to achieve the goal of eliminating TB by 2050, as advocated by WHO in recent years.  The following suggestions may be considered by the Chinese government in developing its next phase strategy of national TB control programs:
It is critically important to integrate the national TB control program into the health system development, especially health insurance schemes. However, it is essential, but not sufficient, as the health insurance policies often require a co-payment, which may be a financial barrier for TB patients to get their illnesses diagnosed timely, and for diagnosed TB patients to complete their due treatments. TB is an infectious disease of poverty, often affecting the poor and vulnerable. A modest deductible or co-insurance payment could be a financial burden placed on their households. Hence, the national TB control program should also work with the Ministry of Civil Affairs that is responsible for medical financing assistance for the poor to ensure that TB patients, particularly MDR-TB patients, can be diagnosed timely and then treated successfully, regardless of their ability to pay for health care;
The national TB control program, as part of China CDC system, should also closely work with the Chinese hospital sector to strengthen TB case management, particularly in the rural areas. There should be clear clinical guidelines for treatment and effective case management put in place. It is also crucial to develop monitoring and evaluation systems to assess the performance of these service providers;
Paying for TB care should also be seen as part of reforming public hospitals in China. This can be accomplished by using alternative provider payment methods to fee-for-services, in order to remove perverse financial incentives and reduce moral hazards of Chinese health service providers, the majority of which have been maximizing their profits from service provision and drug sale over the past 2-3 decades.
Without effective cost containment measures, more financial resources for TB control, and other health interventions, China may not be able to produce the health gains the government is expecting.
Share This
Blog Categories