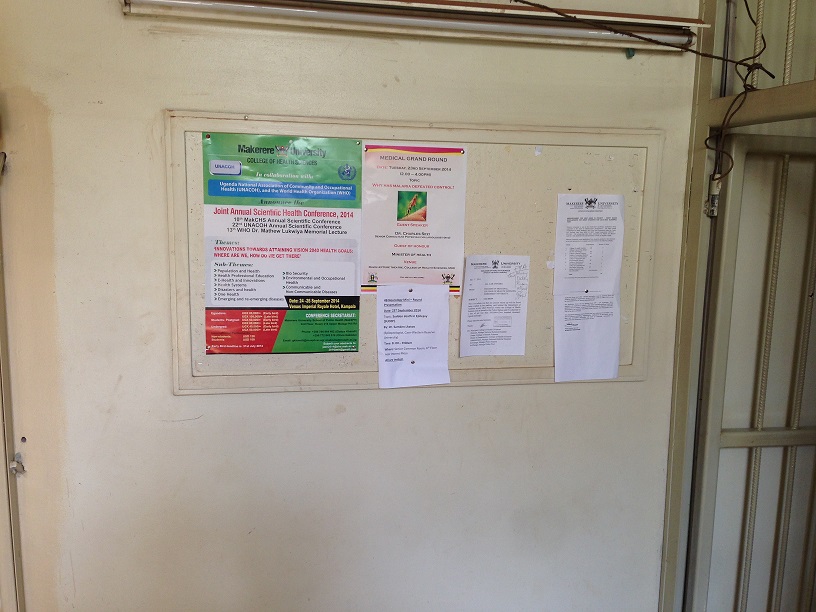 Tony Fuller
MSc-GH Candidate
Everyday my inbox is bombarded with emails outlining different events, project opportunities, and conferences from different entities at Duke. While at times it can be cumbersome to sift through all the emails, it is a great problem to have. To me it means opportunities to expand my knowledge and explore new topics. Before my arrival in Uganda I was wondering if I would feel deprived of opportunities as I wouldn't get to participate in all the events I would see in my inbox. Having officially been in Uganda for over a month now, I haven't felt this way once. The reason is simple: Makerere University is excellent.
Instead of emails filling my inbox, the various buildings throughout Makerere have all opportunities posted. These opportunities are very similar to the ones offered at Duke such as talks, projects, and conferences. Luckily for me almost all of these events are open to international students. Although my schedule is busy completing research, there is always time for expanding my knowledge and meeting prominent people in the field of global health.
Just this past week I was able to sit in on a discussion that I have personally spent a lot of time thinking about: informed consent. The discussion was headlined by Nancy Kass ScD, from John Hopkins, who has published many articles on this topic and lectures often on bioethics in global health. On top of her presentation there was a panel of experts from Botswana, Uganda, and Zambia who were there to answer questions. This gave me the opportunity to speak with individuals from four different countries about informed consent. We were able to delve deeper into the issues of multi-site studies, need for consistency across IRB/REC protocols, cultural considerations for informed consent in different settings, and much more.
This upcoming week I will be attending a conference held by the WHO in conjunction with Uganda National Association of Community and Occupational Health (UNACOH). The conference's theme is: Innovations towards attaining the Vision 2040 Health Goals: Where are we, how do we get there. I'm excited to be able to attend this conference and get the opportunity to hear from experts from different countries around Africa and abroad.
These are just a few of the events that I have been able to participate in thus far and with all of the postings I am sure there will be many more over the next few months. This part of my experience has been fully unexpected but very much appreciated. Uganda and Makerere are amazing and anyone reading this wanting to do research, I would >100% recommend doing your research here.
Share This
Search Blog
Categories