By 2nd-year MSc-GH student Beth Eanelli
Almost three years ago, I left the community in the Upper River Region of The Gambia where I had been living for two years. At the time, I was unsure of when I would be able to come back, and leaving was immensely difficult. I had finished my time as a Peace Corps volunteer, and I was departing from a village and country that very much felt like home. This was the place that laid the foundation for my global health knowledge. I spent two years working with the community on small scale projects ranging from nutritional interventions with babies to malaria programs at the school, all with the intent to improve health outcomes.
Two years after I left, I started the Master of Science in Global Health program at DGHI, hoping to gain research experience and bring tangible skills to my work and fieldwork experiences. I never expected to go back to The Gambia, but serendipitously, an opportunity arose to return—this time to research the impact of light on the quality of care health workers deliver in rural communities. I spent more than three months back in a place I know so well, but with a different purpose, and I was able to see the country from a new lens.
The things I loved the most about my time in The Gambia, during the Peace Corps and again this summer, are the nuances of daily life that have become so familiar. I love how greetings dominate interactions, no matter what part of the country you're in. Food bowls filled with rice or millet and some type of sauce are set in the center of a group and are meant to be shared. Breaking fast during Ramadan, evening runs in the bush in rural areas, the constant puzzle of public transportation. These were the cultural subtleties I tried to capture in photos this summer—including the images below—to share a part of the world I've come to love.
Chuu, an oil-based onion and tomato sauce, with kucaa, a sour green paste made from pounded sorrel leaves
Naa kontong! "Come eat lunch!" Meals in The Gambia are typically served from large food bowls, where people gather and eat together. If you're passing anyone eating, you will be invited to share the bowl, and it's common to put aside smaller bowls for children who are at school, people who are at work or anyone else who can't eat when food is ready. Breakfast is typically a millet porridge in the more rural areas or bread and eggs or beans in cities, and lunch and dinner consist of either rice or millet with a variety of sauces that differ based on the season and availability of ingredients, as well as the community and region where the meal is served. A diyaata bake! "It was delicious!"
Good morning from the River Gambia
The River Gambia bisects this small nation and its regions are distinctly located on either the North Bank or the South Bank with one main road on either side. Today I'm headed on a trip to the North Bank to the Central River Region to a few rural health posts where I will be conducting interviews. I'm focusing on solar technology and light and its impact on midwives and health workers who are conducting deliveries in rural areas.
Delivery room of a health center in the Upper River Region,
about 30 km and a canoe or ferry crossing from the nearest referral center
Another day, another health center visit. I've been interviewing midwives and talking about some of the barriers to care women face when delivering and how light and electricity affect health workers' quality of care.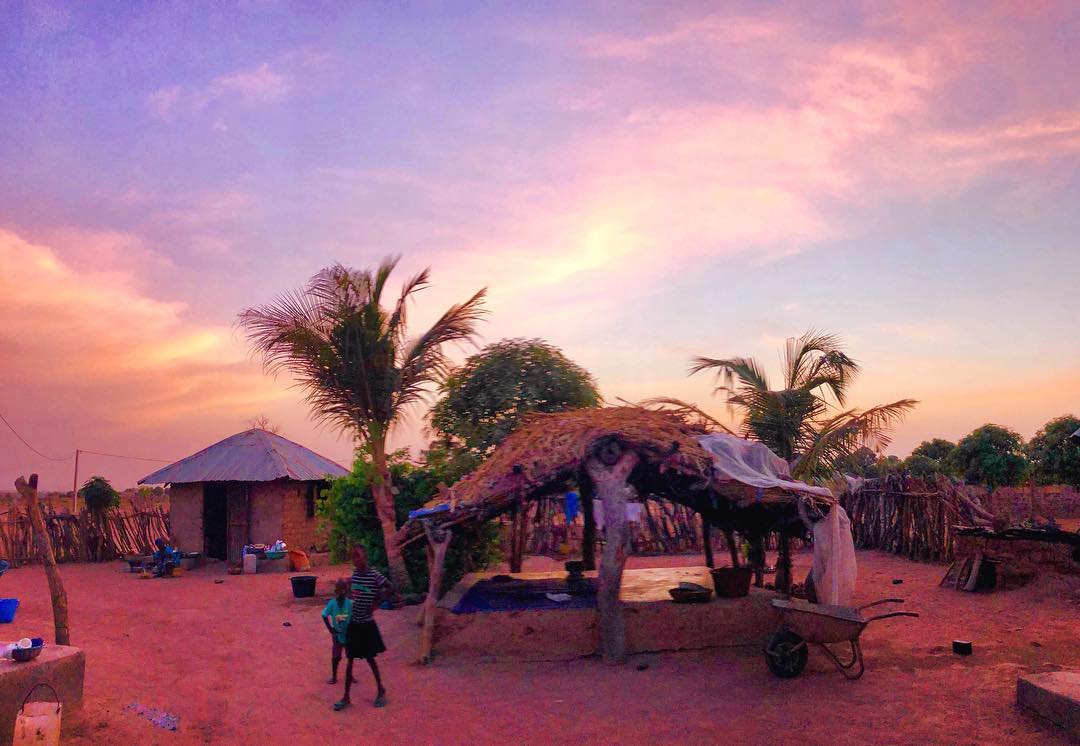 The sunset view from the compound where I lived for two years,
in the very east of the country right near the Senegalese border
This opportunity has been wonderful in so many ways, but especially because it has allowed me the chance to come back to the country that hosted me as a Peace Corps Volunteer. I've been able to reconnect with the people and places I've missed since returning to the US, while also conducting research in a place that I've become so familiar with. I was able to go back to visit my host community right when I arrived in mid-May. Life, research and work this summer have been a little different from the ebb and flow of village life, but it's been interesting to see the country in a new way while doing research.
Attaya, green tea brewed strong over coals and passed around in small glasses to those who are nearby
Late afternoons call for attaya. It is traditionally brewed three times using the same leaves so the tea gets weaker each time, and mint, basil or vanilla sugar is added to the weaker brews. Everyone has their favorite style of attaya. I personally like first brew with mint leaves and just a touch of sugar.
Friday lunch
On Fridays we have a late afternoon lunch after prayers and I get to hang out and chat with the family, drink attaya, eat mangoes and bennachin (translates in Wolof to "one pot" because it's a fried rice dish where everything is cooked together). I feel so lucky to have had the chance to live with such a wonderful family for the summer in between my time in the provinces.
Kombo, my home base in the capital area
I've been traveling throughout the country all summer to collect data. It's been a whole different world from the small sustenance farming community of 1,800 people where I used to live with a lot more people, traffic and chaos, but there are still reminders of village life here. A herd of cows crosses the street during rush hour this morning.
One more sunset to share on the West Atlantic coast
If you have any questions or want to learn more about this part of the world feel free to reach out on Instagram: @beth.eanelli.
Share This
Search Blog
Categories