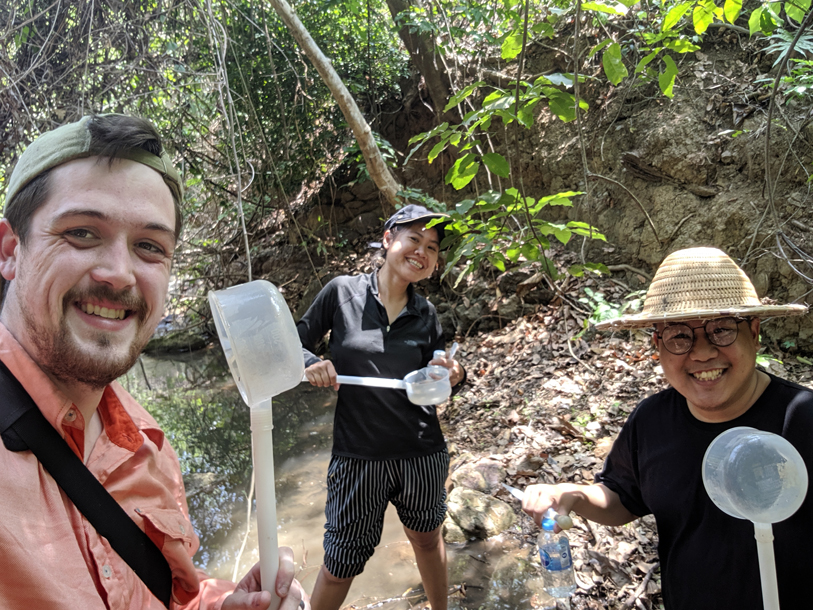 Every summer, global health students at Duke University travel to countries around the world to do field research in a variety of topics within global health—including environmental health, women's reproductive health, infectious disease, health policy and more. 
DGHI caught up with Master of Science in Global Health student Chris Hayes, who traveled to Ann Township, Rakhine State and Yangon in Myanmar for his research on anopheles mosquitoes, which are the vector of human malaria. The species-specific population densities of these mosquitoes can be altered by changes in the landscape of an area and land-use practices by people in the surrounding community. It is important to understand and follow these changes to better inform malaria interventions that will be both highly effective and targeted towards the specific vector species transmitting malaria in these areas. The goal of Hayes' research is to analyze differences in species-specific anopheles mosquito densities based on various land-cover strata in malaria endemic communities. 
DGHI: What inspired you to pursue THIS project?
Hayes: My inspiration for my project developed from hearing recurring stories of persistent and residual malaria transmission occurring in areas where interventions have already been deployed and established. Many people believe that combating malaria is just about distributing bed-nets and effective antimalarials; if that was the case malaria could have been defeated long ago. In some communities, like where I am working in Myanmar, malaria transmission continues at low levels despite the presence of local malaria workers and other interventions. To achieve "elimination" we have to hit the mark of zero transmission. No person's life and well-being should be overlooked simply because a large decline in transmission was seen. I believe the solution to overcoming residual malaria transmission is a deep and thorough understanding of the vectors themselves—which mosquitoes are flourishing, which mosquito species are still transmitting malaria—and then specifically targeting those species.
DGHI: What's one thing you've learned about the community/culture you're in this summer?
Hayes: There was what felt like a large amount of concern surrounding my fieldwork this summer, as I would be working not only in Myanmar, but in Rakhine State. Rakhine has seen a lot of media attention in the US for the occurrence of heinous crimes against the Rohingya religious minority over the past few years. In addition to this, there is a militant group currently based in the State that opposes the national government. While on the ground, I clearly saw military presence within the villages, and during my travel there, I was closely watched and protected. As a foreigner, I was not permitted to take any photos, and I had a strict curfew. To many these may seem like too much to deal with in a research setting, and that is a valid argument. However, during my time there I learned that, despite the things at play, the citizens of Rakhine are regular people who greet you with a smile and are unaware of the fact that many people have written the entire State off as "violent," "dangerous" and a place to avoid. The reality is that these areas, often overlooked by their own governments due to fear of conflict, are some of the areas with the largest need for organized health interventions. These families should not be ignored or punished, all without many of them realizing it is happening, because of the wrongs done by a radical group of extremists. 
DGHI: What's one thing you've learned in the field that you couldn't have learned in the classroom?
Hayes: The amount of time it takes to accomplish things in the field can be LONG. This is a topic we discuss, and sure, you think you have a solid understanding of what this means before you leave for the summer. In my case I had plans, that if things did hit a snag, I knew exactly what I would do to get them back on track! Nope. Those attempts to get things back on track with time blew up as well. This isn't always the case, but it certainly is something that I have now learned the hard way. It is worth it in the end, when everything comes together, but it can be stressful while you are still waiting for it to work out.
Share This
Search Blog
Categories