Data Visualization Projects Offer Novel Lens to Explore Health Issues
August 20, 2018
Over the summer, many global health students engage in research in some capacity. Some choose to travel to one of more than 40 countries to do fieldwork; others participate in the Duke Engage or Bass Connections programs, both at home and abroad. Yet another way for students to gain valuable research experience is the Data+ program hosted by the Information Initiative at Duke.
Data+ is a 10-week summer research experience for Duke undergraduates who are interested in exploring new data-driven interdisciplinary research. Students join small project teams, typically consisting of two or three undergraduate students with one or two graduate mentors. They learn how to marshal, analyze and visualize data, while gaining broad exposure to the modern world of data science. The program culminates in a poster session for students to present their research findings to the public. This summer, there were five global health-themed projects.
VACCINE HESITANCY AND UPTAKE
Despite overwhelming scientific evidence on the benefits of vaccinations, pregnant women and parents of young children often refuse to accept, or choose to space out, vaccinations for themselves or their children. This phenomenon, termed vaccine hesitancy, has been blamed for several vaccine-preventable outbreaks in the U.S. 
In this project, students Lucy St. Charles, Alexa Putka, and John Madden analyzed the coverage and timeliness of maternal and pediatric timeliness in Durham. The team found a correlation between socio-demographics such as age, race, ethnicity, income level and tobacco use and the coverage and timeliness of vaccination. The results may inform the development of future interventions to reduce vaccine hesitancy and improve local vaccine uptake.
St. Charles said that despite not having any experience in data science, she felt very well supported throughout the program. "We got a lot of support from a lot of people while becoming comfortable with different languages and learning to get what you want from data." Putka added, "Data science is such an essential skill in any field you go into."
The project was led by Lavanya Vasudevan, assistant professor of community and family medicine and affiliate at DGHI's Center for Health Policy & Inequalities Research.
(L to R) John Madden, Lucy St. Charles, and Alexa Putka
VISUALIZING THE LIVES OF ORPHANED AND SEPARATED CHILDREN
Under the mentorship of Kathryn Whetten, director of DGHI's Center for Health Policy and Inequalities Research (CHPIR), undergraduate Jennie Wang and recent Master of Science in Global Health graduate Blen Biru developed a platform that visualizes significant life events across time for more than 3,000 orphaned and separated children (OSCs) in Cambodia, Ethiopia, Kenya and Tanzania. 
They explained that the study was in response to the worldwide movement to close orphanages because of the trauma children experience while in residential care. By visualizing various types of trauma orphaned and separated children experience in both family and residential care, they hoped to be able to more effectively inform policymakers about this issue. 
Wang reflected that she appreciated the ability to apply creative solutions the most during the Data+ project. "I was able to creatively figure out the best way to visualize the data," she said. "I think Data+ was a really great way for me to learn a new language and new technology with a real-world application."
(L to R) Jennie Wang and Blen Biru
SOCIAL DETERMINANTS OF HEALTH
Led by faculty and researchers at the Social Science Research Institute, undergraduates Kim Calero, Alexandra Diaz, and Cary Shindell worked to identify social determinants of health variables in Cabarrus County, North Carolina. These variables include proximity to resources such as grocery stores, schools and fitness centers, which has been shown to affect one's health. The team used the data they collected to create an interactive map, through which users can see how resources are spread out across Cabarrus County. 
"I think it's really interesting that social determinants of health aren't something you consider when you go in for a check-up," Diaz said. "But they can still have such a huge impact."
Calero explained that they were responsible for creating the interactive map during the project. "I had no previous experience with computer programming or code," they said. "Learning code and making this map really taught me how to break down more challenging things and make them manageable."
In the future, the team plans to link this information to data from a longitudinal health study based in Cabarrus County to better examine patterns of disparity and how they affect health.
(L to R) Alexandra Diaz, Kim Calero, and Cary Shindell
BIG DATA FOR REPRODUCTIVE HEALTH
Through this project, Saumya Sao and Melanie Lai Wai created an interactive data visualization tool with charts, chord diagrams and heat maps that allow the user to compare trends in contraceptive use across various locations and demographics. Team leaders Megan Huchko, director of DGHI's Center for Global Reproductive Health, and research scholar Amy Finnegan oversaw their research.
For Wai, one of the most interesting parts of the project was seeing difference between countries that are geographically close. "It was really interesting to see the drastic difference between Haiti and the Dominican Republic even though they share an island," Wai reflected. "The infant mortality rate in the Dominican Republic is much lower than in Haiti." 
"This project was a really neat way to get involved in family planning issues," Sao shared. "For example, I learned that in low-income countries, one third of women discontinue contraception within the first year."
During the academic year, the team will continue their work through a Bass Connections project, in which they'll obtain reproductive health data from even more countries and update the tool. The goal is for researchers, Ministries of Health and family planning advocates to be able to use the tool to identify trends and develop fresh insights around contraceptive discontinuation.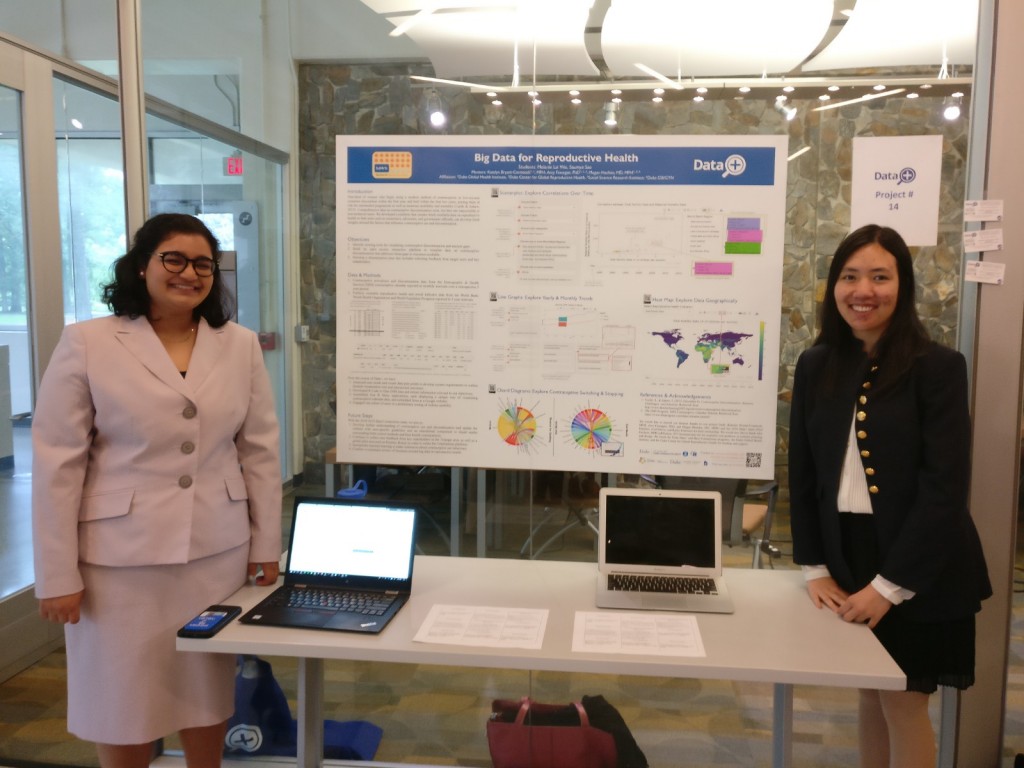 (L to R) Saumya Sao and Melanie Lai Wai
SMARTPHONES AND THE SIXTH VITAL SIGN
Undergraduates David Liu and Connie Wu, led by Duke Global Health Institute affiliate Janet Pvru Bettger and an interdisciplinary team with the 6th Vital Sign Study, used census and other public data to examine and visualize the demographic representation of participants in this smartphone-based population health study. The sixth vital sign, they explained, is walking speed, but this measure is not used in doctors' offices due to space and time restrictions. The 6th Vital Sign Study involved voluntary participation in walking speed tests and health surveys. 
"If we can use this data to prove that lower-than-average walking speeds correlate to more health issues, then doctors could recognize walking speed as a health marker and use the app to track it," Liu said. 
Wu reflected that Data+ gave her an opportunity to gain more experience with manipulating data in an interesting way. Liu added, "I like that I'm doing something that will have a positive effect later on, and hopefully better people's lives." 
Next steps for this project include scaling-up the smartphone study, as well as increasing the number of males and minorities that participate in the research.
(L to R) David Liu and Connie Wu
Check out these and more projects from the 2018 Data+ program.
Learn more about the students and faculty members involved in Data+ projects (videos).
I think Data+ was a really great way for me to learn a new language and new technology with a real-world application.
Jennie Wang, Data+ participant
Share This