Donor Spotlight: Ranjit and Sara Ahluwalia
November 15, 2016
Editor's note: We're pleased to highlight the sixth in a series of profiles that highlight qualifying gifts for the Bill & Melinda Gates Foundation Global Health Matching Grant. This dollar-for-dollar match is reserved for gifts that support priority areas for the Duke Global Health Institute: education programs, graduate fellowships, faculty support, and international partnerships. Unrestrictive gifts for use at the discretion of the Institute director may also be given.
Ranjit Ahluwalia has remained connected to Duke in various ways since he graduated with a bachelor's degree in economics in 1997. But now that he's more settled in his family life and career—he has three young children and he's a senior investment professional at a private investment firm—he wanted to do more. 
He and his wife, Sara Ahluwalia, were looking for a way to give back to Duke that would align with their overall giving priorities of children's health, education and welfare—specifically closing the achievement gap. When they shared these priorities with the Duke Forward campaign, they learned about the Duke Global Health Institute (DGHI). 
Ranjit and Sara were inspired by what they heard about DGHI's research and student programs and their potential positive impact on people in low and middle income countries. One of the projects that piqued their interest was an effort by DGHI associate professor Wendy Prudhomme-O'Meara to improve the quality of a mobile-phone based malaria testing device in Kenya. They were drawn to the project because O'Meara and her team were making a real, concrete difference in diagnosing malaria.
Sara, who is particularly drawn to maternal and child health, noted, "Thankfully, our kids are healthy and thriving. We're fortunate to live in a country that has a great health care system, but not everyone is that lucky."
Impressed with the fieldwork opportunities DGHI offers undergraduate global health students, they decided to invest in experiential learning so more undergraduates could have the chance to learn the skills and gain the experience to help them make a difference in the world. They established the Paul Singh Ahluwalia Fund for Global Health in memory of their son.
"We were thrilled to find an area within Duke that spoke to us and our philanthropic goals," Sara reflected.
To learn more about the matching grant and read other donor stories, visit the matching grant page of our website.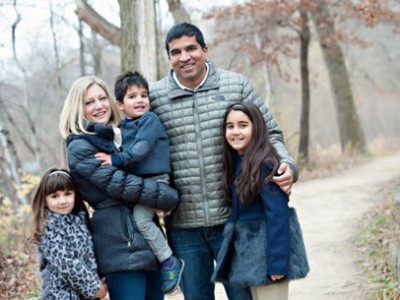 We're fortunate to live in a country that has a great health care system, but not everyone is that lucky.
Sara Ahluwalia, DGHI donor
Share This