By Nick Steenwyk, junior biomedical engineering major
This January, I had the privilege of teaching a Discovery Term course at my alma mater, Sheboygan County Christian High School in Sheboygan, Wisconsin. Discovery Term is a week-long learning experience where students explore topics not typically covered in a high school curriculum, like aquaponics, Greek mythology, or my course, Global Health Problem Solving.
I'm three years into my studies of global health and biomedical engineering at Duke and also work in communications at the Duke Global Health Institute (DGHI). I wanted to bring the challenges of these exciting fields to students who may not have known that these areas of study exist. My goal for the course was for students to understand health issues locally and globally and to think critically about how to solve them using community resources and technology. A typical class consisted of an introductory talk, a discussion and a hands-on project.
Here's a summary of my week on the other side of the student-teacher relationship!
On day one, I gave an introduction to the field of global health with a video pulled from Dr. David Boyd's "The Challenges of Global Health" Coursera course. The video introduced students to global health and defined health as a state of physical, social, and mental well-being. We did an activity taken from the Global Health Ethics course here at Duke, in which students created maps of their identity to explore how different aspects of who they are – like their education level, socio-economic status, faith, or personality – affect their health. After this activity, we discussed the theology of health and why it's important to work toward health equity, using an article by Dr. David Toole, who has a joint appointment in DGHI and the Duke Divinity School. 
The class focused on three groups of health topics: clean water/sanitation/nourishment, economics of health and disability and diseases. For the first topic, students explored the Sustainable Development Goals to learn about the current state of water, sanitation, and nourishment resources around the world. During project time, students designed and tested a low-cost water filter using simple materials that can be found nearly anywhere in the world. After students completed their designs, we critiqued them and came up with questions we would want to ask the actual water filter users if this were a real project.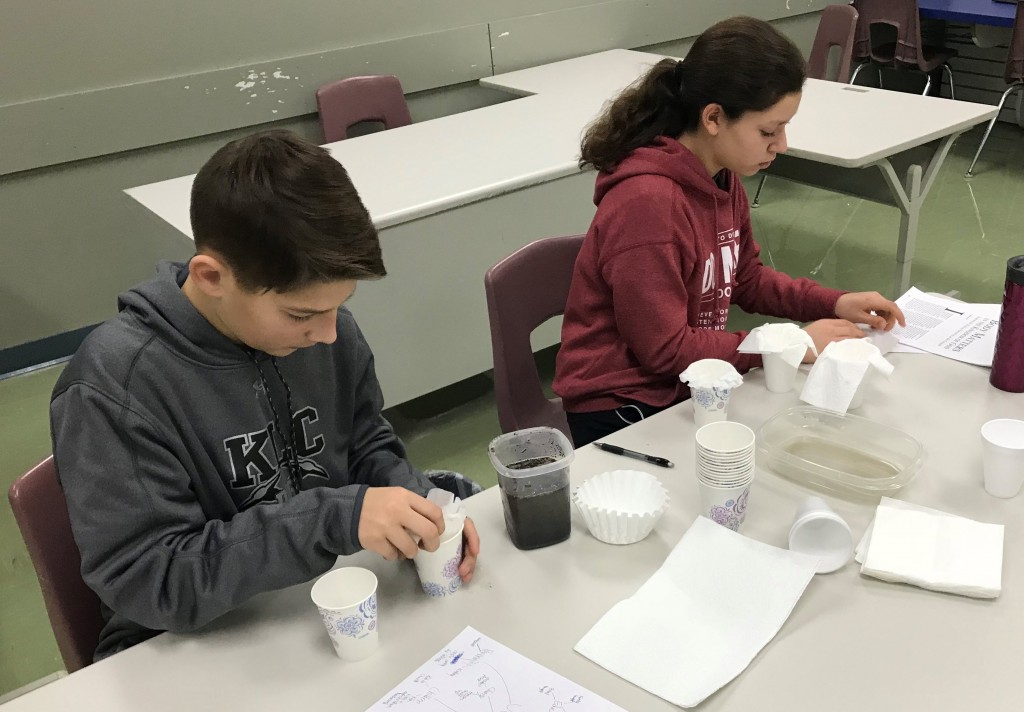 Nick's students work on their water filtration system.
Next, we shifted focus to our second topic: the economics of health. Students learned about the cycle of poverty and how it ties into the cycle. We watched a TED Talk about design for people with disabilities and I introduced the students' main design challenge: building a dressing device for a double arm amputee. This challenge was an actual project I was given in a previous internship for a teenager who had both of his arms amputated after an electrical accident. Imagine the ways your life would change if you didn't have arms! It wouldn't be easy to be a teenage boy who needs his mother to dress him. The students designed a safe, portable, low-cost, innovative device that could be made from simple materials, like string and PVC, to empower an amputee to put on pants and a shirt entirely on their own.
Nick's students try out their dressing device.
For our last topic, we discussed infectious and non-communicable diseases. Students learned the vocabulary that health researchers use to discuss disease and explored ways of measuring disease severity and spread. We examined health department data for Sheboygan County and discussed statistics that surprised us. As a final project, students created a poster highlighting a statistic that surprised them and listing steps anyone can take to help improve that aspect of health. Their posters shared data about personal domestic safety and binge drinking to help raise awareness of these issues in Sheboygan County.
I thoroughly enjoyed the opportunity to teach this class, engage with these students and give back some of the wealth of knowledge I've received from DGHI. I gained a new appreciation for the wealth of educational material DGHI publishes for anyone wanting to learn more about global health.
It was exciting for me to connect with students that are interested in health and engineering and to mentor and encourage them as they work toward their goals. I was genuinely impressed by the students' empathy, creativity, and passion to serve those around them. I'm excited to see how they will impact global health in the future.