A few years ago, Yadurshini Raveendran wasn't sure what her future looked like, but she knew she wanted to study global nutrition. Fast forward to a few weeks ago, when she defended her thesis (virtually!) at Duke Global Health Institute. Her topic: How to improve nutrition in pediatric cancer patients.
Raveendran, who came to Duke after being awarded a merit scholarship, has worked closely with DGHI faculty members to pursue an issue she is passionate about and she is pleased to report that her Zoom defense was a success and she'll be a Duke graduate soon.
DGHI caught up with her by phone — she is isolating at her home near campus — to learn more about her global health education experiences and to hear her thoughts about her future.
Before we talk about your time at Duke Global Health Institute (DGHI), can you share a bit about your pre-Duke years?
I grew up in Colombo, Sri Lanka, from a family of seven accountants. When I told my family I wanted to pursue a degree in science in the US, it was met with a mixed bag of reactions. My parents have always been incredibly supportive. If it wasn't for them, my dreams would have stayed mere dreams. But a young woman moving by herself to the other side of the world still meant a newfound independence and privilege that most people I grew up around weren't privy to. Yet, despite these obstacles, I went on to study at SUNY Albany where I earned a dual degree in Biology and Human Biology. 
When did you start thinking about pursuing global health?
When I was an undergrad, I got the chance to work at a global health institute at SUNY Albany. I was only there for a short time but I was left feeling inspired. When I started thinking about looking for jobs, I didn't really know what I was going to do, so I decided to study more instead and applied to a couple of graduate programs in various fields such as immunology and pathobiology, but I didn't get in to any. I was feeling a little lost, but fortunately one of the professors I had talked with at Cornell — one of the schools I had applied to — was really kind and said I needed to gain some more exposure in the field in order to get into a global health program, so he gave me a shot. It was an opportunity in India, where I could gain some exposure to global nutrition epidemiology before applying for a PhD program. I worked out of the slums of Mumbai as part of Cornell's global nutrition team. I was a research coordinator managing a randomized controlled study in global nutrition that looked at the effects of micronutrients on growth outcomes of infants from this urban area.
How did you end up at DGHI?
From there, I re-applied to global health master's programs and I was accepted into Duke and The London School of Hygiene & Tropical Medicine and a few other schools. For me, it was the scholarship that decided where I went. Duke gave me a very generous merit scholarship from a DGHI Advisory Board member, Elaine Leavenworth, and it was matched by the Bill & Melinda Gates Foundation.
You started working with Dr. Kristin Schroeder at Duke. How did you connect with her?
Dr. Schroeder was looking for someone who had a background in global nutrition. Her study in Mwanza, Tanzania, was looking at the link between pediatric cancer and nutrition, so I started working with her as a research assistant.
You've made a big impression on faculty and other students at DGHI. Can you share more about some of your other roles here at Duke.
I held three jobs while working on my thesis! I served as president of the Global Health Graduate Student Association which involved putting on events and representing the 60-person cohort — the first year and second year students. We also did a clothing drive and we got the whole DGHI community to donate to a local organization. I'm also an intern at FHI 360's Product Development and Innovation Department where I work on research for family planning tools. And I'm a teaching assistant for Global Health 101 and a course on Novel Coronavirus at Duke Kunshan.
While working on my primary research for my thesis, Dr. Schroeder also gave me the opportunity to work alongside another faculty member, Dr. Lavanya Vasudevan, on mNav or mNavigator. It is an mhealth app aimed at improving provider compliance to pediatric cancer treatment protocols in Mwanza, Tanzania. The experience has been incredibly rewarding, including an opportunity to learn coding on the job.
Image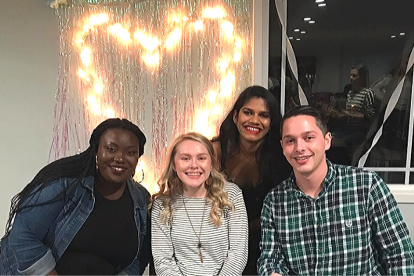 One of your most successful projects was the Decolonizing Global Health Conference held this past January at Duke. It drew an audience of more than 250 people and another 500 attendees from around the world live-streamed the event.
Yes, that came out of a discussion with classmates in the student lounge in 2018 and it bloomed into an international conference. For me, it was mostly because of how I identify as a woman of color from an LMIC, and then how I saw the way everyone was talking about Sri Lanka. I didn't like the way the country was perceived.
In the lounge that day, my classmates, Andrea Koris and Laura Mkumba, and I had a conversation centered around sharing about our different experiences working in global health all over the world in different capacities, and that grew into us wanting to create a safe space for us and our peers to continue this conversation.
Now that you're nearing graduation, what do you see on the road ahead for yourself?
Unfortunately, because of this pandemic, my future is on hold. As an international student there are a lot of visa issues going on. I would like to work for a few years, stay in academia, and pursue a PhD in global health.
I love looking at the practical side of research and specifically implementation science and evidence-based science. I want to work in the field as a research coordinator and keep doing advocacy in decolonizing global health. I really care about working in low-resource settings because I don't believe you need a huge multimillion-dollar study to really make a difference.
Looking at something from a new perspective and using innovation — whether it's repairing what already exists or looking at it from a different angle — can make a huge impact.
I would love to go back to work in the African subcontinent again and I really like pediatrics and I'd like to stay in that field.
What are some of the biggest plusses from your time at Duke?
Dr. Schroeder, she has been a real support for me over the last two years. And I think I wouldn't have been able to survive the last two years without my two closest friends – Laura Mkumba and Jacob Stocks. Jacob and Laura and I are very different people — different in many aspects — from citizenship, race, marital status to the way we like our cereal. Every aspect about us is different but I think it's amazing how none of that matters when I'm with them. We're simply bonded over the way we look at the world together. They have been there for me for everything from helping me academically, whether its workshopping my thesis defense or calling me in the field and giving their constant support even when things went wrong. While, I don't have any family here in the US, I have never felt deprived of love or support with them around.
Any yet-to-be fulfilled dreams?
I think my biggest guilt is not being able to do something at home, in Sri Lanka. As someone just starting out, there are a lot of obstacles in my way. As a minority, a young person and a woman. I'd like to build some credibility, get a couple of grants, and hopefully be able to return to do some work looking at health inequities at home.
Topics:
Countries:
People:
Related News