William Nkenguye's fall visit to the Duke Global Health Institute was a time of firsts. A researcher at Tanzania's Kilimanjaro Christian Medical Centre (KCMC), he presented for the first time at a U.S. academic conference and saw Duke Hospital's emergency department in action. He also learned how to run a dishwasher and developed a taste for most American cuisine.
"My first day here, I had a double cheeseburger from McDonald's, and I just wanted to double-double everything," he says with a laugh.
All of those experiences – even the double cheeseburger – were by design. Nkenguye is part of a research training program called TRECK, short for Trauma Research Capacity Building in Kilimanjaro, Tanzania. A partnership between KCMC and DGHI's Global Emergency Medicine Innovation and Implementation Research Center (GEMINI), the program supports Tanzanian master's and doctoral students to do research on the treatment and prevention of injuries and other traumas.
Nkenguye joined Timothy Peter and Edwin Shewiyo as the first TRECK cohort to visit Duke. Their six-week stay, funded by the TRECK program, was an opportunity to gain exposure to U.S academic and clinical research and work with GEMINI's team in honing research skills. Two more TRECK students arrived at Duke in October to complete the six-week experience.
Image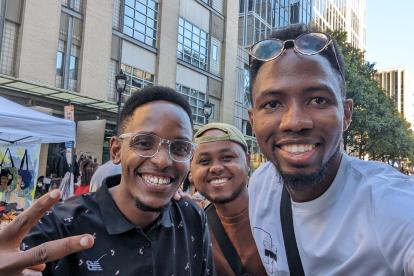 "Five years ago, I never saw myself here," says Nkenguye. "We've learned new skills such as machine learning techniques, implementation science-based research and public speaking."
Peter, a graduate of Kilimanjaro Christian Medical University College, is eager to transfer what he learned at Duke to improve patient care at KCMC. "This has been great exposure for me because the emergency department is a pivotal entry point for patient care," he says.
Catherine Staton, M.D., GEMINI's co-director, says the visits grew from the belief that global partners should have the same opportunities as their U.S. colleagues to expand their research and learning through travel. 
"They are such an amazing example of what we do at DGHI and how capacity building will have a lifelong impact on health systems, our learners and their families," she says. She adds that interacting in person with global partners is the best way to spark innovation. "That can help them envision and build the kind of infrastructure they want to have in [Tanzania]."
Image
Nkenguye, Peter and Shewiyo shared a rental home during their stay, which provided its own set of new experiences, such as using central air and navigating the city bus system. None had traveled in the U.S. before, and they took advantage of their time. They made visits to New York, Washington, D.C., and Atlanta, and even took a trip to the North Carolina State Fair, where they ate fried Oreos and gator.
But all three agreed the best meal they had was a Brazilian barbecue, with a beef called picanha, that was cooked by GEMINI co-director João Vissoci.
"The GEMINI team made us feel at home and comfortable because it was an adjustment coming here," says Shewiyo, a medical doctor. "They cared for us like partners, like family."
As they prepared to head back home, Shewiyo reflected on the lasting impact the trip will have after they return.
"It has expanded my thinking career-wise, and there are global opportunities for me and not just at home," he said. "I want this experience to continue improving my career. We're grateful for this, and I want more Tanzanian students to visit here and Duke students visit us, too."
Topics:
Countries:
People:
Related News