Back to People Listing
Faculty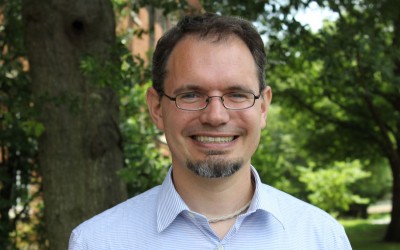 Summary
Brandon Kohrt conducts global mental health research focusing on populations affected by war-related trauma and chronic stressors of poverty, discrimination, and lack of access to healthcare and education. He has worked in Nepal for 16 years using a biocultural developmental perspective integrating epidemiology, cultural anthropology, ethnopsychology, and neuroendocrinology. Since 2000, he has conducted a prospective study of adults in rural Nepal examining the effects of political trauma, ethnic discrimination, gender-based violence, and poverty on mental health. With Transcultural Psychosocial Organization (TPO) Nepal, he designed and evaluated psychosocial reintegration packages for child soldiers in Nepal.
He works with The Carter Center Mental Health Liberia Program (Watch video: http://www.cartercenter.org/news/features/h/mental_health/rlrc-BrandonKo...) developing anti-stigma campaigns and family psychoeducation programs. He directs the anti-stigma program of the Mental Health Beyond Facilities program in Liberia, Uganda, and Nepal. He co-founded the Atlanta Asylum Network for Torture Survivors. In 2009, he started a mental health clinic for Bhutanese refugees. Dr. Kohrt has contributed to numerous documentary films including Returned: Child Soldiers of Nepal's Maoist Army.
Projects
Recent Publications
Kaiser, BN, Kohrt, BA, Keys, HM, Khoury, NM, & Brewster, A-RT. (2013) Strategies for assessing mental health in Haiti: Local instrument development and transcultural translation. Transcultural Psychiatry, 50(4), pp. 532-558. View
Niraula K, Kohrt BA, Flora MS, Thapa N, Mumu SJ, Pathak R, Pederson B, Ghimire P, Regmi B, MacFarlane EK, Shrestha R. (2013) Prevalence of depression and associated risk factors among persons with type-2 diabetes mellitus without a prior psychiatric history: a cross-sectional study in clinical settings in urban Nepal. BMC Psychiatry, 13, e309. View
Aggarwal NK, Kohrt BA. Beyond morality: realpolitik medical diplomacy and regional centers of excellence in global mental health. Community Mental Health Journal. 2013. View
Morley CA, Kohrt BA. Impact of Peer Support on PTSD, Hope, and Functional Impairment: A Mixed-Methods Study of Child Soldiers in Nepal. Journal of Aggression, Maltreatment & Trauma. 2013; 22:714-734. View
Kohrt B. Social ecology interventions for post-traumatic stress disorder: what can we learn from child soldiers? British Journal of Psychiatry. 2013; 203:165-167. View
Luitel, N. P., Jordans, M. J., Sapkota, R. P., Tol, W. A., Kohrt, B. A., Thapa, S. B., . . . Sharma, B. (2013). Conflict and mental health: a cross-sectional epidemiological study in Nepal. Social Psychiatry & Psychiatric Epidemiology, 48(2), 183-193. doi: http://dx.doi.org/10.1007/s00127-012-0539-0
Betancourt, T. S., Borisova, I., Williams, T. P., Meyers-Ohki, S. E., Rubin-Smith, J. E., Annan, J., & Kohrt, B. A. (2013). Research Review: Psychosocial adjustment and mental health in former child soldiers - a systematic review of the literature and recommendations for future research. Journal of Child Psychology and Psychiatry, 54(1), 17-36. View
Hagaman, A. K., Wagenaar, B. H., McLean, K. E., Kaiser, B. N., Winskell, K., & Kohrt, B. A. (2013). Suicide in rural Haiti: Clinical and community perceptions of prevalence, etiology, and prevention. Social Science & Medicine, 83(1), 61-69. View
Kumar, G. S., Varma, S., Saenger, M. S., Burleson, M., Kohrt, B. A., & Cantey, P. (2013). Noninfectious Disease Among the Bhutanese Refugee Population at a United States Urban Clinic. Journal of Immigrant and Minority Health. View
Bradley H. Wagenaar, Brandon A. Kohrt, Ashley K. Hagaman, Kristen E. McLean, Bonnie N. Kaiser. 2013. Determinants of Care Seeking for Mental Health Problems in Rural Haiti: Culture, Cost, or Competency Psychiatric Services, 64 (4), 366-372. doi:10.1176/appi.ps.201200272
Khoury N. Kaiser BN. Keys H. Brewster A. Kohrt BA. 2012. Explanatory models and mental health treatment: Is Vodou an obstacle to psychiatric treatment in rural Haiti? Culture, Medicine & Psychiatry. 36(3): 514-534. Doi:10.1007/s11013-012-9270-2
Keys H. Kaiser BN. Kohrt BA. Khoury N. Brewster A. 2012. Idioms of distress, ethnopsychology, and the clinical encounter in Haiti's Central Plateau. Social Science & Medicine. 75 (3), 555-564. Doi:10.1016/j.socscimed.2012.03.040
Kohrt BA, Maharjan SM, Timsina D, Griffith JL. 2012. Applying Nepali Ethnopsychology to Psychotherapy for the Treatment of Mental Illness and Prevention of Suicide among Bhutanese Refugees. Annals of Anthropological Practice. 36 (1): 88-112.
Wagenaar BH, Hagaman AK, Kaiser BN, McLean KE, Kohrt BA. 2012. Depression, suicidal ideation, and associated factors: a cross-sectional study in rural Haiti. BMC Psychiatry, 12:149. doi:10.1186/1471-244X-12-149
Kohrt BA, Hruschka DJ, Worthman, CM Kunz RD, Baldwin JL, Upadhaya N, Acharya NR, Thapa S, Tol WA, Jordans MJD, Robkin N, Sharma VD, Nepal MK. 2012. Political Violence and Mental Health in Nepal: Prospective Study. British Journal of Psychiatry. 201(4), 268-275. doi:10.1192/bjp.bp.111.096222
Jordans, M. J. D., Komproe, I. H., Tol, W. A., Ndayisaba, A., Nisabwe, T., & Kohrt, B. A. (2012). Reintegration of child soldiers in Burundi: a tracer study. BMC Public Health, 12, 905. doi: http://dx.doi.org/10.1186/1471-2458-12-905
Kohrt BA, Jordans MJD, Tol WA, Luitel NP, Maharjan SM, Upadhaya N. 2011. Validation of cross-cultural child mental health and psychosocial research instruments: adapting the Depression Self-Rating Scale and Child PTSD Symptom Scale in Nepal. BMC Psychiatry, 11:127. doi:10.1186/1471-244X-11-127.
Maes KC, Kohrt BA, Closser S. 2010. Culture, status and context in community health worker pay: Pitfalls and opportunities for policy research. A commentary on Glenton et al. Social Science & Medicine, 71(8), 1375-8.
Kohrt BA, Jordans MJD, Tol WA, Perera E, Karki R, Koirala S, Upadhaya N. 2010. Social Ecology of Child Soldiers: Child, Family, and Regional Determinants of Mental Health, Psychosocial Wellbeing, and Reintegration in Nepal. Transcultural Psychiatry, 47(5), 727-753.
Kohrt BA, Hruschka DJ. 2010. Nepali Concepts of Psychological Trauma: The Role of Idioms of Distress, Ethnopsychology, and Ethnophysiology in Alleviating Suffering and Preventing Stigma. Culture, Medicine & Psychiatry, 34(2), 322-352.
Jordans MJD, Komproe IH, Tol WA, Kohrt BA, Luitel NP, Macy RD, & de Jong JTVM. 2010. Evaluation of a classroom-based psychosocial intervention in conflict-affected Nepal: a cluster randomized controlled trial. Journal of Child Psychology & Psychiatry & Allied Disciplines, 51(7), 818-826.
Tol, WA, Kohrt BA, Jordans MJD., Thapa SB, Pettigrew J, Upadhaya N, & de Jong JTVM. 2010. Political violence and mental health: a multi-disciplinary review of the literature on Nepal. Social Science & Medicine, 70(1), 35-44.
Kohrt BA, Harper I. 2008. Navigating diagnoses: understanding mind-body relations, mental health, and stigma in Nepal. Culture, Medicine & Psychiatry 32(4):462-91
Kohrt BA, Jordans MJD, Tol WA, Speckman RA, Maharjan SM, et al. 2008. Comparison of mental health between former child soldiers and children never conscripted by armed groups in Nepal. Journal of the American Medical Association (JAMA) 300(6):691-702