Witnessing Global Health in North Carolina
Monday, July 17, 2017 - 9:15am
By Han Nguyen '18 and Joyce En-Hua Wang '19
This summer, we were part of a Bass Connections/undergraduate Student Research Training team that went to Pembroke, North Carolina, to investigate the reasons people in Robeson County experience poor outcomes related to chronic kidney disease (CKD). 
This population has one of the highest rates of CKD in the United States. Robeson County is also home to a very racially and ethnically diverse population, most notably the American Indian Lumbee tribe. This tribe has yet to receive federal recognition, and they therefore lack access to federal American Indian health facilities and care. The overall poor health of the people in this population has contributed to their status as one of the poorest counties in North Carolina. 
Many Factors Contribute to County's Poor Health
Located about two hours away from Durham (where Duke University is located), Robeson County is a rural setting whose population exhibits a poor health profile due to a variety of factors. 
Many community members have low health literacy and thus lack awareness of diabetes, hypertension and CKD. The community suffers from unequal resource distribution and limited access to resources. For example, fast food restaurants are conveniently located around the corner, while healthy food options can be hard to come by. Some people have to drive more than half an hour to receive care from Southeastern Medical Center, the local healthcare system. And to make matters worse, the county suffered tremendous loss from Hurricane Matthew last year. 
A Day in the Life of a Student Researcher
Every day, we administered an hour-long survey in one-on-one interviews with patients. We asked about a variety of risk factors, ranging from health practices to coping strategies. We encountered mostly elderly people who suffer from chronic illnesses. 
It may seem tedious having to read the same survey questions multiple times throughout the day, but we viewed it as an opportunity to listen to their life stories, learn about their faith and hear their wisdom. Some have difficulties making ends meet, yet they found hope in their spiritual beliefs and religions; others told us they are not bothered by stress, despite living with a chronic illness for years.
By the second half of our time here, we had gathered enough quantitative data to start doing focus groups, which are small group interviews that aim to collect qualitative data on personal experiences with chronic illnesses, health management and other areas. We've done focus groups with CKD patients as well as religious leaders. 
The purpose of the focus groups with patients is to help us understand how CKD patients manage kidney disease and its risk factors. Faith is a really important part of life to the people here. In fact, almost all the people that we interviewed identified themselves as religious. 
The focus groups with religious leaders aimed to help us learn how the churches and their congregations view and manage health, through the lens of spirituality. With these data, we hope to identify the main risk factors of CKD in Robeson County and improve the health of the population.
Work Hard, Play Hard
The four of us live on the UNC Pembroke campus, and we cook and eat together almost every day. On most weekends, we either stay in the area to explore the community or head to different parts of North Carolina. We've gone strawberry picking, traveled to Carowinds (an amusement park), relaxed at the beach, and kayaked at our program director's, Cherry Beasley, lakehouse.
A visit to our program director's, Dr. Cherry Beasley, lakehouse at Lake Waccamaw, NC
On the second to last week, the community held one of their biggest celebrations of the year, called Lumbee Homecoming. Homecoming is a special time of the year when people from the Lumbee tribe from all over country gather together and enjoy a week-long celebration full of food, performances and activities.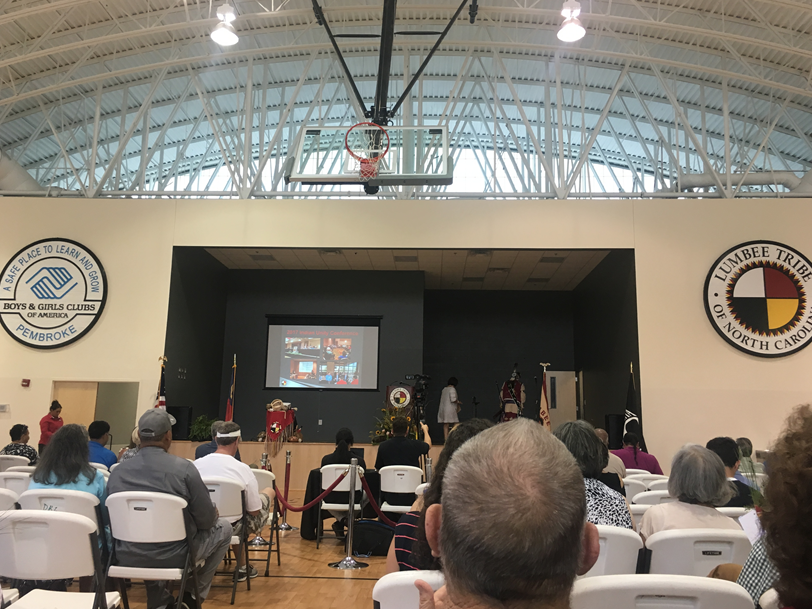 Lumbee Homecoming State of the Tribe Address
Our fieldwork experience this summer reinforced the notion that "local is global." The four of us on the team were not originally from the United States, yet we all gathered in Robeson County, North Carolina. We were welcomed by the hospitality of the community and exposed to the richness of its culture and history, and we recognized how domestic health challenges equally deserve global health efforts.