Strengthening global health research through rigorous design and analysis.
Mission:  The DGHI Research Design & Analysis Core uses rigorous design and analytic methods to strengthen global health research and education through meaningful collaboration with its faculty and students.
Overview:
Our mission and work extend to both faculty research and graduate student education and training.
The Core has 10 members, including 1 PhD biostatistician, 2 PhD epidemiologists, 1 PhD social psychologist, 4 master's level biostatisticians, 1 MSW, and 1 data collection and management specialist. We also have 1 affiliate member who is a PhD in biostatistics, and 2 affiliate members who are PhD candidates in biostatistics and statistical sciences, respectively.
Leadership is provided by Core Director, Liz Turner, PhD, and Associate Core Director Joe Egger, PhD. Oversight is provided by John Bartlett, MD, DGHI Associate Director for Research.
We collaborate with DGHI faculty on grant proposal development and writing. DGHI faculty members are able to draw on our extensive experience in global health research projects by naming the Core and its members on grant proposals.
We focus on quantitative methods and have a deep appreciation for qualitative and mixed methods research.
We maintain strong links to Duke's Department of Biostatistics & Bioinformatics  and its own Biostatistics Core, which is the home department of our four biostatisticians.
We provide referrals to Duke Library services for DGHI, The Edge, SSRI's Connection Bar, Duke DTMI Biostatistics Core and other Duke and external organizations that provide complementary services.
The Core collaborates and works closely with DGHI's Evidence Lab to perform rigorous evaluations of global health importance.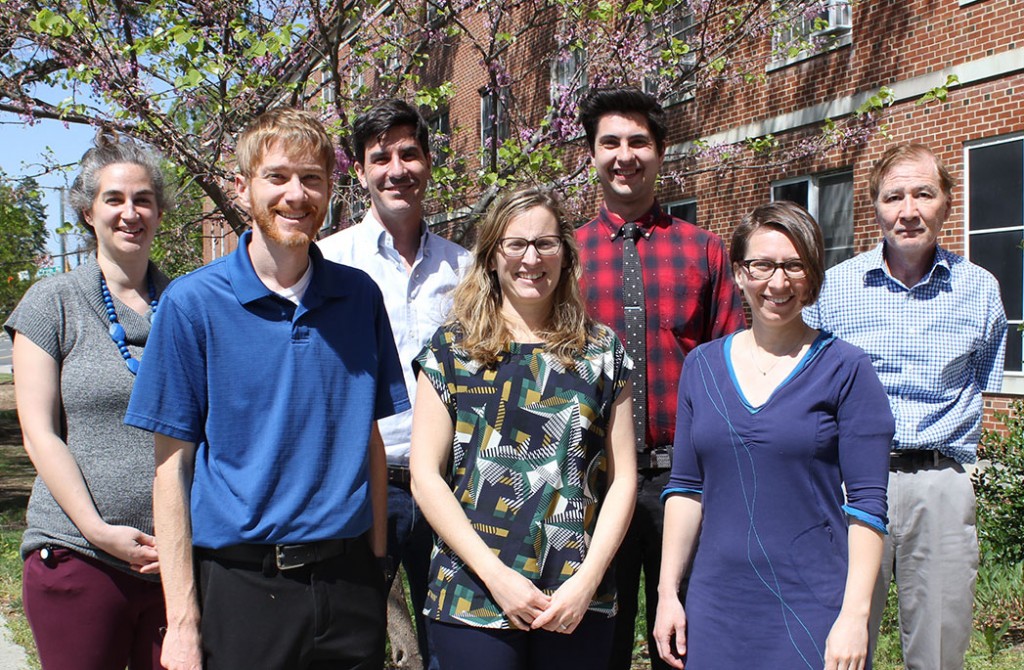 Leadership
Founded as the DGHI Biostatistics Core in 2012, our name was changed in 2015 to better reflect the importance of our role in meeting DGHI's research and educational mission.
Collaboration with DGHI Faculty
The Research Design & Analysis Core collaborates with DGHI faculty on the design and analysis of population health research studies. Core members Joe Egger, Joao Vissoci, John Gallis, Larry Park, Alyssa Platt, Ryan Simmons, Yunji Zhou, Sabrina McCutchan, and Liz Turner are available to meet with any DGHI faculty member regarding ongoing and new research proposals. DGHI affiliates, research scholars, postdoctoral scholars/associates, and visiting scholars may request Core support as resources permit. For new grant proposals, our four PhD team members (Joe Egger, Joao Vissoci, Larry Park and Liz Turner) are available to be named as co-investigators on new grant proposals. Our MS team members (Alyssa Platt, John Gallis. Ryan Simmons and Yunji Zhou) and data specialist (Sabrina McCutchan) are available to further strengthen those new grant proposals by providing high quality in-house quantitative support through funded grant support. Types of research activities include, but are not limited to:
Grant preparation, including the possibility of a statistician or epidemiologist named as a co-investigator. Please note: Requests for grant support should be submitted within 5 days of notification to DGHI finance of intention to submit a grant (i.e., at least 90 days prior to the grant's due date).
Grant preparation, including the possibility of listing a Master's level biostatistician on proposal
Conceptualization and study design, (e.g., methods, analysis plan)
Data collection and sampling (e.g. power/sample size calculations, choosing data collection tools, designing data collection and management systems)
Reliability/validity analysis (e.g. informal or formal bias analysis)
Statistical analysis
Manuscript preparation
End-of-project closeout (e.g. preparing data for deposit in a repository)
General statistical advice
General epidemiological advice
Support is typically offered by meeting face-to-face in Durham, NC. When that is not possible, email or web-based (e.g., Skype, Google) consultation is available.
An initial consultation, subsidized by DGHI, is offered free of charge for appropriate requests. If a significant time investment is required, the faculty or affiliate will need to provide funding. Depending on the time commitment, some additional support can be offered free of charge. For instance, assistance with preparation of a grant application may be provided; however, the grant application should include a budget request for continued PhD-level and MS-level biostatistical or epidemiological support after the grant is funded.
Our Team
The DGHI Research Design & Analysis Core is made up of Liz Turner, PhD (Director), Joe Egger, PhD (Associate Director), Larry Park, PhD, Joao Vissoci, PhD, John Gallis, SCM, Jennifer Headley, MSW,  Alyssa Platt, MA, Ryan Simmons, MB, Yunji Zhou, MSc, Sabrina McCutchan, BS, and affiliate members Amy Herring, Kelly Moran and Xueqi Wang.
Liz Turner, PhD, Director

Liz has served as the Core Director since its creation in March 2012 when she joined Duke's Global Health Institute and Duke's Department of Biostatistics & Bioinformatics. With a PhD in statistics from McGill University, Canada, followed by four years working as a collaborative biostatistician in the Department of Medical Statistics, Faculty of Epidemiology and Population Health of the London School of Hygiene and Tropical Medicine (LSHTM), Liz has extensive experience working in both epidemiological studies and randomized trials across a range of substantive areas in developed world and resource poor settings. Thanks to her participation in multi-disciplinary projects, she has a great appreciation for the importance of good study design and data collection and is well aware that no fancy statistical analyses can save researchers from the scourge of bad data. Through those experiences and her teaching in different settings, including the UK, Canada, France and Tanzania, she is aware that statisticians and their collaborators sometimes "speak a different language". As a result, her approach is very much one of translation, pragmatism and collaboration.
Her current substantive interests include malaria, disability and disease burden with an emphasis on eye diseases, cardiovascular disease and mental health, together with child health and education.
Recent research collaborations
The International Centre for Eye Health, LSHTM
Estimation of cataract incidence in order to plan for the surgical volume required to prevent blindness in line with the VISION 2020 goals. Data from three large national prevalence surveys of blindness in Bangladesh, Nigeria and Pakistan were used to estimate incidence and predict future disease burden.

Ifakara Health Institute, Tanzania
Research projects in public health entomology in Tanzania including experimental field trials to evaluate registered spatial repellents as potential replacements for DDT against malaria.

Kenyan Medical Research Institute, Nairobi, & Harvard Graduate School of Education
Statistician to the Health and Literacy Intervention Trial, a factorial cluster randomized trial to evaluate the impact of malaria control and enhanced literacy instruction on health and educational achievement of school children in Kenya. More than 5000 children from 101 schools on the south-east coast were enrolled.

National Heart and Lung Institute, Imperial College, London, UK
Research in preventive cardiology including a national survey to evaluate lifestyle and risk factor management in coronary patients and people at high risk of developing cardiovascular disease, secondary analyses of a European cluster randomized trial of a lifestyle intervention to improve cardiovascular (CV) health and a case-control study of the effects of exposure to violence on CV disease.

European Huntington's Disease Network
Use of longitudinal registry data from more than 2000 people with a range of measures such as motor function, cognition and depression, to develop recommendations for how best to design a forthcoming trial.
Joe Egger, PhD, Associate Director

Joe joined Duke's Global Health Institute in June 2013. Joe is an epidemiologist and collaborates with, and provides epidemiological and statistical support to DGHI students, faculty and affiliates. Prior to joining Duke, Joe was the lead epidemiologist for SciMetrika, a public health consulting firm based in Research Triangle Park, NC. Joe has also worked in academic and government settings on a wide array of public health research topics, including influenza, HIV/AIDS, dengue, tobacco, obesity/nutrition, and cancers. Joe has a master's degree in medical geography from the University of Washington, and a PhD in infectious disease epidemiology from the London School of Hygiene & Tropical Medicine.
Joe's research interests include vector-borne disease ecology, disease transmission dynamics, and more recently, the use of electronic health record data in epidemiological studies and disease surveillance.
Recent research collaborations
Epidemiologic biases in post-marketing safety surveillance
Co-investigator on an FDA-funded project to study the impact of bias parameters (e.g., misclassification, confounding, selection bias) on epidemiologic studies. The study is adapting existing probabilistic bias analysis techniques for use in post-licensure medical product safety surveillance.

Traumatic Brain Injury
Co-investigator with CDC's National Center for Injury Prevention and Control to study traumatic brain injury in American youth. Designing a study to calculate the sensitivity of relevant ICD-9 CM codes to accurately detect TBI in multiple clinical settings using electronic health record data. Results will be used to improve the sensitivity of CDC's traumatic brain injury surveillance system. A secondary objective of the project is the study predictors of concussion in high school sports using a nationally-representative sample of US high schools. 

Health-Related Quality of Life
Researching the relationship between health-related quality of life and the adoption and effectiveness of interventions to prevent chronic diseases. Specifically, the study uses data from the Behavioral Risk Factor Surveillance System and National Health Interview Survey to model whether HRQOL moderates the association between an intervention to prevent chronic diseases (e.g., lung cancer from tobacco use) and success in that intervention (e.g., tobacco cessation program).

Expanding Healthcare Data Access and Use
Co-investigator on a two-year study with CDC's Office of Surveillance, Epidemiology, and Laboratory Services (OSELS) to systematically evaluate the use of several large healthcare data sources (e.g., medical claims, electronic health records) to augment public health surveillance activities at CDC. A component of the evaluation was to determine the ability of each data source to monitor the impacts of Health Reform, as enacted under PPACA and ARRA/HITECH, on the US healthcare system.

Fitnessgram
Co-investigator on a multi-year longitudinal study of the effects of changes in fitness and body mass index on academic outcomes in New York City middle school students. By using data from a large and heterogeneous population the study also assessed the impact of socio-economic status, race/ethnicity and gender on the fitness-academic relationship.

Seroprevalence of pandemic influenza viruses, New York.
Data from the 2004 NYC Health and Nutrition Examination Survey, a representative sample of New York City adults, were used to determine the seroprevalence of preexisting hemagglutinin inhibition (HAI) antibody titers to influenza strains with pandemic potential. Serum samples were tested for antibodies to A(H1N1)pdm09 virus and the 1918, 1957, and 1968 pandemic viruses. Statistical modeling was used to assess the relationship between antibody titers to previously circulating viral strains and titers to A(H1N1)pdm09 virus. The results revealed that immunologic background during the emergence of A(H1N1)pdm09 virus in NYC beginning in late April 2009 help explain why fewer cases of A(H1N1)pdm09 infection were clinically detected among older persons than younger persons, supporting the conclusion that the difference was a result of, at least in part, antibodies elicited by prior H1N1 subtype infection in older persons.

Non-pharmaceutical interventions on rates of influenza in schools
Studied the effect of reactive school dismissal in New York City during the 2009 influenza pandemic on rates of influenza transmission in those schools, compared to schools that did not enact school dismissal policies.  Results indicated that if non-pharmaceutical interventions, such as school dismissal, are employed after cases are detected through passive surveillance, the effect on reducing the burden of influenza will be minimal.
Larry Park, PhD

Larry Park, Ph.D. is affiliated with the Duke Department of Medicine and the Durham VA Medical Center. Dr. Park joined the Duke Global Health Institute in 2013 as adjunct faculty and the DGHI Biostatistics Core in July 2014. He is the statistical analysis lab instructor for Quantitative Methods I and course instructor for Quantitative Methods II. Dr Park holds a Ph.D. in epidemiology from UNC Chapel Hill and Master's degrees in both computer science and electrical engineering from the Johns Hopkins School of Engineering. He has spent many years in basic science (protein chemistry, molecular biology, immunology and viral evolution).
His current research interests and collaborations include respiratory infectious disease, HIV and HCV infection and their effects on chronic disease, cardiovascular disease and endocarditis, healthcare cost and utilization, hospital infection control and prevention, the application of advanced statistical methods in epidemiology, analysis of longitudinal data, survival analysis, and methods for causal inference in observational epidemiology.
Recent research collaborations
Institute for Genomic Sciences and Policy – Duke University
A study examining in vivo peripheral blood gene expression signatures in response to respiratory infection to differentiate among viral, bacterial and fungal etiology and further to distinguish among specific pathogens. The aims are to identify pre-symptomatic infection to reduce inappropriate antibiotic use and initiate appropriate treatment earlier. This study uses Bayesian factor analysis and other pattern recognition and machine learning methods in developing expression and symptom signatures to detect infection and differentiate among the infectious agents.

International Collaboration on Endocarditis
Currently the largest study on endocarditis (comprised of >7000 inpatient stays in 64 hospitals and 38 countries around the world) this project aims to describe the epidemiology, clinical course and outcomes of patients hospitalized with infectious endocarditis. This study has elucidated geographic, demographic and clinical factors associated with outcomes.

Hospital epidemiology and infection control in the Durham VA Medical Center
Hospital-acquired infection (HAI) with multi-drug resistant organisms (MDRO) is a significant contributor to morbidity and mortality worldwide, and reducing incidence of HAI has been a focus of the infection control groups in hospitals nationwide. At Durham VAMC, real-time clinical surveillance data is used to identify patients colonized with MDRO to insure that they are put on appropriate isolation protocols. These data also allow researchers to conduct outbreak investigations within the facility. In addition, patients with incident hospital-acquired infections are identified in order to administer appropriate treatment and to monitor the sources of those infections to reduce future incident events.

Clinical Case Registry – VA Healthcare System
The VA Clinical Case Registry has compiled a clinical dataset for all patients infected with either HIV or HCV. This database covers the years 1998 through 2010 and includes 450,000 patients. Data are being used to quantify overall healthcare utilization and temporal trends of utilization in this patient population. The data are also being used to study the epidemiology of cardiovascular disease, pulmonary disease and other chronic conditions in this patient population.

Institute for Immunology and Infectious Diseases – Murdoch University and Royal Perth Hospital, Perth Western Australia
A major focus of this group is the association between host HLA genotype and mutation/evolution of HIV and hepatitis viruses HBV and HCV. Certain HLA Class I and II alleles and haplotypes are associated with better or poorer survival among those infected with HIV, and specific HLA alleles are strongly associated with escape mutations in HIV. This research uses full-length viral sequence and high-resolution HLA typing to identify the associations between HLA and viral mutation and viral mutation with clinical disease course.
Joao Vissoci, PhD

Joao joined the core in July 2018 and has been working with Duke University School of Medicine since 2016. He is an assistant professor in the Departments of Surgery, working with the Emergency Medicine Division, and DGHI. Prior to joining the faculty in the Department of Surgery, Joao was a post-doctoral fellow at DGHI. Prior to coming to Duke, he was an assistant professor of Public Health and Psychology in Maringá, Brazil. With a PhD in social psychology, Joao has dedicated his career to research methods including mixed methods, psychometrics, latent variable modelling and geospatial analysis. Joao has experience in Measurement, Population Health, Mental Health and Health Systems.
His research interests include data science and technology towards access to and quality of primary and acute care. His collaborations also involve mental health with an emphasis on psychometrical assessments. Joao has actively worked in Brazil, Tanzania and Uganda on topics related to understanding population health, health systems and quality of care through geospatial analysis and geostatistics.
Recent research collaborations
Kilimanjaro Christian Medical Center (KCMC), Moshi, Tanzania
Joao leads the methodological and analytical support for Dr. Catherine Staton's acute care research projects at KCMC. These studies are focused on injury prevention and related risk factors including alcohol and substance use, mental health, pain, comorbidities and physical function. Research project designs include health systems evaluation, implementation, assessment of interventions, patient registries and observational studies. Among other techniques, Joao uses Geographical Information Systems (GIS), latent variable modelling and machine learning.

Mbarara Regional Referral Hospital, Mbarara, Uganda
With the Duke Global Neurosurgery and Neuroscience division, Joao works on designing and conducting observational and implementation studies of neurosurgery access and epidemiology in Uganda. His team uses machine learning and Geographical Information Systems (GIS) to improve access to care and optimize resource allocation.

Health Sciences Postgraduate Program, State University of Maringá, Maringá, Brazil
In collaboration with the Postgraduate program in Health Sciences of the State University of Maringá, Joao teaches a course on systematic reviews and latent variable modelling. He also collaborates with Dr. Luciano Andrade on studies of health systems and population health using secondary analysis of the Brazilian National Health System (SUS) data, focusing on cardiovascular disease. Joao uses geostatistics and time series approaches to support these studies.

Physical Education Postgraduate Program, State University of Maringá, Maringá, Brazil
The Pro-Esporte group conducts research about sports and exercise and their impact on health, human development and well-being. Joao uses latent variable modelling to analyze mental health reintegration through sport and exercises.

National Program for Access and Quality Improvement in Primary Care (PMAQ) Consortium, Brazil
The PMAQ Consortium is a group of six universities in Brazil (Federal University of Pelotas, Federal University of Santa Caterina, Federal University of Goias, Federal University of Minas Gerais, Federal University of Maranhão, University of Brasilia) led by the Federal University of Pelotas that conducts research on primary care access and quality improvement in the country. The PMAQ conducts an ongoing external diagnostic census of primary care units, aiming to evaluate structure and process dimensions of quality of care to incentivize adherence to care protocols and inform policy changes.

Methods Analytics and Technology for Health (MATH) Consortium
The Duke Global Health Institute is a partner in the MATH Consortium, a group of researchers collaborating to produce innovative healthcare analytics solutions by leveraging data science techniques.
Alyssa Platt, MA

Alyssa joined Duke's Global Health Institute and the Department of Biostatistics and Bioinformatics in February 2012. Alyssa received a MA in applied economics from Duke University. Previous to joining DGHI and the Department of Biostatistics and Bioinformatics, she worked in the field of health economics in the Department of Economics, at Duke University. Alyssa has a range of experience in the field of health behaviors and health outcomes, including: obesity and physical activity; infectious disease; risk perceptions; alcohol and tobacco use; effects of built environment on health behavior; court policies and deterrence in domestic violence and DWI behavior; and associations of adherence to recommendations for preventive care in health maintenance and disease management.
Her interests include health behavior and access to care, risk behavior, and economic development, and the use of spatial methods to determine environmental correlates of health and disease risk.
Recent research collaborations
MESA
A cross-sectional matched case/control study linking children presenting to the pediatric ward at Webuye District Hospital to children of the same age/gender and village examining a range of data on household members, sleeping spaces, bednet quality and usage, larval sites, agriculture, building structure, and neighborhood bednet usage to determine the best predictors of febrile malaria.

Innovative Public Private Partnerships
A two phase semi-longitudinal case control study in the Ndivisi district of Western Kenya. The study will examine rapid diagnostic tests (RDT) and anti-malarial purchasing behavior in response to coupons for free testing and discounted price on Artemisinin-based Combination Therapy (ACT).

Facility Incentives Study
A longitudinal cluster randomized study that examines the effectiveness of pay-for-performance (P4P) incentives in improving malaria diagnostic, treatment, and reporting practices by health centers in high transmission and low malaria transmission areas in Western Kenya.

DSS Febrile Study
A longitudinal observational study using census data from the Webuye DSS (Western Kenya). This study identifies spatial "hotspots" of self-reported febrile malaria and finds static and dynamic factors predictive of a household's location in a "hotspot"

Juega
A longitudinal observational study on physical activity level and weight status of children in two Mexico cities. Children are observed prior to after starting preschool, using survey, accelerometry, and GPS methods.

NC On the Move
A pre-post case/control evaluation study examining the effects of a grassroots community intervention to promote physical activity on physical activity and BMI of elementary school age children in two small cities in North Carolina.

MAPA
A pre-post case/control evaluation study examining the effects of a statewide policy for minimum mandatory requirements for physical activity for children in preschool.

Promoting Breastfeeding through State Regulation
A national cross-sectional spatial analysis of state policies promoting breastfeeding in childcare centers and family home child care.

Implementation Science to Optimize Malaria Vector Control and Disease
A longitudinal cluster randomized 2x2 factorial trial of malaria prevention interventions in Tanzania using disease management, vector management, and their combination to reduce prevalence of malaria in 24 randomly selected villages.

Home-based HIV Counseling & Testing Survey
A cross-sectional analysis of uptake in antenatal care in 6 administrative districts Western Kenya. Individual, household, village correlates are examined to explain spatial autocorrelation in uptake in care.
John Gallis, ScM

John joined Duke's Global Health Institute in June 2014 and the Department of Biostatistics and Bioinformatics in August 2012. John received a master's degree (ScM) in biostatistics from the Johns Hopkins School of Public Health. John's collaborations at Duke have included performing data management and analysis and creating statistical reports for a long-term randomized controlled trial (RCT) of weight loss in young adults in Durham; working with a neurosurgery research group and other statisticians to answer clinical questions of interest using a large national insurance database; and assisting research relating to childcare use and obesity.
John's research interests include the application of longitudinal and spatial statistical methods to public health and medical observational and clinical data.
Recent research collaborations
Cell Phone Intervention for You (CITY) Clinical Trial
A longitudinal (24-month) RCT of the effectiveness of a cell phone app-based intervention and a personal contact-based intervention in increasing weight loss in young adults (ages 18-35) versus a control group.

Neurosurgery Research Group
Studying the relationship between various procedures related to neurosurgery and various health outcomes, such as complications following surgery and healthcare resource utilization, using a large longitudinal insurance database (MarketScan).

Danish National Birth Cohort
A study of the relationship between childhood overweight and obesity and childcare use in Denmark using a large national birth cohort.

Nurture Study
Ongoing prospective longitudinal data collection on mothers and infants in Durham, NC, the main goal of which is to study the factors influencing childhood overweight and obesity. Data collection is in its early stages, but a current study on the data collected up to this point seeks to examine the relationship between food insecurity (i.e., not having enough food to eat) and various health outcomes, such as obesity and infant feeding styles.
Ryan Simmons, MB

Ryan collaborates with DGHI faculty and affiliates via the DGHI Biostatistics Core. Collaboration efforts include a priori analyses (e.g. sample size and power calculations) for grant applications, assistance in research design and methods, and analysis of results. Past projects include examining access to healthcare among elderly individuals in Laos and analyzing malaria serology data from a cluster randomized trial in Tanzania. Ryan received his master in biostatistics degree from Duke in 2015.
Recent research collaborations
Changes in Access to Healthcare Among the Elderly in Laos
A study using cross-sectional survey data in Laos evaluating changes in access to and utilization of both inpatient and outpatient services by people 60 years and older.

Implementation Science to Optimize Malaria Vector Control and Disease
A longitudinal cluster randomized 2x2 factorial trial of malaria prevention interventions in Tanzania using disease management, vector management, and their combination to reduce prevalence of malaria in 24 randomly selected villages.
Jennifer Headley, MSW

Jennifer is an Evaluation Research Specialist with the DGHI Evidence Lab, which conducts, and builds capacity to conduct, high-quality and rigorous evaluations. Within the Evidence Lab, she is working to develop and test evaluation toolkits for SEAD innovators. Jennifer has expertise as a research analyst and project manager of a wide range of studies, including formative research studies, impact evaluations, and randomized controlled trials. Jennifer worked with FHI 360's Social and Behavioral Health Sciences department for more than 6 years prior to joining DGHI, analyzing qualitative and quantitative data, managing multi-site studies in low-resource settings, conducting trainings, and building site capacity.
Yunji Zhou, MSc

Yunji works in the DGHI Research Design & Analysis Core as a Biostatistician, providing statistical support to DGHI faculty and affiliates. His experience includes data management, research design and methods, and interpretation of results. He assists with research projects evaluating interventions on maternal mental health and innovative strategies to improve rational use of first-line antimalarials in sub-Saharan Africa. Yunji earned his master's degree in Biostatistics from Duke University in 2019.
Recent research collaborations
Maternal mental health and child development in Cameroon, Ghana, and Kenya
A series of studies using longitudinal data to evaluate the impact of Early Childhood Development intervention on the mental wellbeing of mothers of young children and their children's social-emotional development.

Rational use of first-line antimalarials in Kenya and Nigeria
A randomized experiment of malaria diagnostic testing and conditional subsidies to target ACTs in the retail sector.
Sabrina McCutchan

Sabrina joined RDAC in June 2019 as a data collection and management specialist. She supports DGHI's extensive primary data collection activities by leveraging Duke's broad resource pool and her own 10+ years of experience to design tailored data collection and management strategies for research projects. Sabrina is available to assist researchers with needs including but not limited to: choosing data collection tools, file/folder management, designing culturally-appropriate training for international teams, and preparing data for deposit in data repositories. Before joining DGHI, she was a health economics researcher in Duke's economics department focused on behavioral and child health. She also served as her team's data custodian for multiple federal and non-profit grants. In addition to her time as a health researcher, Sabrina has worked in strategy, market research, and curriculum development for a start-up in higher education.
Support for DGHI MSc-GH Students
In addition to faculty input provided through MSc-GH course curricula and faculty mentorship, the DGHI Research Design & Analysis Core also offers statistical and epidemiological advice to students related to their MSc-thesis projects. Liz Turner and Larry Park provide support to MSc-GH students through their teaching of core methods courses. Liz Turner leads the fall course Biostatistics and Epidemiology I, whilst Larry Park leads the accompanying data analysis lab and leads the follow-on spring course Biostatistics and Epidemiology II. In addition, Joe Egger teaches an Intermediate Global Health Epidemiology Course during the Fall semester. Core members Joe Egger, Alyssa Platt, and Jennifer Headley are available are available to meet with students, and provide support in the following areas::
Conceptualization and study design (e.g. methods, analysis plan, power/sample size calculations)
Human Subjects (IRB) review
Questionnaire design
Data entry forms and/or solutions
General epidemiological or statistical consultation
Questions about data structure or data cleaning
Questions about preliminary exploratory analyses
Statistical analysis methods/solutions
Referral services for students, including Duke Libraries, ORS/IRB, and others.
To set-up a meeting, first fill out a student request and someone will get in touch with you. Please plan ahead and submit a form as early as possible, as requests are taken in the order in which they are received.
Online Request Form for Students
Undergraduate Global Health students may seek support for quantitative questions from the Academic Resource Center and SSRI's Connection Bar.