Your education in global health can take you in many directions. It starts at Duke.
Opportunities within the field of global health are expanding as the world becomes more interconnected. Recognizing that many global health problems stem from economic, social, environmental, political, and health care inequalities, Duke has designed strong programs in global health education across the university. The Master of Science in Global Health emphasizes interdisciplinary collaboration, a research experience, and mentorship from expert faculty. We prepare our graduates to make an impact in the reduction of health disparities.
The Duke Master of Science in Global Health is one of the first programs of its kind in the United States. Duke also offers the program at Duke Kunshan University in China.
Our Students
In this program you will develop an understanding of the most important global health concepts and challenges. You will gain a solid foundation in global health research methods, with a focus on ethics and working in cross-cultural settings. And you will learn to understand, evaluate and compare health systems from around the world.
Average student age is approximately 24
Multicultural student body representing 13 countries to date
MSc-GH students received undergraduate degrees in fields such as Anthropology, Biology, Environmental Studies, Psychology, English, Biomedical Engineering, International Studies, and Economics
Cohort size is typically 34-36 students per year
Distinguishing Characteristics
Expert, multidisciplinary faculty
Funded fieldwork opportunities
Flexible, tailored curriculum
Focus on applied, relevant research and skills
Diverse cohort of students
Professional development support
Voices of DGHI - MSc-GH Perspective blog
Insights from current students, alumni and faculty about their work and experiences from the classroom and the field.
Deadline
March 31, 2020
Contact
SARAH MARTIN
Assistant Director for Graduate Admissions and Special Projects
Get More Info
Program Requirements
The Master of Science in Global Health program defines a new way to approach training in global health research methodology and prepare future leaders to make an impact. A guiding principle is the recognition that a multidisciplinary and multi-sector approach to health is essential, as health is influenced by a multitude of factors.
Through a tailored, flexible curriculum, students develop an understanding of the larger context of global health, while learning from faculty and other students approaching the topic of global health from a variety of disciplinary perspectives.
Coursework:
The 38-credit curriculum, requiring at least three full-time terms of study, imparts the following:
An understanding of key global health concepts and challenges
A solid foundation in core methodologies used in global health research
Ethics training and considerations applicable across cultures
Core concepts to help students evaluate and understand health systems
Core courses (six courses)
GLHLTH 701 – Global Health Challenges
GLHLTH 702 – Global Health Research: Design and Practice
GLHLTH 705 – Biostatistics and Epidemiology for Global Health I
GLHLTH 707 – Biostatistics and Epidemiology for Global Health II
GLHLTH 740 – Ethics for Global Health Research
GLHLTH 750 – Health Systems in Developing Countries
Elective courses (five courses)
The core courses are taught by faculty from multiple departments and schools at Duke, while elective courses allow students space in their curriculum to focus on a specific area, such as environmental health or health policy. Elective offerings include courses taught across the schools at Duke University, giving students the opportunity to build an individualized skill set and knowledge base best suited to their career goals.
Courses which are not a GLHLTH, GLHLTH cross-listed, or on the list of preapproved electives may be considered as an elective. Courses are reviewed for sufficient global health content, applicability to global health, and/or must be directly relevant to your academic plan in global health. You must complete this form prior to enrolling in the course.
Ungraded Research in Global Health (a minimum of four credits)
Students register for at least four credits of ungraded research in global health as they complete their thesis writing and defense.
Field Research and Thesis
From the classroom to the world! To date, students have completed innovative field research in over 30 countries around the world.
Classroom learning is only the beginning of the educational experience.  A closely mentored and supported field research and a culminating thesis are also credit-bearing program requirements. At Duke you'll develop your own thesis project and field experience while working one-on-one with a faculty mentor. The field-based research experience typically occurs between the first and second years of the program, with students spending at least 10 weeks in the field.  A comprehensive workshop series in the first year of the program supports project development and student preparation.  DGHI offers all students financial support for travel and research expenses. To date, students have completed innovative field research in over 30 countries around the world.
View Field Research Details Finding your Opportunity Fieldwork and Research Timeline Project Examples
Student Bloggers Share their Field Experience
Duke students around the world chronicle their global health experiences from the field. View Voices of DGHI MSc-GH Perspective posts
Faculty
Program Leadership
Nathan Thielman, MD
Director of the Master of Science in Global Health, Professor of Medicine and Global Health
Mary Story, PhD
Associate Director for Academic Programs, Professor, Global Health, and Family Medicine and Community Health
Faculty
MSc-GH students learn from and work with faculty from across Duke University. The following list represents many of the faculty directly connected to students in the program by teaching core and elective courses, supervising research assistant positions and mentoring students through field-based research projects, and serving as thesis committee members. In addition to faculty listed below, you will have the opportunity to interact with visiting faculty and scholars from all over the world through seminars, networking events, and symposia hosted by DGHI each semester.
The faculty are really what makes this program special. They want you to succeed and want to be part of that success. They were the best part of my experience. Nirupama Yechoor, MSc-GH Class of 2012
The Duke Advantage
Dual and Complementary Degree Options
Collaboration and creativity are key values at Duke. Combine your global health studies with other disciplines to create your own concurrent focus in fields such as medicine, law, or nursing.
JD/MSc-GH
In three academic years and one summer, you can combine your passions for global health, law, and policy. Apply directly to the Duke University School of Law. APPLY NOW
MD/MSc-GH
In five academic years, you can earn a dual MD/MSc-GH, including rigorous research methods training and the opportunity for an applied field research experience. Apply directly to the Duke School of Medicine. APPLY NOW
Global Partnerships
DGHI has partners in many areas of the world to host faculty research, student projects, and education and training opportunities. While our students have worked in over 20 countries, a few sites of particular importance to MSc-GH students are:
Duke-NUS Medical School
DKU GH Research Center/Kunsha, China
University of Ruhuna/Galle, Sri Lanka
Moi University/Eldoret, Kenya
Muhuru Bay, Kenya
Peru
Durham and Local Environments
Durham joins Raleigh, the state capital, and Chapel Hill to form the Research Triangle Park. Anchored by major universities, large, multi-national biotechnology and pharmaceutical companies and nongovernmental organizations, the Research Triangle Park combines high-powered scholarship, innovative technologies and an entrepreneurial spirit. Highlights include:
Mild winters and sun-filled summers
Ranked among the "Best Places to Live" by US News & World Report
Great quality of life with vibrant, diverse communities
World-class Duke University Medical Center
Dynamic local music, restaurant and arts scene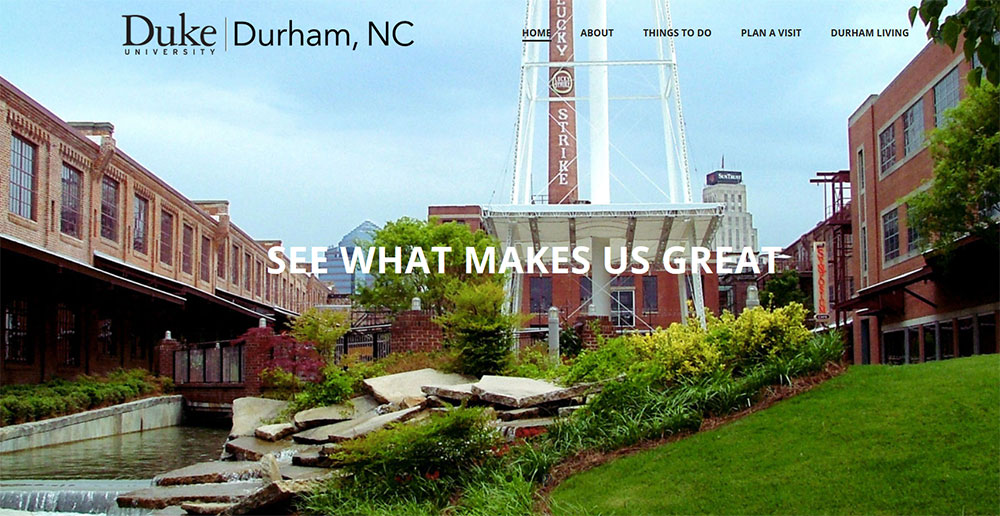 Special Programs
Duke University Peace Corps Coverdell Fellowship in Global Health
The Duke Global Health Institute (DGHI) partners with the Peace Corps to offer targeted scholarships to returned Peace Corps volunteers.  Through the Paul D. Coverdell Fellowship, students enrolled in the Duke Master of Science in Global Health program (MSc-GH) receive a 50% tuition scholarship, as well as funding to pursue field-based research and professional development activities. 
Importantly, Coverdell Fellows are required to undertake a research or service project of benefit to underserved populations in the United States.  DGHI will help facilitate identification of opportunities, matching your interests and strengths to project or community needs.
As a Coverdell Fellow in the Duke MSc-GH, your experiences abroad become a valuable part of your education at Duke.  With Duke's focus on interdisciplinary learning and applied research methods and concepts, you will have the opportunity to reflect on your service abroad in connection with the larger context of global health.  Access to comprehensive Duke resources for professional development, leadership training, and community engagement will help you combine your Peace Corps experience with robust academic training to move into your career.
Duke University is home to three additional Coverdell partners – two in the Sanford School of Public Policy and one in the Fuqua School of Business, so DGHI Coverdell Fellows will join a vibrant RPCV community at Duke and locally beyond Duke, further building your networks.
Please contact DGHI to learn more about applying to the Master of Science in Global Health as a Coverdell Fellow.
Accelerated Master of Science in Global Health (A-MSc)
Motivated undergraduate Global Health majors and minors are invited to apply for the Accelerated Master of Science in Global Health program during their junior year of study. The innovative program allows a small number of undergraduates the opportunity to begin graduate study during their senior year at Duke, earning a Master of Science in Global Health with only one additional year of study beyond their undergraduate degree. Provisionally admitted students will take graduate-level coursework during their senior year at Duke, completing a field-based research project during the summer immediately following undergraduate commencement.
Basic Curriculum Outline, Accelerated Master of Science in Global Health
The A-MSc program requires early planning and an ambitious course-load and is available only to undergraduate Global Health majors and minors at Duke University. Please contact a member of the DGHI Education Team to discuss your interest in the program as soon as possible!
Master of Science in Global Health at Duke vs. Traditional MPH
Duke is helping to define educational excellence in the innovative field of Global Health. While Duke's Master of Science in Global Health shares some of the same core subject areas offered in a traditional MPH program, the MSc-GH approaches these subjects from a more intentionally interdisciplinary and global perspective, with a focus on health disparities in low- and middle-income countries. If you're weighing the strengths of a MSc-GH versus a MPH, compare the two in the chart to the right.
Professional Development
The Master of Science in Global Health Professional Development Coordinator specializes in career advising and professional development services assisting you in a successful job search toward the end of your graduate program.
Below is a listing of the services we offer to current students and recent alumni.
Skills-Based Workshops
Throughout your time in the MSc-GH program, you will be able to take advantage of skills-based workshops, such as:
Developing Strong Resumes and Curriculum Vitae
Writing Effective Cover Letters
Networking
A Strategic Global Health Job Search
Interviewing, Accepting the Offer, and Salary Negotiation
Meet & Greet Global Health Professionals
DGHI coordinates career-focused visits by Global Health professionals and employers, alumni and faculty. These visits are designed to give you an insider's perspective on organizations of interest or a clearer understanding of a particular Global Health sector. In these seminars, our guests will focus on careers and skills required to meet the needs of their organizations.
DGHI staff and faculty are also excellent resources to talk with about your career goals. The expertise of the DGHI faculty is world-renowned and the staff has a wide range of experiences to draw upon.
Other Resources and Opportunities
DGHI offers additional support for professional development, including:
MSc-GH funding for professional development activities
Connections to local career fairs, conferences and symposia, case competitions and site visits
One-on-one and small group advising sessions
Resources available through DGHI complement services and opportunities provided by the Duke Graduate School and the the Duke Career Center.
Alumni - where are they now?
Graduates of the program have successfully translated their degree in global health into careers in the following sectors:
How to Apply
For more information on the application process, please visit the Duke University Graduate School. Applications are available in September of the year preceding entry to the program.
Application requirements include:
Completed online application for admission form
Statement of purpose
Three academic letters of recommendation
Transcript(s) from each post-secondary institution attended
Official GRE or MCAT scores
Official TOEFL or IELTS scores (international applicants only)
Join the next generation of global health leaders. At Duke you'll develop the skills you need to make a difference.
Costs/Financial Aid
Students must register for a minimum of three full-time terms, and pay a per-credit rate for any remaining credits (if less than full time) after they have met the requirement. Annual tuition and fee rates are established by the Duke Graduate School.
Scholarships and Financial Aid
DGHI awards merit-based scholarships to both international and US student. Students are automatically considered for scholarships based on their Graduate School application – no additional application is required.
DGHI also maintains graduate assistantship positions available to MSc-GH students. Positions do not carry tuition remission benefits, but do pay an hourly rate. A list of positions is available at the beginning of each academic year.
The Duke Graduate School Financial Aid Office works with students to arrange for federal financial aid and student loans.
Field Research and Professional Development Funding
MSc-GH students receive financial support to undertake their field research. The amount depends on project scope, location, and length. Students may apply for additional funding support longer or more complex projects.
DGHI also provides each student with funding to support conference or workshop attendance.
Additional Duke Scholarship Opportunity
Foreign Language and Area Studies (FLAS) Fellowships
Past MSc-GH students have been selected for the Foreign Language and Area Studies (FLAS) fellowships offered through the Duke Center for International Studies. Funded by the US Department of Education, these fellowships require language and area studies coursework in addition to global health requirements, and are an excellent way to increase your preparedness to undertake a career in global health. Those interested should notify the DGHI program coordinator upon your application to the program.
The Annual Security and Fire Safety Reports include institutional policies concerning campus safety and security, and statistics for the previous three years concerning reported crimes that occurred on Duke University and adjacent public property and fires that occurred in residence halls. A copy is available at http://www.duke.edu/police/news_stats/clery.php or upon request to the Duke Police Department at 919-684-4602.