Building Trust in Public Health: A Post-COVID Roadmap
January 26, 2023 | 12:00pm - 1:00pm ET
040 Trent Hall, plus Zoom webinar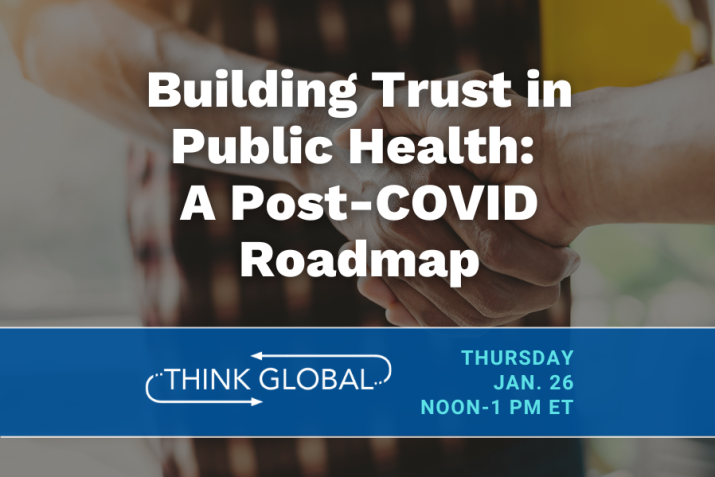 Contact
Kaitlyn Shepard
(910) 338-8598
Building Trust in Public Health: A Post-COVID Roadmap
January 26, 2023 | 12:00pm - 1:00pm ET
040 Trent Hall, plus Zoom webinar
How is it that modern science and medicine can produce miracles every day while at the same time lose the public's trust? While trust in public health declined significantly during the COVID-19 pandemic, the public has been losing trust in institutions for decades.
This session will explore the causes of this crisis in trust, the roles science and public health play in our lives, and the unique challenges of building and maintaining trust in health institutions and leaders, with a focus on the current challenges to confidence in public health in the US and Africa. Incorporating insights from a recent meeting of global cross-sectoral experts, the discussion will suggest some key actions needed to begin to restore confidence and trust in public health, focused on communities, communications, and competence.   
SPEAKERS
Heidi J. Larson, Ph.D., is an anthropologist and Director of The Vaccine Confidence Project at the London School of Hygiene and Tropical Medicine, where she is a professor of anthropology, risk, and decision science. She is also a clinical professor with the Institute of Health Metrics and Evaluation at the University of Washington and a fellow with the Chatham House Centre on Global Health Security. Larson previously headed global immunization communications for UNICEF and chaired the Advocacy Task Force for GAVI, the global vaccine alliance. 
Jack Leslie is a strategic communications executive, political consultant and international development activist. Leslie is the former chairman of Weber Shandwick, one of the world's leading communications and public affairs firms. He is also one of the pioneers of political consulting and stakeholder engagement, having served as political director for Senator Edward Kennedy. Presently he is senior advisor of Weber Shandwick, chairman of the Board of Directors of the US African Development Foundation, and a member and past chair of the Duke Global Health Institute's Board of Advisors. 
Mandy Cohen, MD, is Aledade's Executive Vice President and the Chief Executive Officer of Aledade Care Solutions, the company's new health services unit. Dr. Cohen was most recently the Secretary of the North Carolina Department of Health and Human Services, where she led the state's COVID response and transformation of North Carolina's Medicaid program, focusing on whole-person care and the non-medical drivers of health. Dr. Cohen also served as the Chief Operating Officer and Chief of Staff at the Centers for Medicare and Medicaid Services, helping to implement the Affordable Care Act's health insurance exchanges and innovative new payment models. Dr. Cohen has been elected to the National Academy of Medicine and is an adjunct professor at the UNC Gillings School of Global Public Health.
Mark McClellan, MD, PhD, is Director and Robert J. Margolis, M.D., Professor of Business, Medicine and Policy at the Margolis Center for Health Policy at Duke University. He is a physician-economist who focuses on quality and value in health care, including payment reform, real-world evidence and more effective drug and device innovation. He is former administrator of the Centers for Medicare & Medicaid Services and former commissioner of the U.S. Food and Drug Administration, where he developed and implemented major reforms in health policy. 
Dr. Rispah Walumbe is a global health specialist focused on advocacy and healthcare policy at a national, regional, and global level. Her training is in healthcare policy and financing, and she currently practices as a health policy advisor at Amref Health Africa, working in advocacy and technical support including the advancement of the universal health coverage (UHC) agenda. Her advocacy experience, which she began as a medical student, stretches from the local to the global stage on matters ranging from health to social protection and the youth agenda. She led a financing reforms panel through the Ministry of Health in Kenya and provided technical expertise and coordination for a commission on the state of the UHC in Africa.
Krishna Udayakumar, M.D., (moderator) is the founding Director of the Duke Global Health Innovation Center, focused on generating deeper evidence and support for the study, scaling, and adaptation of health innovations and policy reforms globally.  He is also Executive Director of Innovations in Healthcare, a non-profit co-founded by Duke, McKinsey & Company, and the World Economic Forum to curate and scale the impact of transformative health solutions globally. He is an associate professor of global health and medicine at Duke and a core faculty member of both the Duke Global Health Institute and the Duke Margolis Center for Health Policy.