Will We See the Next One Coming?: Debating the Pandemic Likelihood of Three Unexpected Threats
September 12, 2023 | 12:00pm - 1:00pm ET
040 Trent Hall, plus Zoom webinar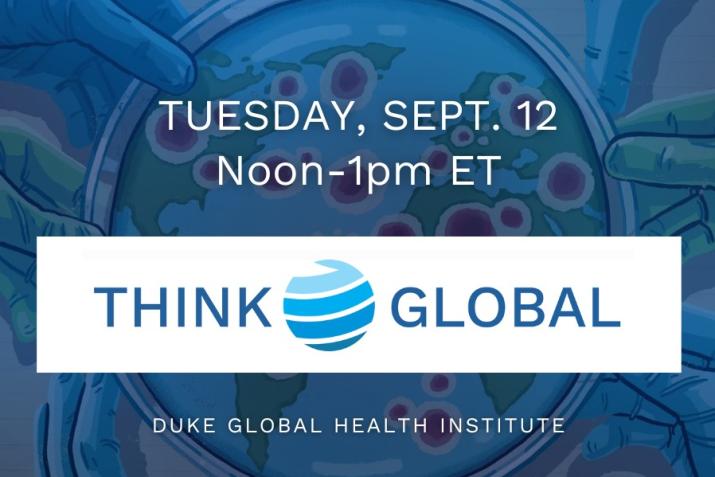 Contact
Kaitlyn Shepard
(910) 338-8598
Will We See the Next One Coming?: Debating the Pandemic Likelihood of Three Unexpected Threats
September 12, 2023 | 12:00pm - 1:00pm ET
040 Trent Hall, plus Zoom webinar
In monitoring pandemic threats, researchers often focus on fast-evolving pathogens that have gone global in the past, such as influenza, antimicrobial-resistant bacteria and coronaviruses. But what other unexpected threats should concern us? In this unique Think Global event, experts in evolutionary medicine and infectious diseases will make the case for one viral, one fungal and one bacterial pathogen that should be on the radar of public health officials. Co-sponsored by the Triangle Center for Evolutionary Medicine, the discussion will be presented as a debate, with opportunities for the audience to engage and respond. The event will also highlight the work of a National Science Foundation-funded project on Predictive Intelligence for Pandemic Prevention, awarded to TriCEM and the Duke Network Analysis Center. Don't miss this thought-provoking look into the future of public health and the need for robust preparedness in our ever-evolving world. 
This is a hybrid event with both in-person and remote attendance options. Attendance in person is encouraged. Lunch will be available. 
SPEAKERS
Asiya Gusa, PhD is an Assistant Professor in the Molecular Genetics & Microbiology department in the Duke University School of Medicine. The Gusa Lab studies heat stress and thermal adaptation in the human disease-causing fungus Cryptococcus. The goal of her lab's research is to understand how pathogenic fungi adapt in response to stress to survive the environment-to-host transition, develop drug resistance and cause persistent human disease.
Rachel Keener (co-moderator) is a PhD candidate in Genetics and Genomics completing a graduate certificate in Global Health from DGHI. Her dissertation research attempts to answer the question "Why do people react differently to infections?" by investigating the genetic causes of infectious disease susceptibility in humans. Currently, Rachel is working with the Triangle Center for Evolutionary Medicine to develop programming and training opportunities related to pandemic preparedness and science communication.  
Thuy Le, MD, PhD is a practicing Infectious Disease Physician, Epidemiologist, Associate Professor of Medicine, Molecular Genetics and Microbiology at Duke University School of Medicine, and Affiliate of the Duke Global Health Institute. She is the Director of the Clinical Core of the Duke Center for AIDS Research and the NIH-sponsored Tropical Medicine Research Center for Talaromycosis in Vietnam. Dr. Le leads an international research program in Southeast Asia focusing on developing and testing novel diagnostic and therapeutic strategies for talaromycosis, a severe invasive fungal infection endemic in Southeast Asia. Her passion in the translation of knowledge and technologies into real-world disease control and prevention strategies has placed her at the forefront of national and international leadership in the fields of HIV and Mycology. 
Johnny Uelmen, PhD (moderator) is an eco-epidemiologist interested in the ecology and evolution of zoonotic infectious diseases. His research interests seek to understand how pathogens survive (and thrive) in a given disease system, using techniques and methods across multiple scientific disciplines to find pathways to mitigate risks to the health of animals, humans, and ecosystems. Dr. Uelmen uses methods in geospatial and longitudinal analyses, as well as machine learning and artificial intelligence to create risk models and maps. As the Assistant Director of TriCEM, his research experiences align strongly, collaborating with colleagues not only in Public Health, Epidemiology, GIS, Statistics, and Entomology, but also in Chemistry, Physics, Policy, Veterinary and Human Medicine, and Informatics.
Chris Woods, MD  is the Executive Director of the Hubert-Yeargan Center for Global Health. He is a professor in the Departments of Medicine and Pathology at Duke University; an adjunct professor in Epidemiology at the University of North Carolina at Chapel Hill School of Public Health; an adjunct professor in the Emerging Infections Program at the Duke-National University of Singapore Graduate Medical School. Clinically, he serves as Chief of Infectious Diseases and clinical microbiology, and hospital epidemiologist for the Durham VA Medical Center. Dr. Woods is board-certified in internal medicine, infectious diseases, and medical microbiology.