A Big Challenge Comes to a Small Island
When the first confirmed case of COVID-19 surfaced in a remote part of Uganda, the community had to come together to stay apart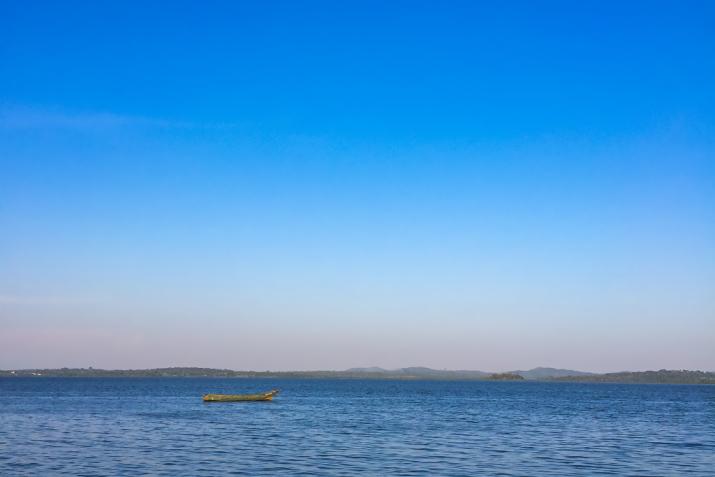 Joel Kibonwabake is the ophthalmic clinical officer and chief clinician of the Sickle Cell Clinic at Kalangala Health Center IV, a regional health center in Kalangala, Uganda, a town of 5,000 residents on an island in Lake Victoria. Between March 29 and April 22, Kibonwabake supervised COVID-19 contact tracing efforts, and was himself quarantined alongside 68 other local residents, after exposure to a local businessman who returned from the United States carrying the virus that causes COVID-19. Kibonwabake, a longtime research collaborator of DGHI professor Kearsley Stewart, is working with Stewart to develop a DukeEngage-DGHI field site in Kalangala.
Early in the morning of March 29, I received a call from my boss, Dr. Micheal Suuna, the medical superintendent at the health center where we work side-by-side serving the 5,000 residents of Kalangala Town. I was surprised to get a call from him on a Sunday morning. "Are you steady, my man," he asked. "Ya, sure, I am," I replied. He then told me that a 59-year old Ugandan man we saw at the clinic a few days earlier had tested positive for the virus that causes COVID-19.
I sat in stunned silence. I had interviewed this man twice in the past nine days without a mask. I had taken his vital signs without gloves. I sat with him to discuss precautions. Now his positive test result meant that we needed to begin contact tracing, and I realized that both Dr. Suuna and I were the first names on the list.
Image
The man had just returned from several weeks on business in the U.S. After his flight landed at Entebbe Airport in Kampala in mid-March, all passengers were immediately swabbed for COVID-19 and placed in a mandatory 14-day quarantine for travelers from "high-risk" countries, including the U.S. All passengers that is, except for this man; he managed to escape from the airport and flee to a fishing community near our health center before being tested. 
He came to our facility after the government announced that several other travelers on his flight had tested positive for COVID-19 and his name was listed in the local newspapers as someone who might be carrying the virus. "Test me," he demanded. As much as we wanted to test him then and there, COVID-19 testing was not available at that moment in our clinic. Our physical exam found no symptoms, no flu, no cough, no difficulty breathing, no fever, no body aches, no diarrhea. I encouraged him to go home and practice social distancing. He agreed. However, as soon as he returned to the fishing community where he was hiding out, he forgot his promise to me and resumed normal social activities.
On that Sunday morning, however, Dr. Sunna was reporting to me that the swab we took from him on his second visit to our clinic had come back positive. The Ugandan government had notified Dr. Suuna that the traveler, and all his contacts, had to go into mandatory 14-day quarantine. 
I broke my silence. "I volunteer to coordinate the quarantine," I said. Even if it was risky, I felt prepared to manage such an effort.
Image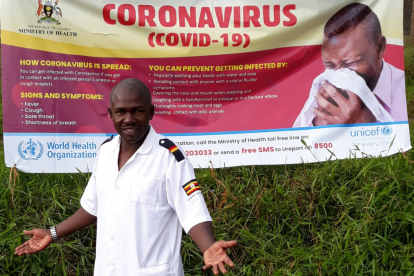 I hung up the phone and turned to my wife. I told her that because I had already been exposed, I would need to go to the quarantine camp. She didn't say a word to me. I told my young children a simple explanation about why I needed to go away. In my heart, I realized this was the best way to keep my family safe and to reduce the chances of COVID-19 spreading in my community. I packed my bag and turned to leave. My wife stopped me and said, "please take care of yourself." I drove to the quarantine site. This marked the beginning of a new experience for me in my medical career.
News of the first case of COVID-19 in Kalangala quickly spread through local social media. Chat groups soon exploded with gossip, anger and even calls for mob justice. Some wondered if the man escaped his original quarantine at the airport hotel by bribing security guards, and others remarked that they had seen him moving about freely in town spreading COVID-19. Some people argued that the tests were not to be trusted. A few called on the community to protect itself by hunting the man down, while someone else counseled against mob justice since that might spread COVID-19 even further.
I arrived at the health center amidst this community chaos. No one at our health center had ever conducted contact tracing before, nor had any of us ever set up a quarantine camp for an infectious disease. We began by marking off a nearby school, already closed to prevent the spread of COVID-19, with yellow police tape to indicate the boundaries of the quarantine camp. 
With several government pickup trucks, we headed off for the small fishing village where the man had spent several days freely moving about. People already feared COVID-19; they knew about the high death toll in Italy and Spain, but no one expected it to come to Kalangala. When the community learned that someone who tested positive for COVID-19 had been living amongst them, more than 100 people freely came to the health center to register for testing. We identified 68 who had direct contact with the man and therefore needed to be in quarantine. 
Later that evening, we returned to the school, now in the first stages of becoming a quarantine camp, and pitched in to scrub the floors to prepare for sleeping. We didn't even have food to serve dinner that first day. The work was hard, but we all enjoyed working as a team, and I felt pride at our success on Day 1 of the Kalangala quarantine.
Over the next three weeks we swabbed everyone in the quarantine camp at least twice and sent the samples for testing. All came back negative. We conducted education sessions about COVID-19 and social distancing. We all learned how to make cloth masks. We didn't have enough food, so we appealed to the community to share with us, and we managed to offer one meal a day to all the residents of the camp. We didn't have enough mattresses, so despite the need for social distancing, people shared beds. The school's sanitation system was barely adequate. We set up a registry and kept daily notes on everyone's health. 
Yes, there was some unhappiness at the conditions, and we learned that social media can quickly spread the wrong information. But in the end, we sustained 68 people in quarantine and everyone left the camp after being confirmed with at least two negative test results. People returned to their community with new knowledge about COVID-19 and how to prevent it. We learned so much about how to manage a quarantine camp with very few resources. We know we will be ready for the second wave whenever it arrives.
Editor's note: To see more about the Kalangala quarantine camp, watch this report on Ugandan national television.