Heart in hand, Lihua Mo stood in the wings of the makeshift stage, watching her small ensemble perform what they had painstakingly worked on for several weeks. The dancers, all primary school children, were smiling broadly, obviously enjoying their moment on stage. Despite her anxiety, she allowed herself a smile when she saw the audience begin to nod and bop along with the show.
For Mo, a Duke undergraduate and member of the Duke Global Health Institute's Student Research Training (SRT) program team that spent the summer in Kalangala, Uganda, it was the culmination of days and nights of planning and directing. The 40-minute performance, a mesh of skits, dances and poems, was part of an event to encourage testing for sickle cell disease, which was organized by another member of the SRT team.
However, there was more to the show than just entertainment. Mo, who is majoring in neuroscience with a double minor in dance and linguistics, was paired with Christine Namwaanga, an undergraduate student from Uganda, to create a cultural activity to educate the community about the genetic blood disease which affects millions globally. About 300,000 children are born annually with sickle cell disease in Africa, and about half of them dying before their 5th year.  In Uganda, about 15,000 babies are born with the disease every year.
Image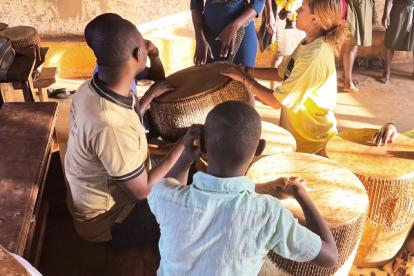 Music and dance are well-established tools in Uganda for spreading health messages, says Kearsley Stewart, a DGHI professor who co-led the SRT team with Joel Kibonwabake of the Kalangala Health Centre IV. HIV prevention campaigns have used performance to communicate the importance of protection from the virus.
"Communities are engaged with the health message because they are hearing the message not in a formal setting like a clinic, but from their own children," Stewart says. "This mode of communication is a proven approach to increase understanding and promote behavior change in rural communities in Africa, such as this field site in Kalangala."
Mo was drawn to the project for the way it combines STEM and art, her two academic passions. Before working with the children, Mo and Namwaanga travelled to Ndere Cultural Centre in Kampala Uganda to learn more about local culture and dance.
"Since I was a foreigner, this was necessary if we were to create a culturally appropriate project," Mo says. "In the space of one week, I learned so much about Uganda's history of dance and mastered playing the drum. The experience was priceless to say the least and best of all I made many connections with local dancers."
Back in Kalangala, the students selected 11 children from the local primary school for the performance. "Christina and I began by adapting a poem and skit by Centurio Balikoowa, a Ugandan veteran of many decades in the MDD (music, drama and dance) world," Mo says.  
We rehearsed for two hours every day for three weeks. I was impressed by how quickly the children seemed to have grasped concepts around sickle cell disease. At some point when they were quizzed by a visiting professor about the disease, the children were quick to respond with correct answers. They showed a great understanding of the disease from the performance they were trying to master."
The most stressful part of the project, Mo says, was taking on the director role for a children's performance.
"Up until the day of the event, I was very stressed about how the kids would perform at the main event. One day they would rehearse well, and the next they would be so distracted. And I remember during the rehearsal, I kept telling them to smile as they danced. Thankfully, they did so well and were such a joy to watch. I am proud of them and the work they put in," she says.
To show her appreciation, Mo, through the Benenson Award from Duke Arts, bought new drums for the school. "I am so grateful to have had this opportunity. It was the least I could do after all the hard work the children put in," she says.
Stewart says the students' work was a success because it incorporated community values and participation.
"Lasting impact can only be achieved if the community itself has been involved from the very inception of the project," she says. "Meaningful change can only happen when the community has identified the problem as a priority and are willing to engage with the research team and even to contribute their own resources and time."
Related News