DGHI Sends Off the Class of 2022
Return to in-person ceremonies marks the graduation of 80 global health students.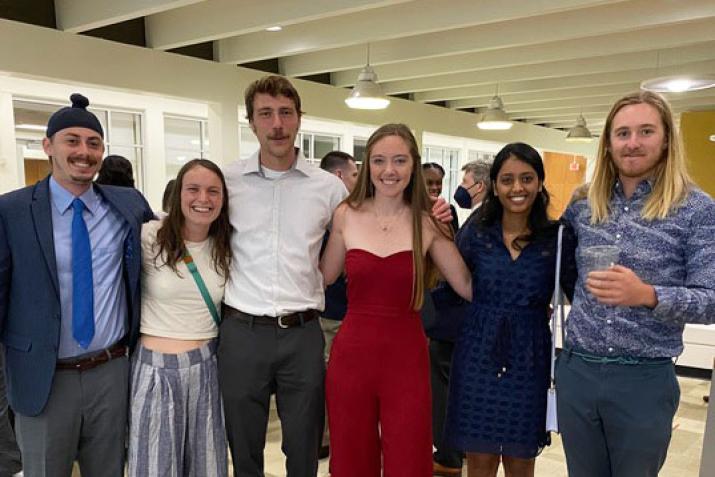 The Duke Global Health Institute's graduation ceremonies for the Class of 2022 were more than just an opportunity to celebrate their achievements. They were the first formal, in-person events honoring global health graduates since the start of the pandemic.
In two ceremonies inside Paul M. Gross Hall on the Duke campus, DGHI honored 37 students earning the Master of Science in Global Health and 43 undergraduate students graduating with a major in global health. Family and friends traveled internationally and across the U.S. to celebrate the graduates with flowers and gifts, while several dozen more watched on live stream. DGHI also presented its annual student and faculty awards (winners are announced below).
DGHI's Class of 2022 Master of Science in Global Health graduates. 
Photo by: Chris Hildreth/Rooster Media
DGHI's Class of 2022 undergraduate global health majors. 
Photo by: Chris Hildreth/Rooster Media
The effects of the pandemic on graduates' experiences were a common theme during the events. Speakers noted students' resilience and adaptability for navigating shifts to online classes and remote research.
"Two years ago, you took a chance," DGHI Interim Director Dennis Clements, M.D., told the master's graduates. "You signed up for a global health program in the middle of a global health crisis. That showed your courage and your willingness to accept uncertainty. But most of all, it showed your resolve to be part of the solution."
In the graduate student ceremony, Nour Hammad MS'22, a Palestinian refugee who was chosen as the class' student speaker, thanked her classmates and the Duke community for making her feel welcome. She said Duke's nurturing community gives her and her classmates the strength to overcome obstacles.
"What I've learned most from all of the people that have loved and supported me is that life is not just sunshine and rainbows. It is also full of whirlwinds and tsunamis," Hammad said. "But it's important to focus on the former, and make use of the latter to grow to become the person you want to be, the person you want to look at in the mirror in 10 years and say, I have made it, and I am proud of myself."
In the undergraduate student ceremony, Ramya Ginjupalli '22, an evolutionary anthropology and global health major, echoed praise of the graduates' resilience, noting how many of her classmates "took a leap of faith" and came up with alternative ways to learn about global health when their travel plans were halted.
"This resilience is not just helpful, but necessary within our field," she said. "When I see the talent and passion of my classmates, I can't help but feel a tremendous amount of hope for the Global Health community."
Each commencement ceremony culminated with family and friends joining graduates in Gross Hall's atrium for a lively reception. Screens displayed pictures of graduates during their time with DGHI and quotes about their experiences at Duke. Graduates hugged their families and friends and took pictures to remember the special moment.
Image
2022 Global Health Awards
At the graduation events, DGHI announced its annual awards for outstanding students and faculty.
Madeline Boccuzzi Outstanding Graduate Student Award
The award is named in honor of Madeline Boccuzzi, a 2013 MS-GH graduate who passed away from cancer in 2014.  The honor highlights a master's degree student who excelled in the classroom, in research and in building the global health community at Duke.
This year's award went to Nour Hammad. Her graduate research focused on the barriers and challenges parents and caregivers face who purchase food through the federal nutrition program for Women, Infants and Children, known as WIC. Hammad's work resulted in developing new research on federal food aid programs, including evaluating the impact of the COVID-19 pandemic on families who depend on food aid.
As a student, Hammad served as co-president of the Duke Global Health Graduate Students Association and co-founded the Duke Nutrition Society in 2021. In April, the Duke International House gave her honorable mention for its Graduate/Professional Academic Exemplar and Graduate/Professional Student Leader of the Year awards.
Hammad plans to pursue a Ph.D. in population health sciences at Harvard University's T.H. Chan School of Public Health.
Michael Merson Undergraduate Student Leadership Award
Named for DGHI's founding director, Michael Merson, this award recognizes a graduating student for excelling in and outside of the classroom. Recipients demonstrate a strong commitment to global health equity through extracurricular activities and leadership.
This year's recipient is Eleanor Strand, a double major in biology and global health with a minor in chemistry. While at Duke, she volunteered with the Kenan Institute for Ethics on a project working to stop the exploitation of minors through global sex trafficking and studied abroad in Sri Lanka. She also worked in a leadership role with the Global Emergency Medicine and Innovation and Implementation (GEMINI) Research Lab on projects aiming to improve access to trauma care. One of Strand's nominators wrote, "She lives the cause, rather than just finds it important."
Outstanding Capstone Research Project
This award highlights an exceptional project presented in the global health undergraduate capstone course. All global health students complete the course in their senior year, working in teams with outside experts to design a solution to a health challenge locally or internationally.
This year's winning project is "The Role of Multisectoral and Collective Impact Approaches to Dementia Care in Durham, NC: A Qualitative Exploration," completed by Avanti Shah, Bella Caracta, Berry Choi and Brianna Joyce.
The team worked with Dementia Inclusive Durham (DID), which works to improve the quality of life for people living with the disease and their caretakers. Students developed evidence-based recommendations to help DID identify clinical and non-clinical interventions to enhance the autonomy and wellbeing of persons living with dementia. The team was mentored by Dennis Clements.
The depth of this year's projects in the capstone courses inspired judges to name two as Honorable Mentions. They are "Communication, Collaboration, and Coordination of Dementia Organizations in Durham County," completed by students Tamira Daniely, Alexis Mandell, Madeline McNee and Amaya Mitchell; and "Contextualizing a Community Health Care Model for Mental Health in Colombia,' by Pitcherita Anthenor , Lissette Araya, Colette Brooks and Karina Moreno Bueno.
Global Health Graduate Professor of the Year
This award recognizes outstanding teaching and mentoring in the Master of Science in Global Health program. This year's recipient is Joseph Egger, Ph.D., associate director for education for the Research Design & Analysis Core (RDAC) and an associate professor of the practice of global health. Egger teaches beginning and advanced epidemiology courses and also works one-on-one with students on their research projects through his role with RDAC.
Student nominators praised Egger for his effort to create bonds such as holding classes in the Sarah P. Duke Gardens to help students recharge or hosting informal pub nights around Durham. In a nomination of Egger, one student wrote, "I could not have asked for a better mentor."
Global Health Undergraduate Professor of the Year
This award, recognizing a professor nominated by students for outstanding teaching and mentorship, was given to Dennis Clements, M.D., Ph.D., professor of medicine, nursing and global health and DGHI's interim director since 2020.  While acting as interim director. Clements continued to teach multiple courses to global health students, including the capstone course for majors, and servied as DGHI's director of undergraduate studies.
In his nominations, students noted his teaching style encourages engagement and self-discovery. "It really feels like we are making a difference rather than doing busy work or coming up with hypothetical models," one student wrote. Outside the classroom, Clements is described as remaining committed to students' career goals and finding a way to help them better explore options. One student credited Clements with providing clarity about future directions, saying, "I'm very grateful that he was a part of my academic journey at Duke."