Sitting at the airport awaiting a flight to Senegal, Kristin Schroeder MD, says she's still not sure how she ended up as a finalist for the Opus Prize, one of the globe's most significant faith-inspired recognitions for social entrepreneurship.
"I was in shock and deeply honored, as someone had learned about what we do in Tanzania and was deeply moved and decided to put us forward for this award," says Schroeder, an associate professor of pediatrics and global health who has been working for nearly a decade to improve pediatric cancer survival rates in Tanzania.
The Opus Prize is an annual accolade that acknowledges individuals or groups advocating for transformative change infused with faith. It aims to support the humanitarian initiatives of the awardee but also to motivate others to embrace a life dedicated to service. The top awardee receives a $1 million prize. As a finalist, Schroeder is guaranteed a $100,000 award to invest in her cancer initiatives.
Schroeder was nominated for her efforts to improve survival rates among pediatric cancer patients at the Bugando Medical Centre in Mwanza, Tanzania. Before she started her work in Tanzania, the survival rate of cancer patients at the clinic was under 20 percent, and nearly 50 percent of patients abandoned treatment before it was complete. In addition to improving patient education and services in the clinic, Schroeder and fellow Duke oncologist Nelson Chao, M.D., co-founded a nonprofit organization, iCCARE, to provide resources and support for families in cancer treatment.
"My most significant contribution to the program's success is the implementation of a patient navigation program where we educated [patients and families] regarding cancer. This reduced treatment abandonment and increased health literacy which improved treatment outcomes," says Schroeder.
Image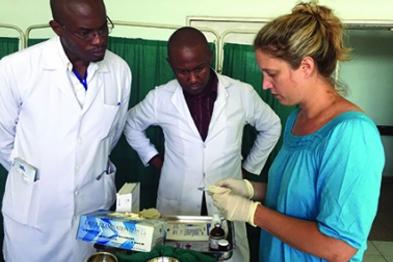 Last year, Schroeder received the Duke Alumni Service Award in recognition of her work in Tanzania. She says the Opus nomination was a welcome recognition of her team's efforts. It has also provided her with significant publicity, enabling her to connect with like-minded individuals around the world who are dedicated to nonprofit work. It has become a platform for networking and collaboration.
Building recognition and support for work outside the clinic is often challenging for medical professionals, Schroeder says, adding that she is still learning to leverage tools like social media to raise awareness for iCCARE and cancer patients. "Doctors need more training on awareness and exposure to the use of social media to share their work and connect with people. Learning that there are different opportunities to use the training from medical school to serve the community is paramount," she says.
Schroeder's future plans include launching a palliative care program for patients and developing a school-based program to educate children about cancer while reducing stigma. Beyond the financial support for her work, she says the Opus Prize experience will contribute significantly to her personal and professional growth.
Related News