Global Health Student is Ashoka U Changemaker of the Week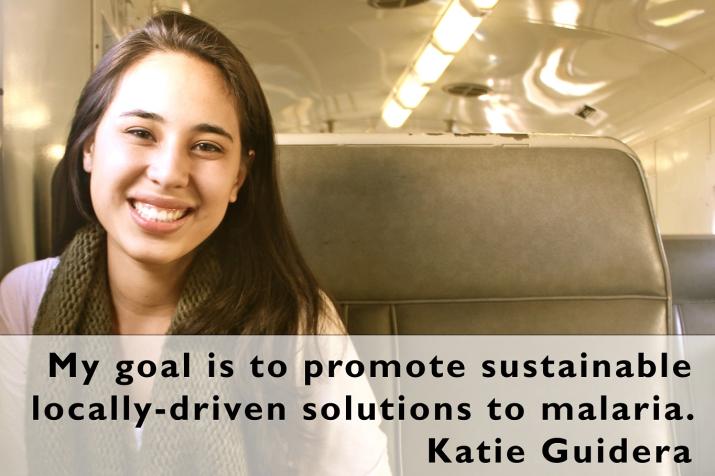 Duke senior Katie Guidera, a program II major in global health, has been named Ashoka U's Changemaker of the Week for her malaria work in South Africa. Her work has also been recognized at the Clinton Global Initiatuve University Ashoka U's new series "Changemaker of the Week" highlights extraordinary student changemakers in college and graduate programs around the world. 
Q & A with Katie:
What is the Malaria Awareness Program?
The Malaria Awareness Program (MAP) aims to promote locally-driven solutions to public health challenges through community health education and social entrepreneurship initiatives in rural South Africa. MAP works with community health workers and local governing organizations to host malaria education workshops in villages in addition to training women to produce and sell bed nets through sustainable market partnerships.
 
How did you get decide to start the Malaria Awareness Program?
In the summer of 2011, my three co-founders and I met during the Duke/OTS Global Health Issues Study Abroad Program in South Africa. During our month-long program, we experienced firsthand many of the health issues that plague rural South Africa. After conducting community based participatory research in the HaMakuya district of Limpopo Province, our interactions with the community sparked a passion to return to work with various individuals and organizations to create a sustainable solution to the community's biggest health concern — malaria. We returned for two months last summer and after a highly successful pilot program will be continuing and expanding the program this fall!
 
How has being a college student changed the way you act as a changemaker?
As a college student, I have learned that it is always possible to think bigger, to achieve more. Through collaboration with peers who are not afraid to question one another, I am constantly inspired to take my ideas to the next level. 
 
What's the best part of working on your venture?
The best part of working on my venture is seeing all of our team's exhausting preparatory work come to life in South Africa. In 2012 we spent almost a year raising funds, planning logistics, and preparing for our pilot. To see this hard work materialize in the thoughts and actions of community health workers, sewing cooperative members, and all community members is indescribably rewarding. 
 
What's one piece of advice you'd give to any college student thinking of becoming a changemaker?
Things will never, ever go as planned. It is important to have contingency plans and to be as flexible as possible in every situation in order to make effective progress. It's also important to be optimistic even when things are not working out as intended – it is all part of the learning process! 
 
How has being at Duke helped you as a changemaker?
Duke is in a really exiting place with its social entrepreneurship initiatives right now! There is an endless array of advising, financial, networking, and academic opportunities available through the joint efforts of the Center for the Advancement of Social Entrepreneurship(CASE), the Social Entrepreneurship Accelerator at Duke (SEAD), the Duke Global Health Institute (DGHI) and other amazing programs like DukeEngage. Over my last three years at Duke, these resources have all evolved and grown immensely and are currently available to students across almost every discipline and school.