Inside DGHI's Policy Boot Camp
How an intensive week-long course in Geneva puts students on the front lines of global health policy.
Home to a legion of international health and policy organizations, Geneva, Switzerland, is one of the centers of gravity for global health, where major health initiatives are debated and set in motion. And for
Gavin Yamey
, that makes it the perfect place to teach students about the inner workings of health policy. 
Each summer, Yamey, director of the Center for Policy Impact in Global Health at the Duke Global Health Institute, leads an immersive course for graduate and medical students focused on global health policy. It's one of three tracks offered through the
Duke Global Policy Program in Geneva
, based in Duke's Sanford School of Public Policy. 
"I sometimes call the course a 'global health boot camp' because it's very intense," he says. "And that's deliberate, because many of the students in the program are in Geneva for only one week, and we want to maximize the benefit of being there."
While Yamey directs the course and teaches several of the classes, his role is more of a facilitator and mentor. On most mornings during the course week, global health experts from major agencies such as the World Health Organization (WHO) and Gavi, the Vaccine Alliance, lead interactive seminars on timely global health topics. In the afternoons, the students visit inter-governmental organizations, non-governmental organizations and public-private partnerships to learn about their work and their processes for developing global health policy. 
For global health master's student Judy Riviere, the site visits were the highlight of the course. "I particularly enjoyed the WHO site visit because we spoke with someone who works on their budget and financing," she reflects. "It was really interesting to learn how all of these organizations contribute to the work being done on an international scale." The site visits and guest speakers, Riviere says, also gave her a better understanding of how research gets translated into policy.
These aspects of the course, Yamey notes, give students opportunities to learn from and network with leaders in their intended career field. And the networking, he says, continues even after they return home from Geneva. The students—who hail from many different universities worldwide—tend to stay in touch with each other as well as with some of the global health experts they meet during the course.
Yamey wraps up the course with a policy case competition, in which small groups of students, each representing a major Geneva-based agency, give a presentation about their organization's role in meeting a specific global health challenge. This year, students explored the role of their agency in achieving the third Sustainable Development Goal, "Ensure healthy lives and promote wellbeing for all at all ages," through the Global Health Action Plan. In the month leading up to the course, students consulted with a policy advisor from their respective organization, and guests from WHO served as judges for the competition.
Some of the students also pursue an eight- to 12-week internship in a Geneva-based global health organization. This year, internship sites included WHO, UNAIDS and Doctors without Borders.
Image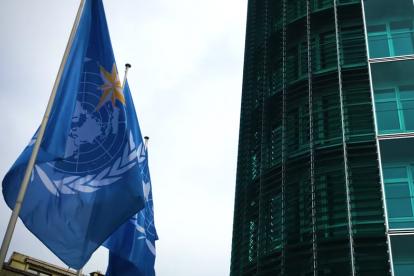 As an intern at UNAIDS, global health master's student John Bollinger worked on the first global lesbian, gay, bisexual, transgender and intersex survey on happiness, sex life and quality of life. One of the most valuable aspects of his internship, he says, is how it complements his global health field research. 
"For my fieldwork, I'm studying antibiotic resistance in Sri Lanka, and my role is primarily data collection," he says. "My internship project gave me a broader view, from survey creation through data collection, analysis, report writing and policy development."
Yamey thinks it's critical for global health students to understand policy. "In global health, we often tend to focus on the science—that is, on studying the causes of illness and finding the best treatments," he says.  "But we tend to forget about the change aspect. At its heart, global health policy is about achieving large-scale, sustained change."
And the Global Policy Program in Geneva gives students an opportunity to learn about it first-hand, building on the knowledge they gain in the classroom. "They meet and learn from those who are really living it about how you plan for, fund and deliver on change," he says.
To learn more about the global health track of the Global Policy Program in Geneva, watch the video or visit the website.