Mercury and Masato: Deliberations from the Peruvian Amazon
By Joshua Grubbs, senior chemistry and global health major
This past June and July I lived and worked in Madre de Dios, Peru as part of a Bass Connections sponsored global health research project. Our research focused on nutrition as a potential intervention point for reducing the burden of mercury contamination, primarily because the typical diet based on fish has contributed to high levels of mercury in Madre de Dios. 
We focused on two specific communities in the region: Boca Manu and Diamante. Even though both sites were located along the same upstream stretch of the river Madre de Dios, each place had its own distinctive feel.
Boca Manu was the largest of the three communities and hosted the district's local government, making it a central hub for travel in the region. Consequently, there were many people living in Boca Manu, many of whom had moved to the community from other sites rather than having been born and raised there. 
There was also an indigenous presence, but notably less than in the other community participating in the study. The town's proximity to Manu National Park supported Boca Manu's nascent tourist industry, slowly making the area an attractive site for future development. 
Throughout our two months in Madre de Dios, Boca Manu was our home base in addition to being a research site. As such, we steadily became integrated into the daily life of the town and connected with its people. Used to tourists coming to the national park who would only visit Boca Manu for a day or two, people were surprised by our extended stay there at first, but our mutual efforts towards engagement allowed us to earn the respect of the community.
On the other hand, we were able to visit Diamante only once a week due to logistics and our dependence on traveling by boat. However, relations with Diamante were extremely warm, despite our relatively minimal presence there.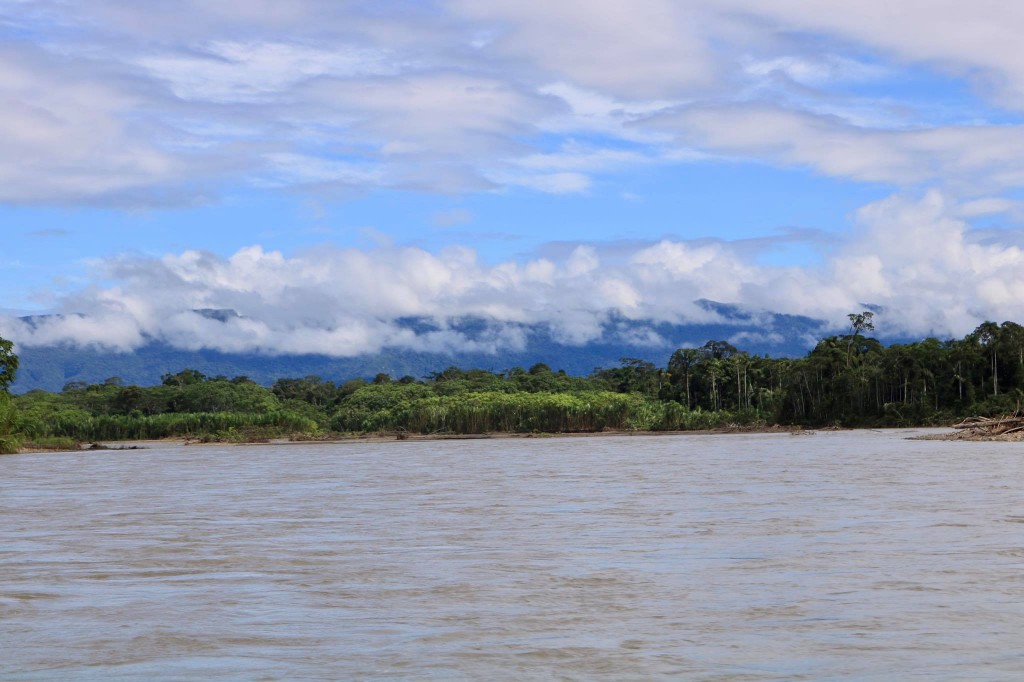 Our daily commute: a view of the river Madre de Dios from the side of the boat.
Diamante's smaller size and community-oriented form of governance worked to our advantage, as people were more willing to be friendly and engage with us. It was not unusual for participants to offer us masato, a traditional drink made of fermented yuca, during our weekly visits to distribute food.
Having the opportunity to live alongside our partner communities and set down roots in one spot was the fundamental reason for our success. Not only did this allow us to build up our credibility amongst community members, but the relationships we built also enriched our own lives. 
The work took on a whole new meaning as we got to know the lives and experiences behind all the data. At the end of the day, that's what the research is all about – people.