Jump to Poster Award Winners >
Chandra Mackey, a second-year Master of Science in Global Health student, has a couple of reasons for studying how geospatial data can improve allocation of healthcare resources. First, she hopes it can improve the treatment of snakebites in remote regions of the Amazon, where her thesis research is based.
Her second reason is more personal. Born in the Bahamas, she has seen how a natural disaster like a hurricane can impact fragile health systems. In 2019, she was an undergraduate student in North Carolina when Hurricane Dorian hit her grandmother's Bahamian home. Her aunt chartered a flight to get the family off the island safely.
"A lot of the issue with hurricanes is not having the right resources in the right places," Mackey says. "I want to see how I can bring geospatial data analysis to the Caribbean and help inform the government where they should be during hurricanes. That's what I want to do."
Mackey was one of more than 60 students who presented at the Duke Global Health Institute's 11th annual Global Health Research Showcase on Oct. 17. Undergraduate and graduate students presented results from their summer field research projects, which spanned 18 countries and included topics such as COVID-19 vaccine hesitancy, increasing awareness of sickle cell disease intervention and implementing mobile neurology clinics in rural areas.
The students' poster presentations can be viewed on the Showcase page.
Image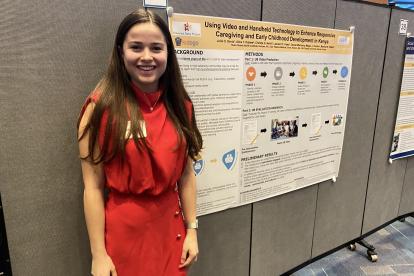 "Each of these posters represent many long hours of thought and effort," said DGHI director Chris Beyrer, M.D., MPH, in opening remarks. "These students have done some remarkably thoughtful and creative work. I'd like to congratulate our students for all the outstanding work you have done."
Among this year's presenters was Laya Sathyan, a junior at Duke majoring in global health and public policy. She was part of an Student Research Training program team, along with Bentley Choi, Haley Dion and Michelle Huang, that studied HPV and cervical cancer screening in Kisumu, Kenya. Sathyan saw how reproductive health is stigmatized in the area, reminding her of what women in her family endured in India.
"They suffered from debilitating issues because for my mom and her sister growing up, there wasn't open discussion about menstruation," she said. "I'm very interested in working in stigmatized conditions, and how we can use educational videos to teach women about this disease instead of fear mongering."
Choi added, "My takeaway from this project is every community has different ways of learning, and we need to figure out the best intervention for each. When you understand their culture, it helps you understand how it influences their decision processes."
Other students said the research experience advanced career interests and connections. Julia Davis, a junior majoring in neuroscience, said her work in Kenya to help decolonize childcare materials affirmed her chosen path as a future doctor; she wants to promote patient-centered care. Isaac Eaves, a second-year MS-GH student, noted that his project examining barriers to surgical care in North Carolina's Robeson County, where 27 percent of residents live at or below the poverty line, inspires him to advocate for disenfranchised communities.
"As a Black person in the South, I can see my own life in other minority groups," he says. "It's important to advocate for them," said Eaves, who aspires to be an ambassador. "That's what I want to be – an advocate for those who don't have a voice and need a voice."
Image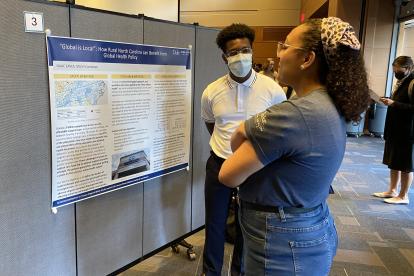 Image
A panel of global health alumni judged the students' posters in areas such as how clearly students described their research aims, methods and conclusions reached while factoring in the poster's visual clarity, appeal and creativity. This year's winners are:
Undergraduate Student Posters
First place
"Building Community Networks in Rural Counties: A Case Study in Pamlico County, NC," by Adey Harris, Advika Kumar, Nick Haddad and Rujia Xie, members of a Student Research Training team that researched healthcare access and disaster preparedness in Pamlico County, NorthCarolina. Their mentors are Sumi Ariely, associate professor of the practice of global health, and Diana Silimperi, an adjunct professor with DGHI and global health professional.
Second place
"Awareness of Secondary Care in Roatán, Honduras: Glaucoma and Oral Hygiene," by Molly Pluenneke, Alejandra Mella-Velazquez, Taylor Glatt and Ashna Ram, members of a Student Research Training program team that studied access to secondary care in Roatan, an island off the ocast of Honduras.  They were advised by Dennis Clements, professor of pediatrics, nursing and global health.
First place
"'Let him die. He caused it': A qualitative study on cancer stigma in sub-Saharan Africa," by Judith Mwobobia, a MS-GH student. She was advised by Brandon Knettel, DGHI affiliate faculty and a licensed psychologist and assistant professor in the School of Nursing, and Nosayaba Osazuwa-Peters, assistant research professor of global health.
Second place (tie)
"Drivers of COVID-19 vaccine hesitancy in young adults aged 20 to 30 years old – a convergent mixed methods study," by Elena Johanson, a MS-GH student. Her mentor is Lavanya Vasudevan, a DGHI adjunct associate professor of family medicine, community health and global health.
Second place (tie)
"Understanding Sexual and Reproductive Health Among Orphaned And Separated Children in Five Low- And Middle-income Countries," by Pooja Singh, a MS-GH student. Her mentor is Christine Gray, an assistant research professor of global health.
Related News