Stanford's Michele Barry Addresses Climate's Impact on Megacity Health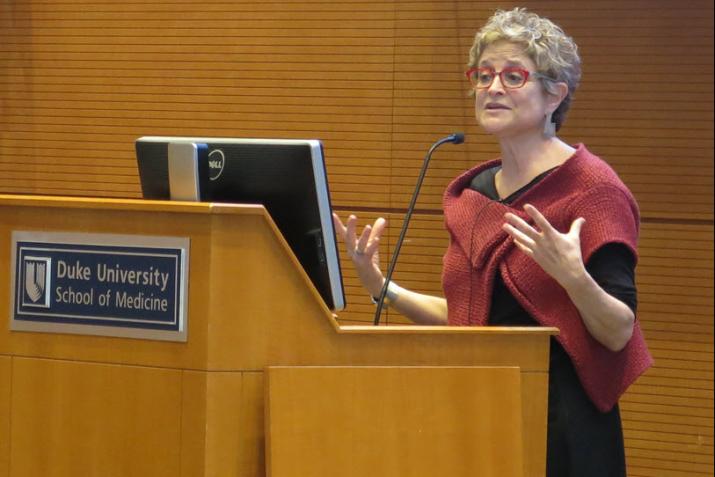 With more than 50 percent of the global population living in urban areas, cities are a critical place to focus our efforts on improving the climate, says Michele Barry, director of the Center for Innovation in Global Health and senior associate dean for global health at Stanford University. 
Although they occupy only two percent of the total land globally, cities generate 70 percent of the economy. They consume more than 60 percent of the world's energy, emit 70 percent of the world's greenhouse gasses and produce 70 percent of global waste. And their unique qualities compared to rural areas lead to life-threatening health problems that can be mitigated by improving the world's climate.  
These points laid the foundation for Barry's lecture at Duke University on March 5, where she talked about climate's impact on megacity health.
This annual Duke Global Health Institute lecture, initiated in 2018, is supported by The Victor J. Dzau Global Health Lecture Fund. Dzau established the fund in 2017 as part of the Bill & Melinda Gates Foundation Global Health Matching Grant. 
Barry became interested in the intersection of climate change and megacities when she was asked by Hilary Clinton's presidential campaign team to help them explore the health impacts of climate change. She noted, "It's really hard for us to get our arms around climate change and talk to the public. One really good hook is to talk about its impact on health."
Megacities, Barry explained, are cities with more than 10 million inhabitants. Currently, there are 37 megacities, and together, they comprise 10 percent of the global population.
The benefits of living in megacities include higher literacy and education, slightly higher life expectancy, better social health services, infrastructure, technology, jobs and cultural and social opportunities. With these benefits, though, come the threats of infectious diseases, such as higher prevalence of HIV, non-communicable diseases, including higher rates of breast cancer and dementia; and injury, including traffic accidents and violence.
Barry emphasized the importance of disaggregating data to glean more meaningful global health information, as the poor are more affected by health risk factors than people living in wealthier communities. "Your zip code is a better predictor of your health than your genetic code," she says. 
Giving an example from her native New York City, she noted that people living in Battery Park or TriBecCa—high-end New York neighborhoods—tend to live 10 years longer than those living in Brownsville, a low-income community in Brooklyn. People living in slums, she noted, have multiple intersecting stressors as well as adverse environmental exposures that are less prevalent in higher-income areas. 
Barry also broke down differences in vulnerabilities across one's lifespan in a megacity: how the urban environment uniquely impacts children, adolescents, adults and the elderly, with special consideration for women.
Rising sea levels, extreme weather and increasing temperatures—all products of climate change—lead to air pollution, severe weather, environmental degradation and other effects that in turn impact human health, Barry warned. 
For example, during bouts of extreme heat in megacities, people are more vulnerable to heat stroke and dehydration. In addition, they increase their use of cooling systems, resulting in up to a two percent electricity increase for every one-degree temperature increase. These systems, which rely on hydrofluorocarbons and fossil fuels and release greenhouse gas, also increase people's risk for respiratory disease. 
Slide from Barry's talk, courtesy of George Luber, CDC.
Barry put particular emphasis on air pollution, noting that 92 percent of megacities have higher than recommended levels of particulate matter from solid fuels and open fires. The World Health Organization estimates that air pollution leads to three million premature deaths per year.
In thinking about interventions, Barry recommends a "multisolving approach"—that is, taking single actions that benefit the environment while also minimizing threats to human health and improving the economy. Examples include burning less coal, increasing bicycle and public transportation, increasing access to electric vehicles, implementing wind energy initiatives and building green rooftops. She pointed to innovative waste management strategies in India (paving streets with plastic), Uganda (amusement park built from rubbish), Indonesia (trading trash for healthcare) and Brazil (a landfill power plant).
Barry sees climate change's impact on megacity health as a social justice issue, and urged the audience to advocate for legislative measure that will slow climate change and minimize its global impact.
"I've seen tropical diseases evolve to global health. I've seen global health start to evolve into this concept of planetary health. And planetary health not only involves One Health, not only global health, not only megacity health, but we need to start thinking about how we can have a healthy planet and healthy human beings."
Watch Barry's talk: