Tanzania's First Female Physician begins Medical School, Builds Alliances with U.S. Institutions
Published November 02, 2009
For every 33,000 people living in Tanzania, there is one doctor to serve them. This daunting doctor-to-patient ratio, as Dr. Esther Mwaikambo describes it, has a lot to do with Tanzania's status as one of the poorest countries in the world where there is a high risk for disease and morbidity.
Mwaikambo spoke before a crowd of faculty, staff and students at the Duke Global Health Institute to bring awareness to this reality, as well as the challenges of starting and sustaining a medical school in sub-Saharan Africa. She is a professor of pediatrics and former Vice Chancellor of the Hubert Kairuki Memorial University School of Medicine in Dar es Salaam, Tanzania, which was established in 1997 to address the shortage of trained health professionals. In the last five years, more than 150 young doctors graduated from the program, but Mwaikambo said some of the same challenges still exist.
"It's very difficult to attract highly-qualified medical professionals and faculty members to our university, and we can't retain them because you have to pay them good money," said Mwaikambo. The so-called "brain drain" is causing many newly-trained African doctors to seek higher-paying jobs in urban centers and in the West, rather than in rural Africa where they are needed most. Nearly three quarters of Tanzania's population live in rural villages. "I don't blame them," said Mwaikambo, "But at the same time, we need them to stay and help their communities."
Watch Esther Mwaikambo's lecture
Mwaikambo emphasized the greatest challenge facing the Tanzanian private university is poor financing. Aside from inadequate funding to attract and retain faculty and administrative staff, the medical school also lacks enough funding to maintain and update equipment and infrastructure. "It takes a lot of money to build up a medical school," said Mwaikambo. The university began in a single building that was formerly a residence, and 12 years later, lecture halls and laboratories remain inadequate. Mwaikambo said they must compete for government aid, since there are five other medical schools in the country.
These funding and human resource challenges provide the backdrop for Mwaikambo's trip to universities across the U.S., and most recently to Duke, where a partnership already exists. Kairuki Memorial University has partnered with Duke since 1994 to study pathogenesis of severe malaria in children and adults in Africa and Indonesia. Mwaikambo said this kind of collaboration is very effective, and she hopes to foster new relationships with senior academic staff at Duke and other institutions. While at Duke, Mwaikambo met with a group of faculty members from DGHI as well as the dean of Duke's medical school, Nancy Andrews.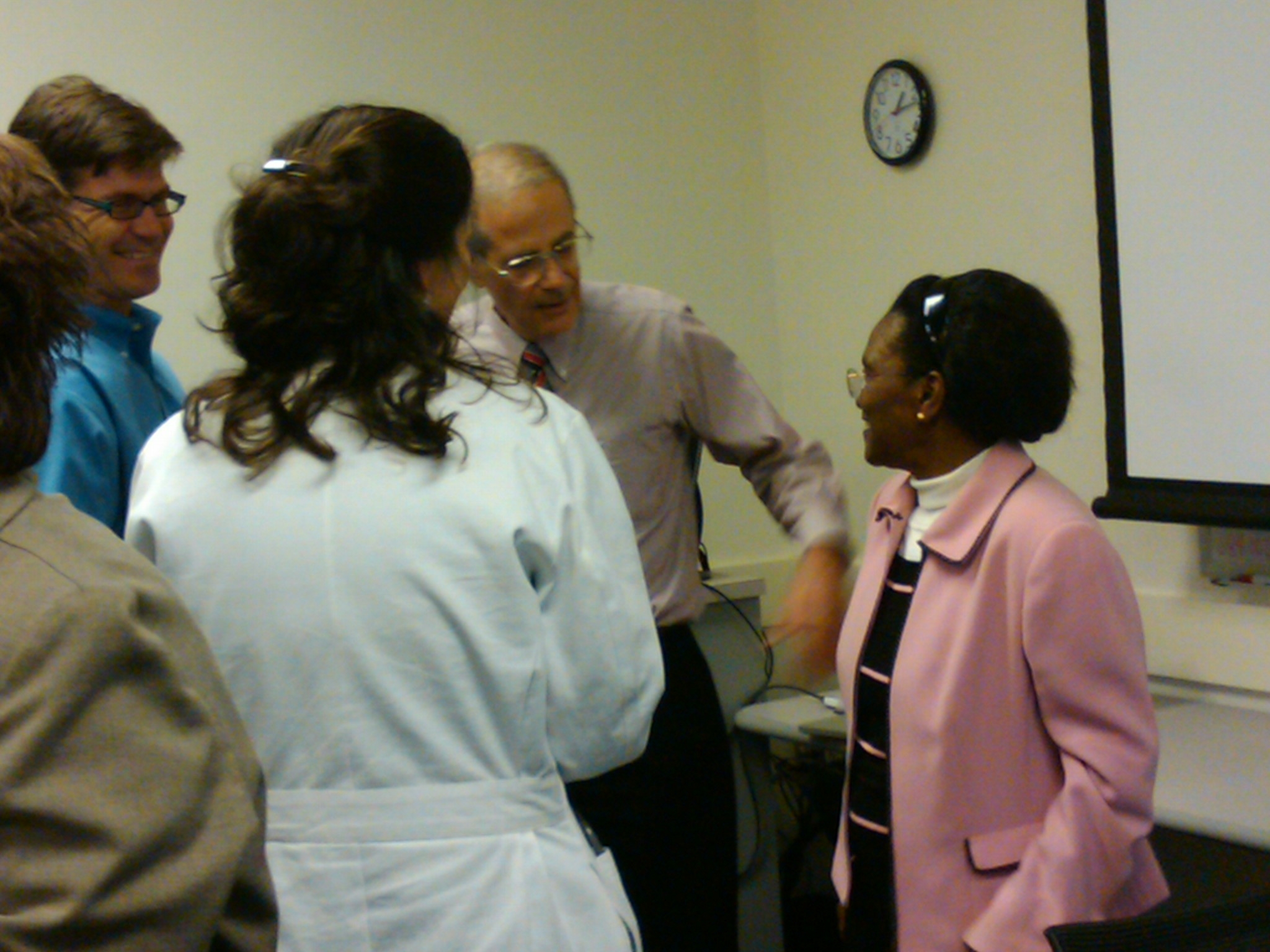 Despite the challenges, Mwaikambo is confident the future will be bright for the university. The medical school plans to expand its degree offerings to include pharmacy and dentistry, as well as the expansion of the newly-built student hostel, teaching hospital and lecture halls to accommodate about 40 more students next year, nearly doubling their enrollment.
"We are very proud, I can assure you. We have been able to produce doctors who conduct themselves well, who are ethical, and make a difference," said Mwaikambo. "Many people come to us because they know Kairuki Memorial has produced some good doctors."
Women now make up one-third of doctors in Tanzania
Mwaikambo said her dream for more women to become doctors has become a reality in Tanzania, where men once dominated the profession. Inspired by her mother who fell ill and died during Mwaikambo's childhood, she went on to become the first female doctor in her country in 1969. As she knocked down social barriers and paved the way for countless other women, she recalls it was difficult to gain respect.
"These people didn't believe that I was a medical doctor. It was tough," said Mwaikambo. She told her critics, "you don't have to listen to me, but I'm here to stay."
Now 40 years later, she has kept her word. Mwaikambo is founder of the Medical Women Association of Tanzania, and leads a medical school at the first accredited private university in Tanzania, while inspiring young adults to pursue a career in medicine.  Today, 30 percent of Kairuki's medical school is made up of women, what she calls substantial growth over the years.
"Women were very afraid to join medical school," said Mwaikambo. "But I told them: if I can do it, you can do it."