The Global Health Research Showcase is our annual celebration of research led by Duke global health students. While the COVID-19 pandemic affected our plans to have an in-person event, many students were able to complete research projects despite the challenges of the pandemic. We are pleased to share their projects here.
Featured Student Projects
Start your virtual journey by exploring these student projects, which represent a range of global health topics and methods. Be sure to continue exploring more projects below. View all projects
INFLUENZA VACCINATION IMPLEMENTATION AND TIMING FOR SRI LANKA: A COST-EFFECTIVENESS ANALYSIS
Coralei Neighbors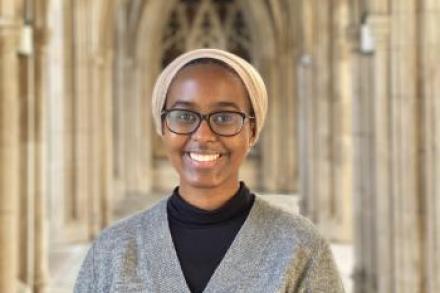 A NEW LIFE: EXPLORING THE MATERNAL HEALTHCARE EXPERIENCES OF SOMALI REFUGEE WOMEN IN NORTH CAROLINA
Amina Mohamed
ASSESSING THE IMPACT OF HPV AND CERVICAL CANCER STIGMA ON HEALTH OUTCOMES IN WESTERN KENYA
Ramya Ginjupalli & Rachel Mundaden
Students welcome your questions! The opportunity to explain research projects and answer questions is an important learning experience for our students. Students have provided contact information on their project pages so that you can reach out with comments, questions and reactions. Please take a few minutes to share your thoughts with them.
Congratulations to the winners of our 2020 Global Health Research Showcase poster contest!
ASSOCIATION BETWEEN GREENSPACE AND DEPRESSIVE SYMPTOMS AMONG YOUNG ADULTS IN ADDIS ABABA, ETHIOPIA
Winner - Hiwot Zewdie
BARRIERS TO UPTAKE OF SEXUAL AND REPRODUCTIVE HEALTH CARE SERVICES IN HARARE, ZIMBABWE: A COMPARATIVE STAKEHOLDER ANALYSIS
Runner Up - Elizabeth Aimone
QUANTIFICATION OF PLASMODIUM FALCIPARUM CYCLOPHILIN 19B TRANSCRIPTS IN NORMAL AND SICKLE-TRAIT HEMOGLOBIN RED BLOOD CELLS
Runner Up - Natalie Vance