The Doris Duke International Clinical Research Fellowship provides medical students with the unique opportunity to conduct clinical research at an international site under the mentorship of Duke faculty.
The Doris Duke International Clinical Research Fellowship (ICRF) from the Doris Duke Charitable Foundation provides an opportunity for up to three US medical students to complete a yearlong international clinical research project in one of four locations: India, Kenya, Peru or Tanzania. The fellowship begins in July and includes a detailed orientation before the fellows travel to the research location for a minimum of 8 months. There they will work on their project with mentorship from Duke Global Health Institute faculty and those from our partner universities, non-governmental organizations, and community practice settings.
The goal of the fellowship is to produce future leaders in global health clinical research. 
Eligibility
The Doris Duke ICRF fellowship is open to US-based medical students with at least two years of medical school training who are planning to conduct clinical research in a low- or middle-income country. Three students will be selected each year. Interviews with select applicants will be conducted during the month of February.
Award
Fellows receive:
a stipend of $29,000,
health insurance (if applicable),
didactic training in research methods,
travel expenses to the annual Doris Duke Foundation meeting,
round-trip travel to the research site,
round-trip travel to the mid-year fellowship meeting with other program participants, and
travel support to a relevant research conference.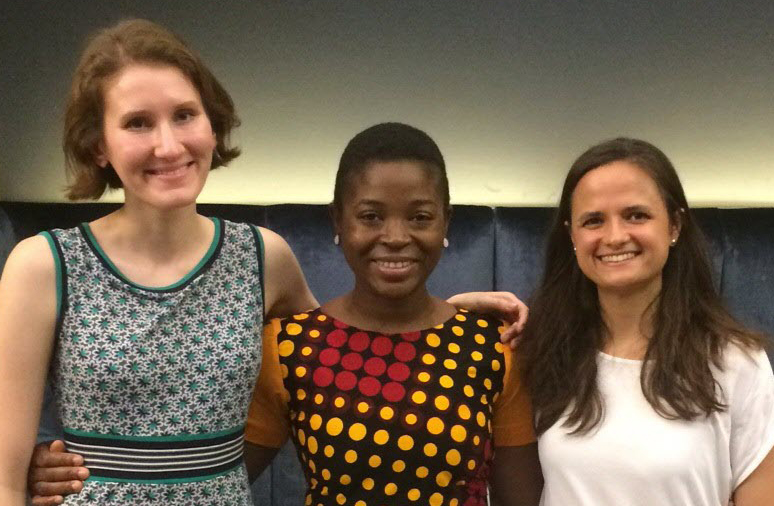 2017-2018 Doris Duke Fellows (l to r) Emma Fixsen, Temi Gafaar and Casey Silver
Contact
Lysa MacKeen
Assistant Director for Student Fieldwork Operations
Deadline
The application process is now closed.
Get More Information
Research locations and Potential Projects
Research for the Doris Duke ICRF program at Duke University will center around four locations: Eldoret, Kenya, Moshi, Tanzania, Peru and India.
Kenya
Faculty mentor: Gerald Bloomfield
Potential projects:
Household air pollution and its effects on cardiac structure and function
Cardiovascular complications of HIV infection 
Faculty mentor: Wendy O'Meara
Potential projects:
Malaria prevention in children with Sickle Cell Anemia: Testing new methods of malaria chemoprevention in children with sickle cell anemia at a single site in rural western Kenya
Management of malaria fevers outside of the formal health sector:  Implementation of new technologies to measure individual treatment beliefs and expectations in suspected malaria fevers
Assessing Community Health Worker perceptions of involvement in diagnostic and treatment interventions; evaluating the impact of community-based malaria testing on their role in the community
Faculty mentor: Peter Kussin
Potential projects:
Knowledge and attitudes regarding palliative care in Kenya- health care providers--  focus groups and surveys
Epidemiology of   infective endocarditis at Moi Teaching and Referral Hospital
Continued analysis of icu outcomes at Moi Teaching and Referral Hospital
Peru
Faculty mentor: William Pan
Potential projects:
Enrolling a birth cohort to evaluate the impact of in-utero exposure to mercury on child development
Evaluate a food basket intervention to determine whether local food identified as having antioxidant properties can reduce the level and impact of mercury exposure
Assist in the development of an early warning system for malaria in the Amazon
Assist in conducting a leishmaniasis study to evaluate the ecology and transmission of cutaneous leishmania between humans and animals
Work with a team from Duke, Tulane, the Field Museum and local universities in Ecuador, Brazil and Peru to develop a framework, quantifiable measures, and evaluation of human vulnerability to nutritional disorders, vector-borne disease, chronic disease, and toxicological exposures.
Sri Lanka
Faculty mentor: Truls Ostbye
Potential projects:
Community-based survey of the physical and psychosocial health of a group of vulnerable workers
Health problems of the elderly and their caregivers
Tanzania
Faculty mentor: Dorthy Dow
Potential projects:
Addressing mental health needs among HIV-Infected Adolescents
Associations between mental health and antiretroviral adherence and HIV outcomes
Positive transition models from adolescent to adult HIV clinical care
Faculty mentor: Matthew P. Rubach, MD
Potential projects: 
Epidemiologic risk factor analyses for zoonotic causes of severe febrile illness in northern Tanzania.
Etiologic investigations on infectious cause of death in resource-limited settings with low malaria prevalence and low-to-moderate HIV prevalence
Assessments of non-biological, socio-behavioral risk factors for poor outcomes (e.g., delays in seeking care, delays within health systems) among patients presenting to hospital with severe infectious syndromes. 
Capacity-building for clinical laboratory systems and services in northern Tanzania
Faculty mentor: Catherine A. Staton, MD MScGH
Potential Projects:
Evaluating and improving mental health and functional outcomes for Traumatic Brain Injury Patients in Moshi, Tanzania
Knowledge and attitudes of at risk alcohol use amongst injury patients seen at KCMC
Developing an intervention for alcohol amongst injury patients at KCMC
How to Apply
Applicants must complete the Doris Duke common application and DGHI supplemental application. The common application (obtained and submitted through the Doris Duke website) requires the following:
A personal statement containing a description of a) your reasons for undertaking global clinical research; b) your plans for future professional or graduate education as well as your long-term career plans; and c) a brief description of your research interests
Letter of support from the Dean's office of the medical school in which you are currently matriculated
Two letters of support from faculty who can comment on your academic performance and potential for clinical research
Curriculum vitae
Medical school transcript (unofficial copies are accepted)
Students must also submit the DGHI supplemental application by email to Lysa MacKeen.
Both the common application and the supplemental application must be submitted by the application deadline. Failure to submit both documents will remove a candidate from consideration for the award.
Application Deadlines (2018-2019)
APPLICATION DEADLINES:
Application & Letters of Support due: January 10, 2018
Interviews begin: Feb, 2018
Offers begin: March, 2018
Decisions due: March, 2018
Fellow Profiles
2017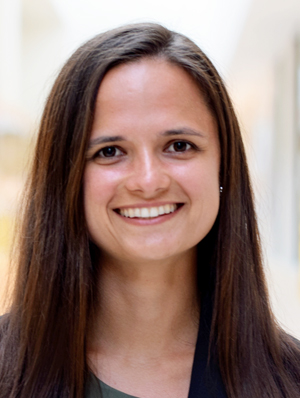 2016
2015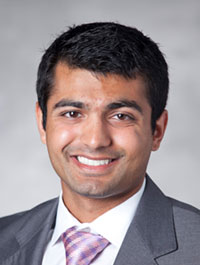 2014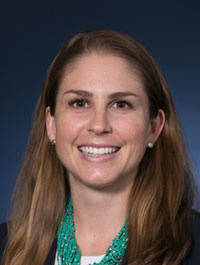 2013