It all began about two decades ago with a mother trying to instill some sense of direction in her child. They lived in Katwe, a slum in Uganda's capital city of Kampala, and she knew that there wasn't much there to inspire a young mind. That is how six-year-old Ben Mukumbya found himself, albeit grudgingly, seated for hours in front of a chessboard. With furrowed brows and keen concentration, the boy would spend every waking hour he wasn't in class mastering how to checkmate his opponent's king.
It's an image that years later would be depicted in the movie, "The Queen of Katwe," which featured Mukumbya and the Ugandan youth chess program where he learned the game. It would also help pave his path to Duke, where he is now a second-year student in the Master of Science in Global Health program, studying global neurosurgery.
Today, you'll often find Mukumbya setting out a chess board in the student resources room in Trent Hall, teaching fellow global health students the basics of the game. Between his research and classes, Mukumbya still plays about an hour each day, often practicing with members of Duke's chess club. He is preparing to represent Duke at the 2023 Pan American Intercollegiate Chess Championship, held in Seattle on Jan. 5-8.
"Chess keeps me sane. Depending on what else is going on in my life, it either calms me down or invigorates me," he says.
But Mukumbya wasn't always so enthusiastic about the game. "When my mother signed me up for the program. I didn't like it at first. But once I learnt the game, I found I was good at it, and the fire in my belly was lit."
The Opening
In his pre-teens, Mukumbya quickly showed he was a cut above his peers in mastering chess. At age nine, he competed in his first international competition in Sudan.
"We were a team of three; Phiona Mutesi, Ivan Mutesasira and me. We scooped all the prizes," he says.
The young team's success caught some international attention. ESPN, the American sports channel, was interested in the story of the young stars from a slum in Uganda. Tim Crothers, a reporter, set out to meet them.
So inspired was Crothers by the three children that once he was back in America, he asked the network to let him head back to Uganda to continue following the team. In 2012, Crothers published a book, The Queen of Katwe,  focusing on Mutesi and her teammates and how they were shaking up the reality of the Katwe community. The book was adapted by Disney and ESPN Films into a movie in 2016, starring Lupita Nyong'o, with child actors portraying the real-life chess players.
The Middle Game
Despite the international recognition, Mukumbya says his life and those of his teammates remained pretty much unchanged. He kept his head down, immersed in his high school education.
In 2016, around the same time the movie debuted, he chose not to compete in an international chess championship, preferring to study instead for his national examinations. But he received a phone call from Robert Katende, the founder of the chess program that had started his journey, requesting his help preparing Mutesi and the team for the tournament.
In practice matches, Mukumbya met Elliot Neff, a chess master and founder of the global chess academy Chess4Life. "Even though I didn't feel like I had played my best on that day, it didn't dull my excitement of meeting him. I went back to school a happy camper and settled back into my life," he says.
What Mukumbya didn't know was that he had left an impression on Neff. Later that year, Neff made plans for Mukumbya, Mutesi and Katende to visit America. He wanted Mukumbya to train with some of the world's best and further sharpen his skills.
"We were in Washington (state) for six months and through that time, I was training with chess masters," Mukumbya says.
Image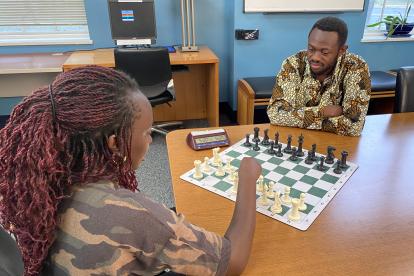 The three would also get to tour universities and in one visit, something unexpected happened. " We received full tuition scholarship offers from Joseph Castleberry, the President of Northwest University in Kirkland, (Washington). That was my wildest dream come true. I didn't know how I got so lucky, but I was grateful."
End Game
In 2017, Mukumbya, who had decided that he wanted to be a neurosurgeon, began his undergraduate studies at Northwest as a biology major in the pre-med track. He started the first chess club at the school, a team that went on to win many accolades.
But the chess pieces were still arranging in Mukumbya's life. While Mukumbya was settling into his new life as a college student, Michael Haglund, a Duke professor of neurosurgery and global health, happened to be watching "The Queen of Katwe" on a flight home from Uganda, where he has led neurosurgery research and outreach for more than a decade. At the end of the film, the real-life Mukumbya is shown talking about his dreams of becoming a neurosurgeon. Haglund contacted him, and the two remained in touch throughout Mukumbya's undergraduate years.
When Mukumbya enrolled at Duke, he joined Haglund's research team at the Duke Global Neurosurgery and Neurology (DGNN) division. He spent this past summer in Uganda conducting  research on the feasibility of mobile neurology clinics to improve access to care for brain injuries and diseases. He still plans to pursue medical school and believes chess will make him a better surgeon.
"Chess is a game of strategy, and it imitates life. The game teaches you the art of patience and calm. Those are essential skills for a surgeon," he says.
Parting shot? I ask.
"My journey has been blessed. I say chess and beautiful people have been placed in my life and have pulled me up. I am grateful and intend to pay it forward someday."
Related News