DGHI Reacts to the Death of Dr. Paul Farmer
Faculty, students and alumni share grief, appreciation at the passing of a global health icon.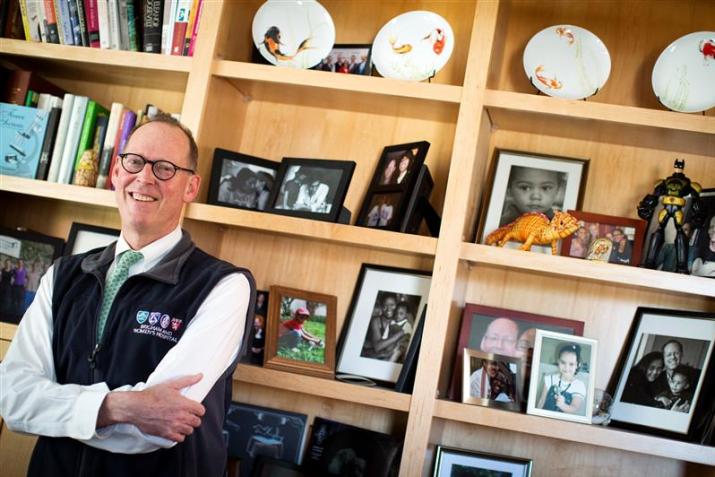 The death of Paul Farmer, M.D., Ph.D., co-founder of Partners in Health and one of global health's most iconic leaders, has elicited an outpouring of sorrow and admiration from the global health community. Farmer was especially beloved at Duke, his alma mater, where he served as a mentor to many students, faculty and alumni and a guiding force in the formation of the Duke Global Health Institute. 
Farmer had recently reflected on his work and the direction of global health during DGHI's 2022 Victor J. Dzau Distinguished Lecture in Global Health, which took place on Jan. 26. Speaking in front of students at the University of Global Health Equity In Butaro, Rwanda, which he co-founded with longtime collaborator Agnes Binagwaho, M.D., Ph.D., Farmer emphasized the importance of cultural humility in addressing health inequities. 
"Listen to people and learn to have not just cultural competence, but cultural humility," Farmer said during the event. "And that fosters the kind of understanding that will help us move forward and tackle very big problems."
Duke released this statement from President Vincent Price on Farmer's legacy. Below are a few of the social media tributes from DGHI faculty, students and alumni on Farmer's influence and trailblazing career. 
Paul made a huge impact, but I'll remember the small things -- the big smile, encouraging words, [overly] generous support, the invitations, his humility... He made a difference and inspired many to do the same. https://t.co/P1uAkuz030

— Gary Bennett (@drgarybennett) February 21, 2022
DGHI founding director Michael Merson on Paul Farmer's legacy at Duke:

"Paul inspired countless students & faculty to pursue careers in global health... He was an invaluable impetus & mentor for the establishment of our Institute. We will miss him greatly." pic.twitter.com/sccqO8Gkjw

— Duke Global Health (@DukeGHI) February 21, 2022
Paying tribute to a friend, hero and why many of us are in GH. He gave me his book 10 years later w/ the same words (and a huge hug) he told me as a student, only this time as a friend. Dr. Paul, we honor you today and hope to continue the solidarity justice work you started. pic.twitter.com/kF9jSPtOdm

— Emily Smith-Friendly Neighbor Epidemiologist (@ersmith2016) February 21, 2022
I am heart broken and distraught over the death of my dear friend, protege and hero. I am at a loss for words. I am weeping……

— Victor Dzau (@VictorDzau) February 21, 2022
Absolutely tragic news. Paul made a huge impact on the world and was remarkably dedicated to global public health. The book about his work in Haiti, Mountains beyond Mountains, is one of the most inspiring I have ever read https://t.co/KusCiLXKxx

— Michael Felker (@DukeHFDoc) February 21, 2022
Terrible loss for the world at a time when we need more people like Paul Farmer. His legacy of justice through health and caring will hopefully continue to inspire generations of physicians. Our thoughts are with his family. https://t.co/sRFdYRcsNF

— Manesh Patel (@manesh_patelMD) February 21, 2022
Paul Farmer's story was much the initial inspiration of my own journey into medicine & #GlobalHealth. I read "Pathologies of Power" as an undergrad anthro major over 10 years ago - & its core concept of how social forces drive disease guides my judgement everyday as a physician❤️ https://t.co/2dBlsaqLDf

— Ryan R. Lion, MD (@RyanRLion) February 21, 2022
Stunned and devastated by the sudden death of Paul Farmer. Like for so many others, he was my inspiration — the reason I pursued a career in global health, traveled to Haiti, moved to Senegal. A fellow Duke alum and my commencement speaker. An incalculable loss for the community.

— Nicole Savage (@_nicolesavage) February 21, 2022
This man inspired me to become a physician and to devote my life to creating a preferential option for the poor with my Haitian colleagues. We needed twenty more years, but I'm thankful for what we had. Rest In Peace, Dr. Farmer. ⁦@PIH⁩ pic.twitter.com/GiPIczFHj1

— Rolvix Patterson, MD, MPH (@RolvixPatterson) February 21, 2022
This is really tragic. He was such a force for good. The world is a bit darker today. It's up to us to carry forward his legacy and create a better world. https://t.co/2ecX4Y9qu8

— Rolvix Patterson, MD, MPH (@RolvixPatterson) February 21, 2022
Rest In Peace Dr. Farmer. I don't think field of global health would be what it is today without Dr. Farmer's contributions. As we hopefully evolve into a better, more equitable field it is important to remember his inspiration and pioneering spirit. https://t.co/UW6PSORz4i

— Shashika Bandara (@shashikaLB) February 21, 2022
In Feb 2020, right before the world shut down, I heard Dr. Paul Farmer speak at Duke. Everything he did helped build my love for global health, medicine, and health systems, and what he spoke about that night made me believe in all that was possible.

Thank you, Dr. Farmer. 💙 https://t.co/2rpbn7TGpP

— Isabelle Sico, MSc (@Isabe11eS) February 21, 2022
One day in 2012, young aspiring Dr. me, determined to change the world, had asked the librarian for THE BOOK and was handed "Mountains Beyond Mountains." And here I am today, an optimist pursuing health equity @dukeghi. Thank you #PaulFarmer for forever inspiring love & hope! 🙏

— Pooja Singh (@pjtimes2021) February 22, 2022
Devastating. It sounds cliche but Mountains Beyond Mountains was what first got me interested in global health as a high school student. What a loss https://t.co/juN0Me9YO9

— Dominic Lucero (@DominicFLucero) February 21, 2022
Paul was never happier than when he was caring for patients in one of the clinics he helped create. My heart goes out to his family and friends, his colleagues, and all the people whose lives he touched.

— Bill Gates (@BillGates) February 21, 2022
At the end of the day, Paul's most lasting impact can be found in the patients he loved so dearly—all of the people who are alive today because he dedicated his life to helping them. https://t.co/W8jVF6rcS0

— Bill Gates (@BillGates) February 22, 2022
Most importantly, he believed in the sacredness contained in every single person, and his commitment to making the world better encouraged other people believe in it, too. I will miss my dear friend, and continue to be inspired by him, every day. https://t.co/chkEz21kAh

— Melinda French Gates (@melindagates) February 21, 2022
For nearly two decades, I had the privilege of teaching with, serving with and most of all learning from Paul. There are so many memories, but one that's on my mind now was from our first meeting, when as a medical and public health student, I asked him for career advice.

— Raj Panjabi, MD, MPH (@rajpanjabi) February 21, 2022
Even until his final moments, Paul was doing what he had done for decades — caring for the sick.

Even until his final moments, he did it with many others — the generations of doctors, nurses and medical students he had helped train.

— Raj Panjabi, MD, MPH (@rajpanjabi) February 21, 2022
Even until his final moments, Paul marched for health equity.

I'm deeply grateful Paul for all you taught us. Your lessons, your values and your march will live on in generations to come. #RIPPaulFarmer

— Raj Panjabi, MD, MPH (@rajpanjabi) February 21, 2022
The weight of his loss is in many ways personal, to the country of Rwanda (which he loved and to which he contributed so much during its reconstruction), to my family and to myself. I know there are many who feel this way in Africa and beyond.

— Paul Kagame (@PaulKagame) February 21, 2022
My deepest condolences to Didi, his wife, their children, family and friends.

— Paul Kagame (@PaulKagame) February 21, 2022
What heartbreak to hear this news. Paul Farmer is without a doubt one of the most loving, funny, generous & inspiring people to grace humanity with his soul in our lifetimes. If you were lucky enough to know him, your life was altered for the better. Dr Paul forever in our hearts https://t.co/qp15GpygY8

— Edward Norton (@EdwardNorton) February 21, 2022
Paul Farmer changed the way health care is delivered in the most impoverished places on Earth. He saw every day as a new opportunity to teach, learn, give, and serve—and it was impossible to spend any time with him and not feel the same. Full statement: https://t.co/a5MgLrHeyE pic.twitter.com/nwodjTZ3g3

— Bill Clinton (@BillClinton) February 21, 2022
The passing of Dr Paul Farmer has shaken us deeply. It was because of Paul that we have a Program in Global Surgery and Social Change. He was our greatest advocate and friend, and we will continue to keep alive his legacy of hope, dignity, and health care access for all. pic.twitter.com/8Qts9Etnd4

— HarvardGlobalSurgery (@HarvardPGSSC) February 21, 2022
Deeply saddened & heartbroken by the passing of my dear friend & outstanding global health champion, Dr Paul Farmer. He led so many efforts for #healthequity & against root causes of injustices. We must never stop continuing his legacy. You will be so greatly missed my friend. https://t.co/U0M6JSrbhi

— Tedros Adhanom Ghebreyesus (@DrTedros) February 21, 2022
Our community is heartbroken by the news of the passing of Dr. Paul Farmer, a compassionate leader, colleague and humanitarian, who improved the lives of so many, near and far. Our thoughts are with his family and all those fortunate enough to have known this remarkable person. pic.twitter.com/MwEheTZmmP

— Brigham and Women's Hospital (@BrighamWomens) February 21, 2022
What a huge, huge loss. Paul Farmer saved lives on a huge scale. He was selfless, brilliant, funny, sweet and compassionate. He created @PIH one of the most effective organizations ever combating disease world wide. My heart goes out to his friends and beautiful family. https://t.co/tVHERCQSS7

— Ben Stiller (@RedHourBen) February 21, 2022
It is with a sense of profound sadness that Harvard Medical School learned today of the tragic passing of Professor Paul Farmer, a physician, a medical anthropologist, and a humanitarian who dedicated his life to improving human health on a global scale https://t.co/tIR62zaZw3

— Harvard Medical School (@harvardmed) February 21, 2022