As the race to produce and roll out COVID-19 vaccines around the world continued to ramp up in the first month of 2021, global health experts from four continents met with DGHI to discuss vaccine equity and allocation.
The event kicked off DGHI's "Global Challenges and the COVID Vaccine" series, which will include monthly webinars through May focusing on key issues surrounding the distribution and acceptance of COVID vaccines. Registration for the Feb. 23 webinar, focusing on vaccine hesitancy, is now open. 
Dr. Krishna Udayakumar, founding Director of the Duke Global Health Innovation Center, moderated the hour-long conversation. 
"The health and economic impact from the COVID-19 pandemic is the defining moment of our generation and we have much progress to be made. But as Dr. Tedros, the Director General of the World Health Organization put it bluntly yesterday, 'The world is on the brink of catastrophic moral failure,'" Udayakumar said as he introduced the panelists and launched the virtual discussion.
A Bird's-Eye View of Global Distribution 
First up was Andrea Taylor, assistant director of programs at DGHI's Global Health Innovttion Center. Taylor shared recent data from the Johns Hopkins COVID-19 Dashboard which tracks the burden of the coronavirus disease globally and deaths from the virus that's rocked human life and health care systems for the past year. 
"We can see that there's a very large burden of disease clustering in the U.S., across Europe, parts of South America and also in India and other parts of the world. As COVID-19 deaths are now past two million globally, a lot of populations are really focusing on vaccines as a possible way to end the pandemic," Taylor said.
She also presented data from The Launch and Scale Speedometer, developed by the Duke Global Health Innovation Center to monitor vaccine purchases globally.
"We tracked the flow of deals as they started happening last summer, before vaccines were even really on the market. We wanted to understand which vaccines were being purchased by which countries and the numbers involved and to really understand the nuances around those deals and what they meant globally especially for global equity," Taylor said.
As of mid-January, more than 7 billion vaccine doses had been purchased globally and the lion's share — 4.2 billion doses — have gone to high-income countries. While high-income countries represent only 16% of the world's population, they currently hold 60% of the vaccines for COVID-19 that have been purchased so far. Canada tops the list having purchased enough vaccine to cover more than five times their population. Most other high-income countries have more than 100% coverage, and some can cover their populations several times over.
The data is disheartening for countries in other economic brackets, though. Middle-income countries have a much smaller share of the vaccines that have been purchased so far. And lower-income countries just saw the very first purchases this past week — made through the African Union and Africa CDC.
"Middle- and low-income countries are in trouble. We can see a very large gap and that's been holding over the last few months," Taylor said.
Image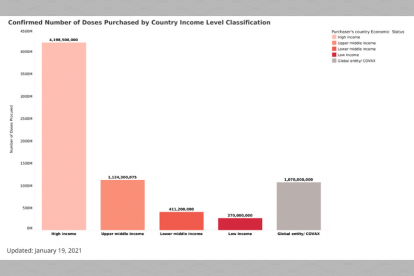 Politics in Peru
The conversation highlighted the fact that different countries — and continents — are experiencing stopgaps to vaccination for different reasons. Dr. Patty J. García, a professor at the School of Public Health at Cayetano Heredia University (UPCH) in Lima-Peru, and the former Minister of Health of Peru, said Peru's political instability has been a barrier to obtaining vaccines.
"We're a very diverse country with 32 million people with a very stable economic situation in past years that allowed us to have a cushion of money that made us feel more comfortable in front of the pandemic. However, between 2017 and 2020 we have been going through a political crisis. It's so unbelievably complicated," said García, who is also the Dean of the School of Public Health at UPCH, and former Chief of the Peruvian National Institute of Health.
Political instability there has resulted in nine changes in the minister of health and four different presidents in a matter of a couple of years. 
"I have been one of the ministers of health during this crisis. I stayed for a year at the most. There's a fragmented and under-budgeted health system," she said.
Adding to the fire, she said prevention practices such as social distancing "is very complicated in general for Latin America" and that despite early lockdowns, coronavirus cases still grew.
Important decision-making about logistical issues — buying supplies, buying tests – everything was delayed not because of lack of funding but lack of stability, she notes.
"We were making recommendations to the government about COVAX early on, however with the change of ministers of health it was impossible to move along," García said.
In January, Peru signed with a vaccine manufacturer in China to participate in clinical trials and expects to receive some vaccines shortly.
India: Primed For Manufacturing, Grappling With Scale
Rajeev Sadanandan, the CEO of Health System Transformation Platform, in New Delhi, India, said, "Unlike Peru, we're short of money."
But the country of 1.36 billion people has a huge manufacturing capacity for vaccines and the government plans to leverage that.
"India has already licensed two vaccines… only one of them has completed Phase 3 trials," Sadanandan said. 
India has preordered around 500 billon units, he said, but per capita, even 500 billion units will be inadequate, only enough to vaccinate about 80% of people. The country started vaccinating frontline health care workers on January 16.
The other advantage India has is a large childhood vaccination program, with storage and distribution systems, said Sadanandan. But as vaccine availability increases, going forward with the cold chain system might get challenging.
He said the government will ideally fund vaccines and deployment of them, but like other countries, COVID-19 is not the only communicable disease the country is dealing with, so budget issues are complex. 
Another complexity: He expects high levels of vaccine hesitancy in those outside of the health care community.
"The anti-vaccination campaign is strong here. This will be a challenge going forward."
Africa's Unifying Approach
Dr. Ahmed Ogwell, Deputy Director at the Africa Centres for Disease Control and Prevention (Africa CDC), a specialized agency of the African Union, said that the evolution of the COVID-19 pandemic on the continent of Africa has been distinctly different from a lot of what had been predicted early in the pandemic. 
"There are many explanations that have led to numbers being as low as you see them on the continent. We at the Africa CDC have brought in a level of coordination that was not there before — actions by various states, harmonizing guidelines," he said.
As of the panel date, there were about 3.3. million COVID-19 cases in Africa and just over 79,000 deaths. 
"We are seeing the whole continent now on its second wave — the continent as a whole. But as you know, Africa is very diverse and some countries are controlling the numbers better than others," Ogwell said.
Vaccination — not just vaccines — is going to be a very important tool in brining back some sense of normalcy, Ogwell said.
"That is why for us at Africa CDC and African Union there is really no option but equitable distribution of vaccines. If we don't do that, then the virus will never go away because the virus does not respect borders. Neither does it respect position in society and which part of the world someone comes from. So equitable distribution of vaccines is an absolute must if we are going to get a good grip on this pandemic. For us, it makes absolutely no sense for a very healthy, relatively young individual in one part of the world to be getting vaccinated while a health worker on the front lines in another part of the world is not getting vaccinated. This sort of skewed arrangement will not be good for public health and will certainly open us up to even more spread of this virus in the future," Ogwell said.
Africa CDC has secured doses, all to be delivered in 2021 and is focusing on getting health workers vaccinated first and foremost.
"Our approach is really simple — that Africa needs to go into this together. We are 1.3 billion and in peace times probably the largest consumers of vaccines globally. We are going into this as a block so we can be able to ensure that Africa's vaccination is really going in a manner that protects the most vulnerable first and the whole continent is doing the same thing at the same time," he said.
Ogwell said there are clinical trials happening on the continent and that participation in vaccine development is the only way to have access to data, and it also gives confidence to the African population. But he notes that the most critical part is the vaccination piece itself — ensuring people who need vaccine get the vaccine by factoring in all costs, not just dose costs, including syringes, needles, swabs, documentation, cold chain from landing to getting to a health facility. 
"These costs must be part of the conversation and the planning," he points out.
"We are quite confident that at end of first quarter 2021, most counties on the continent will be ready to vaccinate," he says, noting that vaccines that require super cold storage will be used within capital cities — most have super-cold refrigerators. Vaccines more amenable to higher temperatures will go out to communities beyond urban centers. And vaccines will be free to the public, most likely funded by COVAX and through institutions, such as the World Bank.
"Africa is doing this in solidarity. We are doing it together. Africa CDC is doing a lot of coordination and negotiation," Ogwell said.
China's Priorities
Shenglan Tang, deputy director of DGHI, says that overall, China has effectively controlled the pandemic over the last several months and that vaccination is rolling out right now. By the end of last week, the country had vaccinated over 10 million people, less than 1% of the Chinese population. 
He notes that vaccination policy — prioritization of the population in China — is slightly different from what's happening in the U.S., U.K. and other countries. 
"China has targeted groups that are potentially high-risk: front line health workers, people in transportation at airports and railway stations, and people working in services who integrate with many people. China is also targeting people who work overseas for work and study. China has not yet started vaccinating people over 60 or under 18," Tang said.
The national health commissioner in China recently made an announcement that Chinese people will receive a free vaccine with the money coming from the government's budget and national health insurance programs. 
"However, there are no details yet on funding policies or guidelines that have been developed to indicate how much money will come from those sources," Tang said.
They will also focus on mitigating vaccine hesitancy and meeting vaccine manufacturing demands domestically and from other countries. 
China has been part of COVAX, which means they have obligations to support other countries. The goal of COVAX is to vaccinate populations equitably across the globe in every population, in every country at the same time on the same time scale because it would lead to better outcomes for all countries regardless of whether they're wealthy or poor.
Gavin Yamey, associate director of policy at DGHI and the director of the Center for Policy Impact in Global Health, wrapped up the panel discussion. 
"I wish the story was a better story. This could be a story of pursuing global vaccine herd immunity for public health gains, economic gains, justice. It's become a cliché, but an outbreak anywhere can become an outbreak everywhere," said Yamey, who was involved in the early design of COVAX.
"It was designed to prevent countries from hoarding vaccine. And was meant to help low- and middle-income countries get vaccines. And for rich nations to buy vaccine through COVAX. Unfortunately, that hasn't really worked out as hoped, as the Speedometer shows," he said.
Yamey believes that all health care workers around the globe should be vaccinated first, and while that hasn't happened, he said, "we shouldn't give up."
Ogwell of the Africa CDC made three final key points: that working with COVAX and keeping vaccines affordable, ensuring equitable distribution, and mobilizing networks so vaccination can happen will be the long-term solution.
Related News