Henry Rice: A Mutual Approach to Advancing Global Surgery
Long-time DGHI professor talks about his research, teaching a global surgery course spanning two continents and his vision for a new Duke global surgery center.
Henry Rice, M.D., has worked for decades to strengthen global surgical care and patient safety in health systems around the world. A professor of surgery, pediatrics and global health, Rice serves as the division chief of pediatric surgery at Duke and co-teaches a DGHI seminar on global surgical care.
But Rice's advocacy for the health of children isn't limited to his global work. On the day of this interview, he was on his way to Durham City Hall to advocate for solutions to gun violence and support survivors.
Rice sat down to talk about his career and the future of global surgery at Duke with Emily Peairs, a second-year medical student at the Duke School of Medicine and a leader in Duke's Global Surgery Student Alliance. Peairs, who is interested in orthopedic surgery, surgical inequities and disparities, and strengthening systems to support survivors of violence, is president of Root Causes, a Duke School of Medicine group that addresses social drivers of health in the greater Durham area. Their conversation has been edited for length and clarity.
EP: How did you first get involved in global surgery?
HR: How do people figure out what they want to do when they grow up? I guess I've been involved in the field of health equity since I was young. While I didn't have anyone in healthcare in my family, my mother was a civil rights lawyer and a judge. She and the rest of my family lived the ethos of looking out for others, and when you're raised with that, you're sensitized to all the issues [around you]. And I guess I stuck with it.
When I was young in my training, in medical school around your stage, I had some exposures abroad that were striking. Mostly, I was influenced by mentors and people who were passionate about these things. I developed an interest in my clinical training to apply [my skills] to those who got less than others. That is very common in global health settings, but it is also common across the U.S. I trained with that in mind, and in the latter stages of my career, it has become a much greater focus of my activity. 
EP: Thank you for sharing. Could you talk about the work you have done in Guatemala and in other countries?
HR: In Guatemala, while we aren't doing any activities currently, for many years we have gone back and forth with the surgical community there, and by extension the pediatric surgery community more broadly. I'm a pediatric surgeon and pediatric surgeons around the world, for better or worse, speak the same language, even if they speak different words to say it.
My family and I traveled back and forth for many years doing non-health-related development work, and I eventually found out about the surgical community there and became good friends with colleagues. They happened to be starting a pediatric surgery fellowship at that time. I do some fellowship examinations and other trainings [in the U.S.] so we started working together. Eventually, it led to one thing and another, and we began to help expand surgical faculty through several charities and NGOs. We made an opportunity for Duke staff, trainees, and faculty to travel [to Guatemala] on an intermittent basis to work with the surgical communities there to offer pediatric surgical care to build their capacity. We did that for many years, and it was extremely valuable to a lot of Duke staff.
I think the most important benefit was the relationships we built with partners and collaborators there, and the chance we got to learn about each other's needs. The personal growth that all the staff had and the insights that they gained on how to work together and how to be a team member in a low-resource setting all served them well. 
Image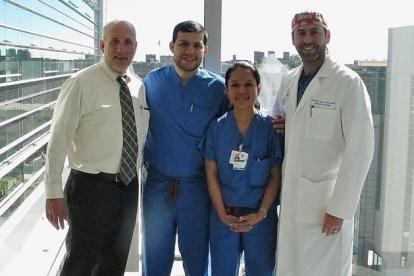 EP: What does your presence in global surgery look like now?
HR: About ten years ago, I became interested in patient safety efforts and patient safety research. For many years, we've had experts in patient safety at Duke, particularly in safety culture tools. We brought collaborators from our patient safety center here with clinicians and partners from Guatemala and tested the application of patient safety tools and training programs in low- and middle-income countries (LMICs), which hadn't been done before.
While we weren't doing any clinical work anymore, we were in many ways doing things that were much more impactful. We ran a fellowship in patient safety for physicians from LMICs and many of them came up to Duke and studied with us for a month or two at a time to learn principles of patient safety and quality improvement - those things that are taught routinely in the U.S. but aren't as commonly taught in other settings. And these folks went back and led patient safety efforts at their home institutions, and we've been partners with them over the last few years and they've expanded their efforts. 
EP: It sounds like you saw the benefits of cross-cultural exchange and the mutual teaching that happens with global surgery collaborations.
 HR: I think that is an important principle when you talk about global health or global surgery. There are so many challenges [to global surgery], but one of the key principles is equity in approach and respect for shared goals. And that's not done consistently in global health settings, but something we've certainly paid close attention to and is a big ethos of the Duke Global Health Institute.
Some of the experiences in Guatemala and other places were the beginnings of our teaching now over the last eight years of a course in global surgical care at the Global Health Institute. It is primarily for graduate students but also offered to students at all different schools and departments, including medical students. Over a semester course, we do a deep dive into all the different challenges that impact the delivery of surgical care, including things like how to measure surgical care, how to train a global workforce and how to develop educational programs - things that would eventually lead to policy changes hopefully.
Over the past two years, we have taught this course in combination with the University of Global Health Equity in Rwanda. It is a leading institution in teaching providers not only advanced clinical skills but also core principles of health equity. We've taught our course on a shared basis where half the faculty are from Duke and half are from their university.
Image
EP: That sounds like a fantastic program! What are some areas or challenges in global health that you are excited to work on or some directions you hope to go in the future?
 HR: Well, one is our new Center for Global Surgery and Health Equity. We have several people across all different departments who are interested in global health and global surgery efforts. We have a wonderful neurosurgery group that has done a lot of work, primarily in Uganda, we have an emergency medicine group, an internal medicine group, and more. All of these are especially strong in their teaching and research efforts, but we've been lacking a way to bring all these groups together at Duke.
Over the last year or so, the center had set out to bring together people from all different clinical and non-clinical departments--engineering, law, policy--to advance the provision of surgical care around the world. Specifically, to link them up with partners across the country and the world who are interested in advancing service efforts, research studies, and training platforms. We are very excited we have some incredible support from Duke leadership.
EP: That is exciting, and I know there are a lot of students and trainees excited about this center and getting more involved in this work. To wrap up, what books or resources do you recommend to anyone wanting to learn more about global surgery?
 HR: It depends on how much time you have! A deep dive would include our semester-long course in global surgical care. If you want one classic report in this area, the paper that we use for the course is from the Lancet Commission on Global Surgery, published five years ago, that set the whole agenda for what the challenges are for delivering surgical care around the world and what the main issues were going forward. If you have even less time, there are some short videos produced by some students like yourself that have worked on the lancet commission and some of the other active global surgery groups that summarize the key messages and principles.
EP: Thank you so much, I appreciate you taking the time to chat with me about your work and interest in global surgery, and look forward to sharing this on behalf of Duke GSSA!
Note: For more background on global surgery, check out these videos: