Perspectives on a Global Health Crisis
DGHI researchers and partners share how COVID-19 is affecting work and home lives around the globe
The novel coronavirus that causes COVID-19 has left literally no part of the planet untouched. By the first week of May, billions of people worldwide quarantined at home to try to quell the virus' spread. DGHI reached out to some of our global partners to see how the pandemic is being lived in other parts of the world. Here are a few of the responses.
China | Nepal | India | Sri Lanka | Kenya | Tanzania | Uganda | South Africa | Switzerland | Brazil | Peru 
Xinye (Emma) Wang is a research study coordinator for the Global Health Research Center at Duke Kunshan University, where she manages lab and field studies for the Duke One Health program.
On January 3, many of my friends and I saw the news that a total of 44 patients with unexplained pneumonia were detected in Wuhan, including several vendors from Huanan Seafood Market. As I work on infectious diseases, I was alarmed and knew this situation could get worse. But at that time, none of us thought that our daily lives would be so seriously affected by this outbreak.
I immediately called my parents and other family members who live in Wuhan and asked them to wear masks and wash their hands frequently. I bought enough masks, gloves, bottles of ethanol and a household UV lamp for my parents. My husband and I were supposed to gather in Beijing, but seeing the increasing number of cases in Wuhan, I decided to look after my parents instead. I arrived on January 21 and spent the next three months living with them in their apartment.
All the evidence in that period suggested that COVID-19 could be merciless to elder people. Both of my parents have chronic diseases, and so we decided they should not go out. In most traditional Chinese dining, people always like sharing dishes with others. In order to reduce the potential risk, we decided to eat from separate dishes. Soon, confirmed cases were reported constantly in many residential areas, including our apartment building. Fever clinics were full of people who had fevers/influenza-like symptoms and wanted to be tested for the virus. People started to panic about the surge in confirmed cases and the growing shortages of medical supplies in hospitals.
On the morning of January 23, Wuhan was ordered into lockdown, and shops, schools and offices closed. Many residential areas blocked entrances and exits. At the same time, community workers and volunteers began forming teams to serve residents' needs. I volunteered to help ensure around 300 residents of my parents' apartment building were getting enough food. We created a group chat on our social media app WeChat to arrange shopping trips, and volunteers delivered packages of meat and vegetables once a week when the situation was worst. This was just one example of the many ways Wuhanese stayed united and helped each other during this difficult period.
In China, there is a saying that translates to "millions of people united as one, our wills unite like a fortress." After enduring the lockdown in Wuhan, I can say now I completely understand what this means. What Wuhanese experienced at the epicenter of this pandemic was undoubtedly horrible. But because of everyone's effort – from our medical workers to all those who cooked and served food and cleaned streets and countless others – Wuhan has emerged from its lockdown and is slowly returning to normal life. We know this disease may exist for a long time, and the city is continuing to take precautions to prevent it from surging back. However, I am optimistic that we can look forward to a day when COVID-19 is finally defeated for good.
Image
Deepak Bajracharya and Kshitij Karki are, respectively, president and program director of the Group for Technical Assistance, a nonprofit organization that works closely with the government of Nepal on public health and community development. The group is part of the global innovators network organized by DGHI's Global Health Innovation Center.
While Nepal has only had 82 cases of COVID-19 (16 of whom have recovered), the country is affected economically, culturally and socially by the pandemic. All economic activities are closed and employees are working from home. Children are learning online, and social distancing has become the norm. Cultural and religious activities have stopped. We have started to salute with our traditional Namaste (a spoken greeting delivered with a bow) instead of handshaking.
Our government is following a strategy defined by five Ts – testing, tracing, treatment, teamwork and tracking. Municipality wards test and trace all people who arrive from outside the area, and contact tracing is done on any positive results. These measures have been effective, but many are still suffering the economic effects of the lockdown.
The pandemic has left approximately 4.5 million people jobless, and daily wage workers are most affected. We know people are suffering from anxiety and depression, and many are malnourished, making them prone to other diseases. There are threats of scarcity of both daily consumables and essential medicines, especially for patients with chronic diseases. Hospitals are open for emergency cases only and are hesitant to receive patients with fever, so there is less access overall to healthcare.
The government and other stakeholders are doing their best to provide relief for those affected, but it is not enough. We are safe and healthy at our homes, but hope for a quick end to this pandemic.
Sweety Pathak is associate program director the Society for Nutrition, Education and Health Action, a Mumbai-based NGO that works to improve the health and safety of women, adolescents and children in vulnerable urban communities. The group is part of the Innovations in Healthcare network.
In India, we woke up one day to news of a strict nationwide lockdown for which we were totally unprepared. Life has changed significantly for all of us.
Understandably, we sought to respond to the clarion call. We have been navigating uncharted terrain, trying to work amidst restrictive conditions while grappling with our own fears and anxieties about contracting COVID-19. Most of all, we are doing all we can to meet the dire needs of the community, providing food and basic amenities with the support of our donors and partners.
Remarkably, we have been able to adapt to these new conditions, relying on phone and online meetings to continue our regular health interventions and pass on new information. One of the critical needs we have addressed is to educate communities about preventive measures such as handwashing, personal hygiene, masks and social distancing. We are also providing information about COVID-19 symptoms and dispelling myths and misconceptions.
COVID-19 has definitely exposed the undeniable interconnectedness of people across our communities. Now more than ever, we have realized how much we need each other and how we have been instrumental to effect a change. We will continue to work diligently in accompanying our communities and sail through these turbulent times. As is oft quoted, "tough times deserve tough measures." Difficult times indeed bring out the best in people.
Champica Bodinayake is a professor of medicine at the University of Ruhuna in Galle, Sri Lanka, and a physician in internal medicine. She is an adjunct professor with DGHI.
At the time I write this, we have closed our borders, suspended all foreign trade and travel, and been under intermittent curfews and lockdowns for nearly two months. Sri Lanka reported its first locally infected case on March 10. To date, we have 804 confirmed COVID-19 cases and nine deaths. Over these two months we have had to adapt, adjust and learn to live with the new rules and restrictions imposed for pandemic control.
Galle is a multicultural city and a tourist hotspot, and we have always lived life to the fullest. All of this changed almost overnight. We find ourselves missing the cacophony of our new year, which we typically spend with family and friends. Vesak, our beautiful Buddhist festival, has been cancelled. Holidays such as Iftar to Easter, which have brought us together as community, are now celebrated apart. One of our young interns had to postpone his wedding ceremony. The tourist industry has come to a standstill, leaving many unsure of what to do next.
Universities are closed, and so we lecture online. It is strange, teaching without a visible audience, not seeing their reactions, not hearing their voices. Ward rounds on our unit, usually accompanied by many undergraduate and graduate students, have become low-key. It is cumbersome to be wearing masks and PPE constantly in this heat, and one can't help but wonder if we are being too cautious.
Still, we are spending much appreciated time with our families and taking up new hobbies. The creepy corners in our yards are turning into vegetable plots. We enjoy home cooked food. It feels like we've become more content and less wasteful.
It will be good to go back to life as it was, but the lockdown is not always as bad as it seems. After all, we as a nation have survived war, terror and disaster, sometimes all at the same time. And so we have learned to continue, hoping that this, too, shall pass.
Image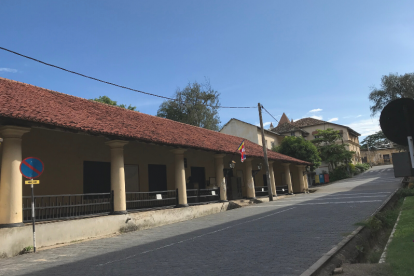 Edna Sang is coordinator of DGHI's collaborative research program in Eldoret, Kenya.
My husband, Sam, was supposed to come home in June. He has been studying and preparing his thesis for his PhD at the University of KwaZulu-Natal in South Africa. I was looking forward to visiting him there in April. A lot changed in a short period due to the COVID-19 pandemic.
We decided it was safer for Sam to be home. He traveled to Kenya on March 23, only to find that the government was putting all returnees into mandatory quarantine for 14 days at their own cost. It was not easy to find an affordable hotel among the options given by the government.
On Sam's fifth day of quarantine, everyone got tested for COVID-19. One person at the hotel was found to be positive for the virus. Sam was shocked to learn that this person had queued behind while at the airport and had interacted closely with him at the hotel. Then the government decided to extend the quarantine because there were some at the hotel who had parties, potentially causing new infections.
On Day 14, Sam was informed that his brother in Nairobi had died suddenly. The death was quite mysterious. Sam's brother was found lifeless on the floor of his house, and the post-mortem results revealed pneumonia, but they did not do any test for COVID-19. This was quite a blow for him, especially as he felt he was imprisoned in his hotel.
After the third week, everyone at the hotel tested negative, and they were all released. But with Nairobi on lockdown, it was not easy for Sam to bring his brother's casket back home to western Kenya. He was finally able to get the relevant permits to travel, and he arrived home on April 18. Needless to say, it was a difficult period, but we are all glad that we are able to endure the pandemic together as a family.
Image
Kristin Schroeder is an assistant professor of pediatrics and global health at Duke. She is co-founder of the International Cancer Care and Research Excellence Foundation (ICCare), a nonprofit that assists families receiving cancer treatment at Bugando Medical Centre in Mwanza, Tanzania. While continuing to treat patients in Durham, Schroeder has been in regular contact with colleagues in Mwanza to ensure patients and families are protected from infection.
The COVID-19 pandemic has affected us all. While life is no longer "normal," at Duke we are fortunate that we have a strong medical infrastructure and the ability to support patients in need. In many low-resource settings with fragile health systems, there is the potential for a significant health impact in already vulnerable populations. The risks are even more pronounced for the cancer patients we work with in Mwanza. They cannot stop treatment without risk of relapse, and so our focus has been on making their treatments as safe as possible.
Two weeks before Tanzania's first reported case on March 16, we had ordered five liters of hand sanitizer for our staff and patients in clinic, and another five liters for the hostel where families stay during treatment. Hand sanitizer was sold out in the second-largest city in Tanzania by the time the first case was announced. We had two boxes of gloves for our staff, but that supply has now been depleted. Flyers on proper hand-washing have been translated into Swahili, with pictures predominantly displayed for our families, only half of whom can read.
It has also been challenging to find masks for our patients and staff. A single surgical mask now costs $0.75 and an n95 mask is $5. In a country where the majority of the population lives on less than $1.50 per day, many have been forced to choose whether to buy PPE or food for their families.
In our clinic, we initially had only 30 surgical masks for the 70 patients and 12 staff, and so we gave those to patients who had respiratory symptoms. A local tailor made 50 masks based on the CDC instructions, but there are still not enough for everyone. We are washing masks daily and giving them to new patients who come in for treatment.
Despite these challenges, I am always in awe of the strength of our team there — the nurses, physicians, patient navigators and coordinators who are continuing to provide care to those in need. And the resilience of our patients and their families, who manage to smile, even while wearing their masks.
Image
Voices of DGHI
A Big Challenge Comes to a Small Island
May 13, 2020
When the first confirmed case of COVID-19 surfaced in a remote part of Uganda, the
Read More
Petrus de Vries is a professor of child and adolescent psychiatry at the University of Cape Town and founding director of the Centre for Autism Research in Africa (CARA), where he is working with DGHI faculty to study interventions for children with autism in countries with scarce mental health resources.
We went into lockdown on March 27, and by May 8 we had just over 8,000 positive cases. I think it's important to point out that these results were based on just under 300,000 tests since the start of the pandemic. On the one hand this is significantly more testing than most African countries have done, but on the other, equivalent to only about three days of testing in the United Kingdom. So I have a real concern that our ability to understand the true scale of the pandemic in Africa is significantly limited by our testing capacity.
In terms of the national response, our president has been lauded for a clear approach, but we are seeing some cracks in the system. Many people are confused about the difference between screening for symptoms and testing, for example. And like other countries, we are seeing lots of misinformation and fake news.
Some people have said we are also facing an "infodemic," because every day we are bombarded by so much information. Early on, the CARA team decided that instead of creating new information for families and mental health professionals, we would evaluate and curate resources that we think are meaningful and relevant. We have made curated resources available through the University of Cape Town's Department of Psychiatry and Mental Health website and other places.
Like the rest of the world, we have all been driven to technology to access information, for communication and for teaching. But I do worry about the extent to which our response to this pandemic relies on access to technology. The so-called 'digital divide' is really visible in South Africa. As a country we are all in a rigid lockdown, and for those who have good internet, housing, electricity, water and money, it's manageable. But it's a very different situation for those who don't have access to these things. For example, the majority of children in South Africa don't have access to the internet and are losing out on schooling.
South Africa is already the most economically disparate society in the world, and I am concerned that the pandemic will only deepen those divides. So in that way, I think the 'COVID-19 lens' is simply identifying and magnifying the pre-existing health disparities in Africa and in my country.
Julie Torode is director of special projects at the Union for International Cancer Control (UICC), headquartered in Geneva, Switzerland. UICC is a partner of Duke's Center for Global Women's Health Technologies in advancing the diagnosis and treatment of cervical cancer around the world. (Note: For more perspectives on COVID-19 and cervical cancer, see the Global Women's Health Technologies' blog.)
UICC is located in Switzerland, a high-income nation with strong social protections. As a global NGO, our perspective is to focus on membership needs.
As a group we are seriously concerned that the modelling of the COVID-19 pandemic that has driven national responses to date has focused on the trajectory of the infection and mortality based on COVID-19 interventions alone, neglecting social and economic consequences as well as other co-morbidities and health outcomes. We are keen to ensure that the cancer impacts are included and know that it is up to our community to take the lead.
We see a clear impact on cancer screening rates in high-income settings — we need to consider public campaigns to reactivate community engagement. We also have significant concerns about community impact in lower-middle-income countries which are more related to national lockdowns and pushing into poverty and starvation. This is likely to be more severe than the COVID-19 impacts. Finally, the potential for the leveraging of COVID-19 laboratory investments for building screening infrastructure could be a positive effect for community sensitization for HPV prevention post-COVID-19.
Luciano de Andrade is an adjunct professor at the State University of Maringá and a collaborator with DGHI's global emergency medicine team on research in Brazil.
As a clinician and researcher, I have had quite an experience with the COVID-19 pandemic. During COVID-19 I have seen patients in the ICU as a nurse. From the frontlines, I have witnessed the brutal strength of this virus, and at the same time, our health system is struggling to catch up with resources and resource allocation.
From a research standpoint, it has been amazing to watch how academics from all different specialties have come together to use epidemiology and predictive models in order to describe how this pandemic will impact patients, the health system and communities.
COVID 19 has also demonstrated how far the academic world is from the policy world. We have struggled to get our evidence to shape policy at the most crucial time; we have much more work to do.
William Pan, the Elizabeth Brooks Reid and Whitelaw Reid associate professor of population studies and global environmental health at Duke, has led interdisciplinary research projects in Peru for several years. Here he shares what he is hearing from Peruvian collaborators Valerie Paz Soldan and Andres (Willy) Lescano.
The Peruvian Amazon region where we do a lot of our work has been hit very hard by this pandemic. While the government has officially reported only 62 deaths, our partners believe the real number is more than 2,000. Indigenous communities are especially suffering, and for the past three or four weeks, dozens of people are dying each day.
Even before the pandemic, communities in the Amazon were dealing with multiple health risks, including malaria, dengue, malnutrition, enteric disease and undiagnosed chronic diseases like diabetes, hypertension and cancer. All of these factors make the introduction of a novel virus extremely dangerous, and the result has been very rapid transmission and widespread illness.
To make matters worse, the Peruvian government has a history of neglecting the region. For years, they have done little to alleviate poverty or improve nutrition for people who live in the Amazon, and this has led to an environment where people do not have trust in the government. There is a strong belief among many people that the government does not work in their best interest.
Our partners are doing what they can. Willy Lescano is on the president's appointed committee to respond to COVID-19, and Valerie Paz Soldan has been leading a communication and education effort. But there are shortages of critical supplies and a lack of testing capacity. Layered on the pre-existing poverty and widespread health problems people living in the Amazon are already dealing with, it is a dire situation.