Student-Run "Help Desk" Has Blossomed Into A Large Local Resource
Through a Bass Connections project, student volunteers connect patients with social support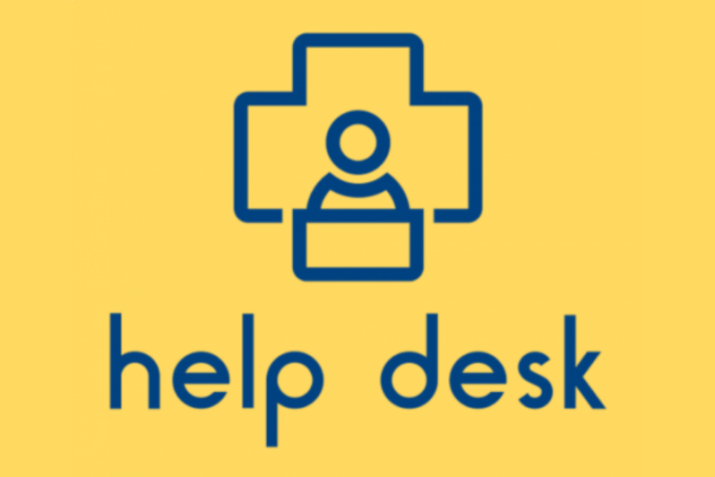 Food on the table. 
A good job.
Stable housing.
A safe neighborhood where public transportation is accessible.
Called "social determinants of health," these are among a whole slew of factors that can have a big impact on a person's health. But they haven't always been thought of as health-related issues, says Duke Program II graduate Sahil Sandhu BS'20.
"There's been a growing recognition in healthcare that these are major drivers of health outcomes," he explains.
Sandhu and several other Duke students recently became the driving forces behind the creation of an invaluable resource for the Durham community aimed at addressing social determinants of health.
In 2018, Sandhu — along with a group of other students and Duke Global Health Institute Associate Professor Janet Bettger — began working on a project called "Help Desk," which was supported by a global health Bass Connections grant. For the Help Desk project, they partnered with the Lincoln Community Health Center, a federally qualified health center in Durham that cares for community members in need. Their goal was to connect vulnerable patients to resources for unmet social services and in turn, improve patient health outcomes long-term.
Image
When the Help Desk project first launched, Sandhu says, "We trained student volunteers to become 'community resource navigators' so we could help patients access resources for their non-medical needs. Food, housing, transportation."
When COVID-19 hit, he says, "We realized these resources were constantly changing." 
They would need to find new, pandemic-related resources and also update information about other existing resources that were changing day by day due to COVID-19. For example, Sandhu says they discovered that food pantries were closing or offering limited hours, and healthcare clinics were shutting down.
To expand their outreach, he said the 10-person Help Desk team needed more volunteer power to keep up with social service resources in town. They reached out to and merged with another Duke student group, the Student Collaborative on Health Policy, led by Charlotte Thomas, a Duke senior who is studying chemistry. Together, they worked week-by-week maintaining and updating the existing Help Desk public directory — basically, a really big Google doc of social resources in the Durham area.
"We wanted every organization we worked with prior to the pandemic to be checked twice a week, to be sure they were still up and running during COVID," Thomas says.
As they worked, they discovered that many social services in Durham had their own directories as well. They began merging this information into their database, too. In the process, they learned that the Community Empowerment Fund, a non-profit in Durham, was also already doing the exact same thing.
"We had a call with them and said, 'We both have similar directories and wouldn't it make sense to combine our efforts and update all these records in one place. Now we have the Help Desk team, Duke's student collaborative for health policy, and this community empowerment partner – three groups working together to maintain a database of about 400 organizations," he says.
Image
The Durham County Health Department heard about their project and also reached out, requesting access to their resources. The Help Desk team continued to connect with medical providers and social workers at Duke, who helped get the resource directory embedded in the electronic health record there. 
"Durham Partnership for Seniors also asked if we could create a resource list specific to older adults," Thomas says. 
The 400+ resource list has now been translated into Spanish, too. "It is a community disproportionately affected by COVID," says Sandhu.
Josee Li, a Duke sophomore who is studying policy and global health, is a member of the core Help Desk team and co-president (along with Thomas) of Duke's Student Collaborative on Health Policy this year. She says their group is now creating a website that anyone can turn to for resources. Working with the local chapter of an organization called Code for America, they have been able to help turn the Help Desk spreadsheet into a more polished website.
Image
After curating a specific list for the older adult directory and transitioning efforts to a website platform, Li says, "We began recruiting a specific team of student volunteers who helped us curate resources for children and families from a list of other smaller child resource directories — to add to our main directory." 
Li says student volunteers filtered the hundreds of child and family resources down to about 150 locally-based organizations and services. They were added to the giant database on the new website platform.
Sandhu adds, "It has maps, it's filterable by criteria, and it's much easier for an end user to use. It could go live soon." 
Thomas says they're still determining how many people will benefit from the new website resource, but other local groups that use the database include websites belonging to the Partnership for a Healthy Durham, Senior PharmAssist, Durham Continuum of Care, and Durham's Community Empowerment Fund.
While their initial goal was to create a temporary solution for those in need during the pandemic, their compassion for their community and enterprising efforts have built a deep and valuable resource that they hope will help reduce health disparities in Durham.