When Seth Liyanapathirana left for his summer project in New Delhi, India, he was thinking about his mother.  When she was younger, her family took in a neighborhood girl whose father couldn't take care of her. The girl grew up to support herself and family.
It's a story that helps explain why Liyanapathirana, a rising sophomore studying neuroscience and global health, was excited to join a Student Research Training (SRT) project working with Udayan Care, an Indian organization that provides residential care and mental health programs for orphaned and separated children and their caregivers. He is one of three Duke students spending the summer in New Delhi, helping Udayan in areas such as life skills workshops for youth transitioning out of residential care and conducting interviews to assess mental health outcomes for residents.
"I see this project as a way to collaborate with Udayan and empower orphaned and separated children to do what they want and succeed," he says.
Liyanapathirana is one of nearly 100 Duke students who are participating in global health field research this summer, one of the most impactful parts of global health education at Duke. All students in the Master of Science in Global Health program conduct field-based projects, along with many undergraduate students who participate through programs such as SRT or Bass Connections. This summer, students will fan out to more than a dozen countries, including China, Honduras, Jamaica, Switzerland and Eswatini, as well as locations within the U.S."  
Something in the Air
Liyanapathirana isn't alone in bringing personal history and motivation to field research. Emily Klein, a student in the Master of Science in Global Health program, is studying air pollution in Ulaanbaatar, the capital of Mongolia. It's an issue that hit close to home for her growing up in Pittsburgh, Pa., a city with a history of poor air quality.
Klein recalls people didn't wear white clothes because they would stain easily from pollutants in the air. Now, she's studying how air pollution can cause respiratory diseases, cancers and even stroke.
"It can affect the quality of life at any point for someone," she says.
Klein is working with a team at the Mongolian National University of Medical Sciences to compare household air pollution in two cities: Ulaanbaatar, which has banned burning coal for fuel, and Darkhan, where the practice is still allowed. She hopes the study illuminates specific ways air pollution affects health outcomes and drives home the point that the environment shouldn't be treated as an afterthought in public health.
"The more public health and medical professionals can take [the environment] into consideration, the better it will help people," Klein notes.
Image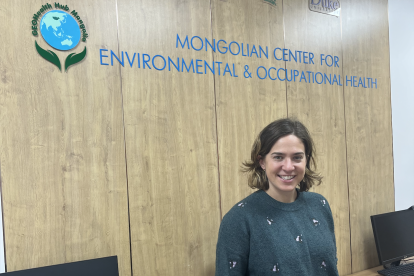 A New Way to Serve
Jordan Swandell is another student whose summer plans are influenced by his past. Swandell, who is taking a break from medical school to complete a Master of Science in Global Health, served for more than 14 years in the U.S. Army, completing missions around the globe as a Green Beret.
As a soldier, he saw how quickly conflicts weakened health infrastructures, putting human populations at risk. His thesis will evaluate the effectiveness of a community health program in Durham to address gun violence.
"I was a part of that violence, and it has a real impact on people," Swandell says.
In July, Swandell will travel to the University of Global Health Equity in Rwanda to study community-based approaches to health challenges. "I want this program to show me what's being used in Rwanda to address social determinants of health in Durham," Swandell says. "Anywhere I serve later as a physician and any patient I care for, their wellness is going to be impacted by those determinants. I want a better understanding of that."
Swandell, who retired from the army for medical reasons, says stepping away from military service was a low point for him. He credits a conversation about faith and God with a fellow soldier for showing him a new path, which led him to complete a master's degree in divinity from Duke.
"It opened me up to the idea about how that can make a difference in our lives and interact with others," says Swandell. "That was the seed he helped plant and it grew."
Seeking Lasting Impact
While many global health students seek out projects for personal reasons, all are focused on how they can perform meaningful research and contribute to the success of their partner organizations. For Seth Liyanapathirana, Akhilesh Shivaramakrishnan and Alek Mishra, the three students working with Udayan Care in India, that means not just thinking about what they will accomplish this summer.
"We've connected with the [youth], and we want to make sure our work impacts Udayan beyond our immediate engagement," says Mishra, a biomedical engineering major.
The team is also committed to maintaining the relationships they've built with the youth and learning about global mental health. Shivaramakrishnan, a rising junior with a double major in public policy and global health, says some of the youth have stayed in touch after the team interviewed them.
"We want to work with Udayan's staff to help create sustainable models of follow-up to support residents, many of whom have experienced multiple traumatic life events," he says. "We want to continue to stay involved with the kids we've met during our time here, and continue the partnership that Duke and Udayan Care share."
Related News