DGHI Board Member Honored for Support of Tanzania Collaboration
August 07, 2017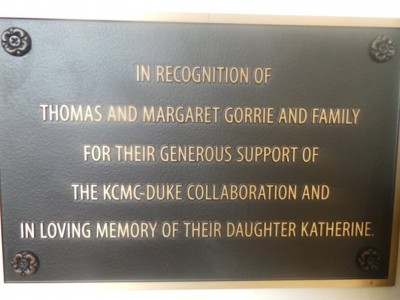 The Duke Global Health Institute's (DGHI's) partnership with the Kilimanjaro Christian Medical Center (KCMC) and the Kilimanjaro Christian Medical University College (KCMUC) is among our strongest and most successful international collaborations, and DGHI Board of Advisors member Tom Gorrie and his wife, Meg Gorrie, have played a critical role in that success.
In late June, the Gorries traveled to Moshi, Tanzania, with their son, Alex, and his fiancée, Mary, for the unveiling of a plaque at KCMC honoring the Gorries' generous support of the KCMC–Duke collaboration. 
Gorrie Contributions Strengthened the Partnership
Since 2009, the Gorries have provided more than $800,000 in support for the KCMC–Duke collaboration in Moshi, Tanzania. In addition, they've provided more than $300,000 in graduate fellowship support for students from low- and middle-income countries. 
Their generosity has helped the Institute build a stronger partnership with KCMC and has supported students in the Master of Science in Global Health program. Their early philanthropic support has also inspired other donors.
Whirlwind Trip Packs in Ceremony and Many Site Visits
The plaque, dedicated to the Gorrie family and in memory of their daughter, Katherine, was unveiled at a ceremony on June 27 attended by more than 100 people representing KCMC, Duke University, and community partners. 
Gileard Masenga, executive director of KCMC and Egbert Kessi, provost of KCMUC, and Reverend Samson Laizer, KCMC chaplain, jointly officiated the ceremony.
Duke University officiants included Wolfgang Joklik Professor of Global Health and former DGHI director Michael Merson; John Bartlett, DGHI research director and professor of medicine and global health; and Gorrie. A number of other Duke faculty members, research staff and students also attended the ceremony.
During the ceremony, Gorrie reflected, "Of the many opportunities we have had to support people and organizations, I felt the KCMC–Duke partnership was most worthwhile because it had the opportunity to be a hub of helping others, education, research and excellence." He was drawn to support this initiative, he said, because of its potential impact not only on the local community but the larger region and the world.
Gorrie commended the success of the collaboration, made possible in large part "through the excellent work of many dedicated people who work here."
During their trip, the Gorries also visited the sites where many of the partnership activities take place and had the opportunity to talk with local partners and people in the community, as well as DGHI faculty members and graduate students.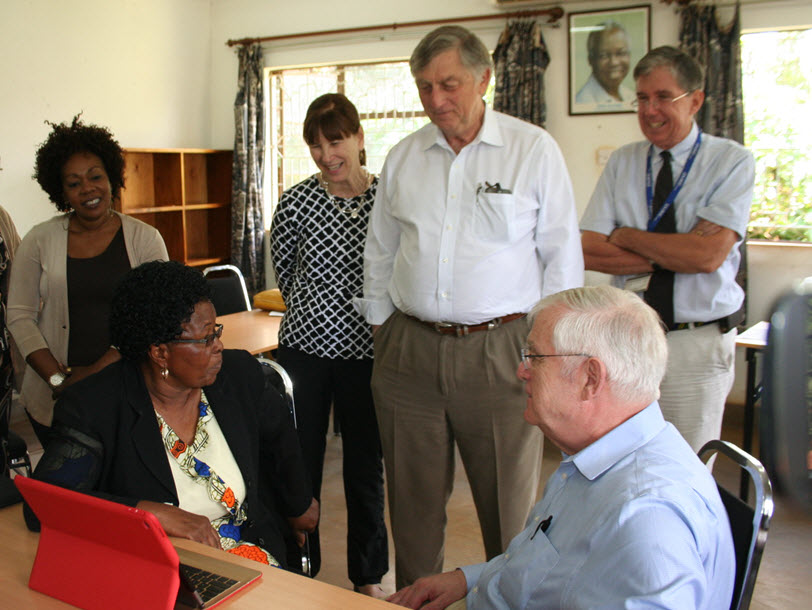 Martha Masaki, a research assistant at the Kilimanjaro Clinical Research Institute,
talks with former DGHI director Michael Merson as Lindah Mhando, Duke
research scholar, the Gorries and DGHI professor John Bartlett listen in.
Meg Gorrie talks with assistant global health professor Dorothy Dow. In the background
(left to right): Tom Gorrie, Alex Gorrie and global health professor Megan Huchko.
(View more photos from the trip.)
This was the Gorries' second trip to Tanzania; in 2011, they traveled to Moshi with former Duke president Richard Brodhead, his wife, Cindy, former DGHI director Michael Merson and other Duke representatives to see the collaboration in action and meet some of our Tanzanian partners and people in the community. 
Tom Gorrie Has a Long History with Duke and DGHI
A strong advocate for Duke University and Duke University Health System, Gorrie has been a committed volunteer for more than 25 years. He was instrumental in the formation of the DGHI Board of Advisors and served as chair from 2010 to 2016.
In addition to his role as a DGHI Board of Advisors member, he currently serves on the Duke University Board of Trustees, Duke Health Board of Visitors and Duke Kunshan University Board of Trustees. He also chairs the Duke University Health System Board of Directors. 
Gorrie retired in 2008 from Johnson & Johnson as corporate vice president of government affairs and policy and is currently an adjunct professor at the Rutgers Business School. He received his master's and doctoral degrees in chemistry from Princeton University and completed post-doctoral studies at the Swiss Federal Institute of Technology in Zurich.
Since 2009, the Gorries have provided more than $800,000 in support for the KCMC–Duke collaboration in Moshi, Tanzania.
Share This