Making Global Work Locally
Faculty and community organizations say effective local partnerships must grow from mutual trust and respect.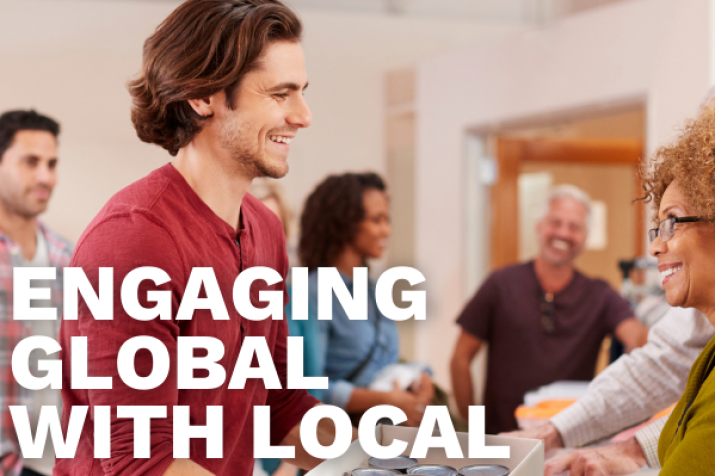 Wanda Boone liked the idea of "Coping Together," a peer-led intervention seeking to help families navigate their struggles during the COVID-19 pandemic. The program drew inspiration from a similar model used in Kenya, led by DGHI professor Eve Puffer, an assistant professor of psychology, neuroscience and global health.
But it was something more that persuaded Boone, the founding director of Together for Resilient Youth (TRY) in Durham, to pilot the Coping Together program with her community. It was the willingness of Puffer and her team to listen and meet them where they were.
"The program was already written, but there were some nuances that needed to be written out for cultural reasons," Boone said during a DGHI Think Global webinar on Dec. 1. "The humility that she and her team displayed – hearing what we as African-Americans in Durham had to say. We co-developed the curriculum and were included in the authorship. That is really remarkable."
Community ownership in academic research was a common theme in the webinar, titled, "Engaging Global with Local: Challenges and Solutions Connecting Local and Global Health Research, Service and Training." Panelists emphasized that academic researchers listen to the needs of communities when they seek cooperation on local research projects, and that effective partnerships only come after establishing mutual trust.
The discussion was moderated by Sumi Ariely, associate professor of the practice of global health and faculty liaison for DGHI's Durham partnerships. 
Watch the full discussion below or scroll down for a summary of comments.
About the speakers
Jonathan Sugarman, M.D., is a senior advisor at Global to Local, a Seattle-based nonprofit who works to advance health equity and improve health in U.S. communities. Sugarman is also a family medicine professor at the University of Washington.
Dr. Wanda Boone is the founding director of Together for Resilient Youth (TRY), coalition of Durham-based community organizations working collectively to address underlying issues causing behavioral health problems such as substance abuse, crime and violence.
Debra Clark Jones is the associate vice president for Community Health at Duke Health, which brings together Duke's role as a university, employer and healthcare provider to support communities holistically.
Karen Kelley is the chief program officer at Triangle Residential Options for Substance Abusers, Inc. (TROSA). She's responsible for the organization's day-to-day operations providing services for more than 400 men and women in recovery.
Dr. Deepak Kumar is the director of the Julius L. Chambers Biomedical/Biotechnology Research Institute (BBRI) at North Carolina Central University. He provides leadership in research areas such as cancer, cardio-metabolic disorders and neuroscience.
Katheryn Whetten, Ph.D., is DGHI faculty who teaches public policy and global health. She's also the director of the Center for Health Policy and Inequalities Research under the institute.
Highlights
The importance of researchers building trust with communities
Jonathan Sugarman
"'Global to Local' started with health experts who identified a community that had lower immunization rates than the rest of the county. The community wasn't so crazy about that. Then, the organization decided to do a survey about the needs of the community, and what they said it needed. Trust was built there, and it took a year. Because of the engagement with the community, they've been getting immunized, which ended up being one of the first things the 'Global to Local' founders set out to do."
Debra Clark Jones
"We can't just helicopter into a community and start the research. When we talk about equitable relationships. We're talking about equity in benefit, equity in power sharing and decision making, alignment with the priorities of the research and the communities priorities. It's a worthwhile investment that requires a willingness to listen, reflect on what we're hearing and building empathy with community members."
Why global approaches make sense in local communities
Kathryn Whetten
"There's a long tradition of learning from other countries that's already here. It started appearing in the 1920s. I was a public health practitioner in the Democratic Republic of the Congo at the beginning of the HIV epidemic working with communities. They were doing asset mapping and involving churches and leaders in a way that I hadn't really seen in the US. When I came back [to the US], and wrote my first grant, we brought together 54 counties across the eastern half of NC to work on HIV prevention and access to care. The similarities we found in the DRC and NC were quite striking; the models we put in place [for the research] were based on what we had learned in central Africa."
"What became clear with the HIV epidemic in the Deep South were there was more similarities in low to middle income countries than in California and New York for HIV care."
Why understanding the impact from research is key
Karen Kelley
She proposed a hypothetical situation involving syphilis treatment conducted in an indigenous community whose economic stability is rooted in tourism.
"When you publish, you talk about this great new treatment you have. And then the news picks it up, but what the news is talking about is how the syphilis rates are really high. And now people aren't coming to that community as much because they have these negative stereotypes about people who contracted syphilis.
I'm sure the researchers who went in to do this project had nothing but good intentions… It's important to think about individual impact. But what are the community impacts of research, and how do we go about making sure the community does some form of informed consent?"
Debra Clark Jones
"Take the time to really understand the social, economic and historical context as it relates to the harm that has been done. We have to be mindful of our reputation with our organizations and not causing new harm, making sure we follow up with the projects when it concludes. Some communities can feel quickly neglected after a project has ended."
Why diversity matters in research
Deepak Kumar
"We must cultivate researchers of color and diversity in the workforce. We won't be able to make a difference without diverse researchers and a workforce. That's where HBCU's come into play… it's a strength that NCCU brings to the table.
You want to expose researchers to these community. We don't know how many times principal investigators have been exposed to the problems themselves."
Debra Clark Jones
"I want to make a plug for diversity of the research team itself when it comes to the inclusion of those with shared experiences with the community that researchers are seeking to work with. That's critically important."
Wanda Boone
"People like to see me coming into their communities, but they really love to see community health workers. They live in the areas they're working in."