Ten years ago, Catherine Staton, M.D., saw a problem in Tanzania. Injuries and deaths from traffic accidents were on the rise, and alcohol was a factor in many.
Working with partners at the Kilimanjaro Christian Medical Centre (KCMC), Staton started a registry of injured patients to begin to understand the issue and how to address it. One gap was the lack of trained emergency-medicine providers, which often delayed life-saving care. Her early research also found that one in three patients involved in an accident had an alcohol-use disorder, but no treatment options were available.
Staton, an associate professor of emergency medicine , was undeterred by the scale of those issues. "I was able to envision the solution based on what I learned in my medical training," she recalls. "I was hoping I would be able to get there."
What she didn't realize at the time was how much change could stem from seeking the answer to that one issue – and how many others would join her in that journey.
"I had no idea it would bring so many people together and reveal other medical questions that needed answers," she says. "We do better science when we work together and share unique ideas and find what the needs are."
Locally Led Research
In 2018, Staton started a trial at KCMC to test the feasibility of an alcohol intervention called "Punguza Pombe Kwa Afya Yako" (Reduce Alcohol For Your Health). During the study, patients received text messages following care encouraging them to limit their alcohol intake for health reasons. Nurses also stayed in contact with trauma patients to ensure they attended followup appointments. Staton says 100 percent of trial participants reduced their alcohol consumption,  results that will be published later this month.
"Our project found [the intervention] was culturally acceptable and feasible for nurses," she says. "We are in our second stage to understand what components of this intervention we should disseminate in the region."
This work also helped launch a locally led program to train a new generation of Tanzanian researchers. Started in 2021 with a five-year grant from the National Institutes of Health's John E. Fogarty International Center, the Trauma Research Capacity Building in Kilimanjaro, Tanzania (TRECK) program supports Tanzanian master's and doctoral students who are conducting research projects on injuries and injury-related disabilities. The  effort is led by Blandina Mmbaga, M.D., Ph.D., Staton's longtime research collaborator and director of the Kilimanjaro Clinical Research Institute.
Students in the program are working with local policymakers to improve first aid care on roadways and expedite patient transfers to hospitals. Another TRECK group is applying for an NIH grant to adapt care guidelines in the U.S. for elderly patients to fit local cultures.
Staton provides clinical expertise for the projects and has advised students on grant writing, but she says it's important for local researchers to take the lead on projects.
"This is the epitome of decolonizing global health," she says. "The work isn't about me. The work is about finding answers to improve care and capacity building by getting more people involved."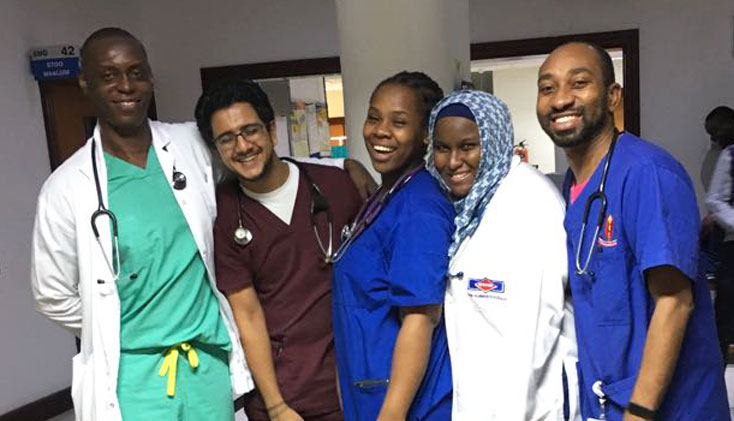 It Takes a Team
The model of letting others lead hasn't just worked in Tanzania. It's also at the heart of the Global Emergency Medicine Innovation and Implementation Research Center (GEMINI), which Staton started in 2021 and now co-directs with João Vissoci, Ph.D. The center seeks to improve equitable access to quality acute care in four locations – Brazil, Tanzania, the U.S. and Singapore.
Several of GEMINI's researchers started out as Staton's mentees. That includes Vissoci, a native of Brazil who joined DGHI as a postdoctoral associate working with Staton in trauma care. Now an assistant professor of surgery and global health, Vissoci oversees GEMINI's research.
"He's learned to make structures so we can have data repositories to help us support quality data collection in low-resource settings," Staton says. "His partnerships not only benefit our students but allow our team to think more innovatively to solve challenges for patients."
Another trainee-turned-teacher is Anna Tupetz, who completed a Master of Science in Global Health at DGHI in 2019 and this fall will join Duke's emergency medicine faculty. With GEMINI, Tupetz will mentor students in the TRECK program while building her own research.
Staton says sustaining such long-term teamwork has been critical to GEMINI's early success. "When you integrate learners from all different stages, that's when mentees are trained better," she says. "That's how we innovate the future and solve challenges with this multidisciplinary approach."
From Tanzania to Brazil
Nurturing strong global partnerships has also allowed GEMINI to find some unexpected connections in its research.
While conducting research on the treatment of snakebites in Brazil for example, Vissoci mentioned GEMINI's work in Tanzania on alcohol-related injuries to a Brazilian colleague. The researcher told Vissoci that indigenous populations in the Amazon are experiencing similar problems. The team has since applied for a grant to adapt the model of care they developed in Tanzania for the Brazilian healthcare system.
"He was my mentee and now, he knows so much more than I do," Staton says of Vissoci. "He's opened up our ability to work in Brazil and build upon that partnership."
As her mentees and global collaborators continue to advance research in Tanzania and Brazil, Staton is forging new partnerships in Nigeria and Botswana, a global reach that would not have been imaginable in the early years of her research. Then, she admits, she wanted to hold on to her projects, ensuring everything was correct.
Now, she says she understands the key to improving care for the widest number of patients is trust – trust in her Duke team, her students and her global partners.
"When everyone can bring their expertise, and we can transfer knowledge from different sites, we find more efficient ways to improve low-resource settings so patients can get what they need faster," she says. "This work is because of amazing people. This is the benefit of having a team."
Related News