Haley Cionfolo couldn't understand why changing her diet didn't curb the constant stomach pains and unexplained weight loss she experienced as a teenager. Her primary care physician referred her for a colonoscopy, and at 16 years old, she learned she had Chron's Disease, a type of inflammatory bowel disease (IBD). 
Now a junior at Duke studying biology and global health, Cionfolo is finding her education creates a path to do more than just live with the disease. It's allowing her to study how the disease interacts with other conditions, for herself and others with IBDs such as Crohn's.
"For the last four years, I've been wanting to understand my condition and what other people like me are going through," said Cionfolo, noting factors such as age and body mass index can have a big influence on the experiences of patients with bowel diseases. "A lot of it is not what kind of IBD you have, it's that you have it at all."
Cionfolo presented her research project at the 10th annual Global Health Research Showcase on Oct. 25 in the School of Medicine's Trent Semans Center for Health Education. The event focused on research performed by students in the Master of Science in Global Health program and Duke's undergraduate global health major. Forty-one students presented projects that spanned 19 countries, including some working with community partners in Durham.
Image
In addition to presenting posters about their research, students created web pages detailing their research experiences, which can be found at DGHI's Global Health Research Showcase website.
"I had never done a clinical trial before or mediation analysis," said Haotian Ruan, a second-year master's student whose research focused on controlling hypertension in patients in Singapore. "The methodology and the study design is all new to me. The most precious experience for me is how you develop a research idea from the very beginning, and how other lifestyle factors can impact your health."
This year's showcase marked a return to in-person presentations for the first time since the COVID-19 pandemic began. Brian Linder, a senior who was a member of a Student Research Training Program (SRT) team focused on maternal health in Roatan, Honduras, learned an important lesson about doing remote work.
"[We saw] there can be engagement and research done remotely, and while its more difficult, we were still able to provide what was needed in terms of research and data analysis for the clinic," he said. "We were able to tell the clinic where the pockets of need are and what programs they can get additional funding for to service the community." 
DGHI interim director Dennis Clements commended the students on how they handled remote learning to complete their research as international travel halted. 
"They accepted the new normal with grace and good humor, and made the best of the circumstances," said Clements. "In the process, they gained some skills that are fundamental to global health work – flexibility, patience, the ability to build and sustain partnerships even when remote, and the need to always have a good backup plan. And those skills will come in very handy as they build their careers."
Student presenters shared their research posters with dozens of classmates, friends, and DGHI faculty and staff. Some students video-called family members to show off their poster displays.  
One of the presenters this year was Don Nguyen, a second-year MS-GH student. He researched methods to detect highly infectious viruses in animals and workers who have contact with animals in North Vietnam. His work is inspired by the vulnerability of refugees to diseases – and his parents. Nguyen's mom and dad were eight and 12 years old, respectively, when they fled Vietnam after the Fall of Saigon during the Vietnam War. Nguyen's parents told him stories about the lack of sanitation and proper healthcare when they lived in different refugee camps. 
"That population encapsulates a lot of health risks because diseases can spread very quickly when people are just in tents," he said. "Migrant people are in need of quality healthcare they can't get." 
Growing up, Nguyen and his family helped refugees from countries such as Burma, Palestine and Syria. He aspires to work in refugee medical assistance.
Image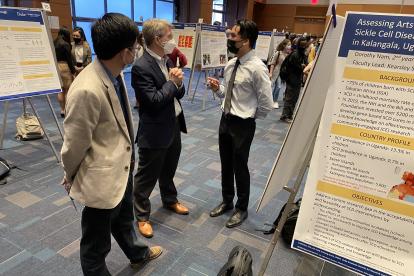 Nguyen said his parents are proud of his work so far. "They never pushed me to do this," he said. "I feel like it's my calling, and they raised me to be this way. I grew up sympathetic to the cause." 
Nguyen's research project was conducted through the Duke One Health research laboratory, an interdisciplinary network of collaborators from institutions across the world focused on animal, human and environmental health. 
"The idea is to have this network that's communicative and connected, easily share information so there's less barriers and obstacles in place," said Nguyen. "The world is a global world, and we should treat it like that in terms of health: sharing the same information at the same time, and not everyone finding out at different rates."  
Like Nguyen, Cionfolo hopes future research will point toward better solutions, particularly for people living with inflammatory bowel disease. She learned her Chron's disease can be affected by anxiety. For her body, exercise lessens the chances anxiety will aggravate her Crohn's symptoms.
"When someone sees their gastroenterologist, the questions shouldn't just be 'Do you have abdominal pain?'" said Cionfolo. "It should also include, 'How are you feeling emotionally, and are you experiencing any other pain?' IBD doesn't exist in a vacuum. Nothing does when it comes to health." 
A panel of global health alumni judged the students' posters in a range of areas, including how clearly students described their research aims, methods, and conclusions reached while factoring in the poster's visual clarity, appeal and creativity. This year's winners are: 
Best Undergraduate Posters
First place 
"Stigma Reduction Strategies for HPV and Cervical Cancer Screening Using Focus Group Discussions in Kisumu, Kenya," by the Student Research Training Program (SRT) Kenya team. Members: Cassidy Connett, Madeline McNee, Avanti Shah and Saisahana Subburaj
The team's mentor is Megan Huchko, a DGHI core faculty member, an associate professor of obstetrics and gynecology and the Hollier Professor of Global Health. 
Second place 
"Multisystemic Comorbidity-IBD Relationships in the SPARC IBD Cohort," by Haley Cionfolo, a junior studying biology and global health at Duke. Her mentor is Jane Onken, a gastroenterologist with Duke Health. 
First place
"Piloting a virtual family-strengthening program: measures of implementation success," by Mahgul Mansoor, a second-year MS-GH student. Her mentor is Eve Puffer, an assistant professor of psychology, neuroscience and global health. 
Second place 
"Neurodevelopmental Effects of PFAS Exposure through Drinking Water," by Melissa Marchese, a second-year Accelerated MS-GH student. Her mentor is Dr. Liping Feng, an affiliate faculty member with DGHI and an associate professor of obstetrics and gynecology.