The Global Health Research Showcase is a celebration of research and experiences led by Duke global health students. While travel was once again limited due to the COVID-19 pandemic, students were still able to complete amazing and impactful work. Students were once again able to share their work in person at the Tenth Annual Global Health Research Showcase, with 41 global health students presenting research findings from 19 countries.
Image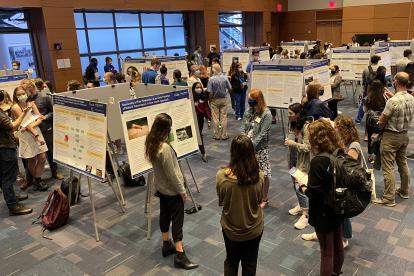 Featured Student Projects
Students have also created project webpages showcasing their work. Start your virtual journey by exploring some of the student projects that will be featured at our Showcase event. These projects represent a range of global health topics and methods. Be sure to continue exploring more projects below. View all projects
DETECTING PRE-PANDEMIC VIRAL SPECIES IN ANIMALS AND HUMAN ANIMAL WORKERS IN NORTH VIETNAM
Don Nguyen
Environmental Exposures: Health Outcomes for Minority-Owned Auto Repair Shops
Durham SRT team
Media Awareness Campaign to Address Barriers to Pediatric Cancer Treatment in Tanzania
Dalia Abualhaj
Students welcome your questions! The opportunity to explain research projects and answer questions is an important learning experience for our students. Students have provided contact information on their project pages so that you can reach out with comments, questions and reactions. Please take a few minutes to share your thoughts with them.
Congratulations to the winners of our 2021 Global Health Research Showcase poster contest! 
Piloting a virtual family-strengthening program: Measures of implementation success
Graduate Winner: Mahgul Mansoor
Neurodevelopmental Effects of PFAS Exposure through Drinking Water
Graduate Runner Up: Melissa Marchese
Stigma Reduction Strategies for HPV and Cervical Cancer Screening Using Focus Group Discussions in Kisumu, Kenya
Undergraduate Winner: SRT Kenya team
Multisystemic Comorbidity-IBD Relationships in the SPARC IBD Cohort
Undergraudate Runner Up: Haley Cionfolo